Abandoned Village Map, Zeffo for Star Wars Jedi Fallen Order
Abandoned Village Map, Planet Zeffo for Star Wars Jedi Fallen Order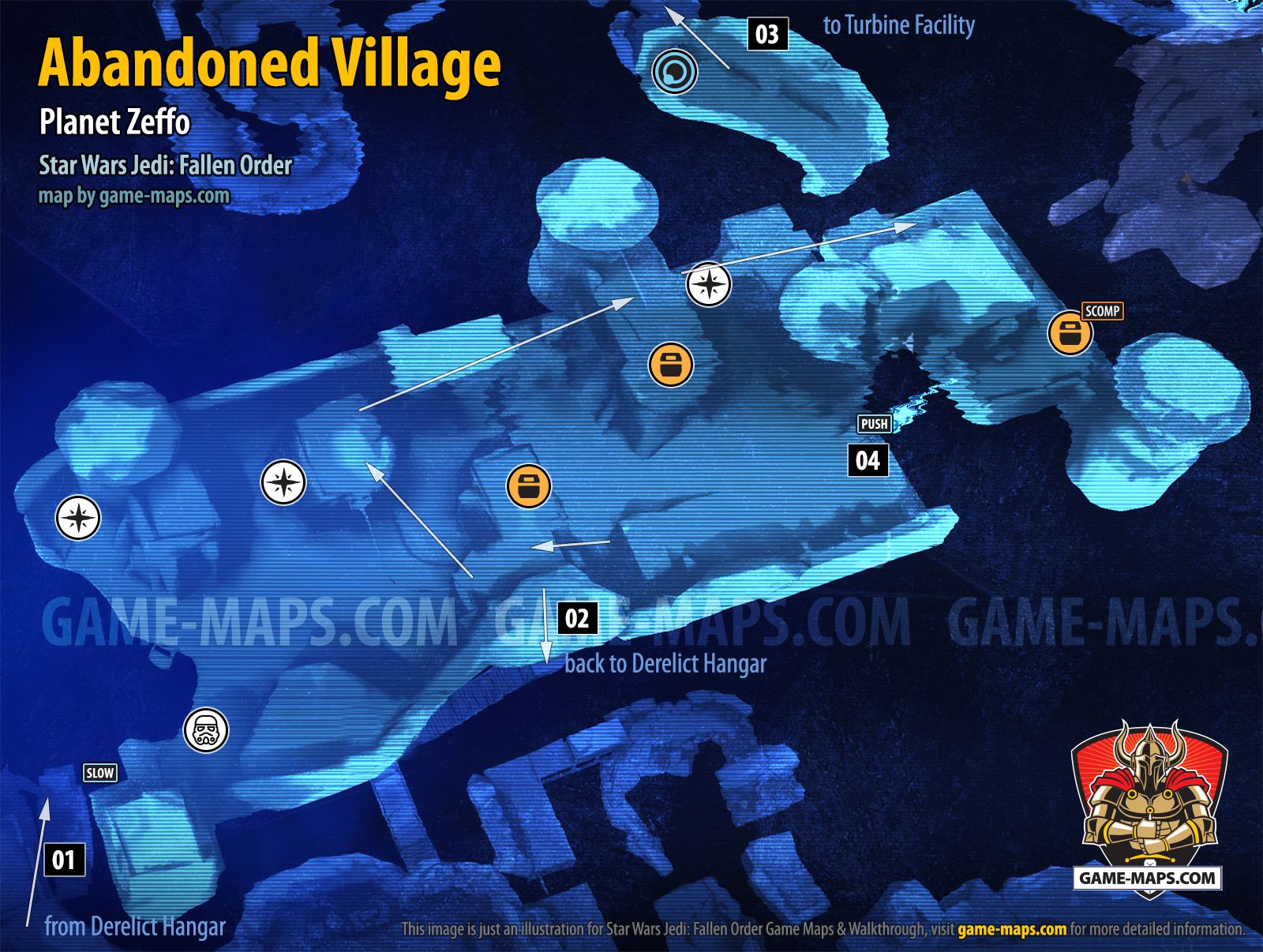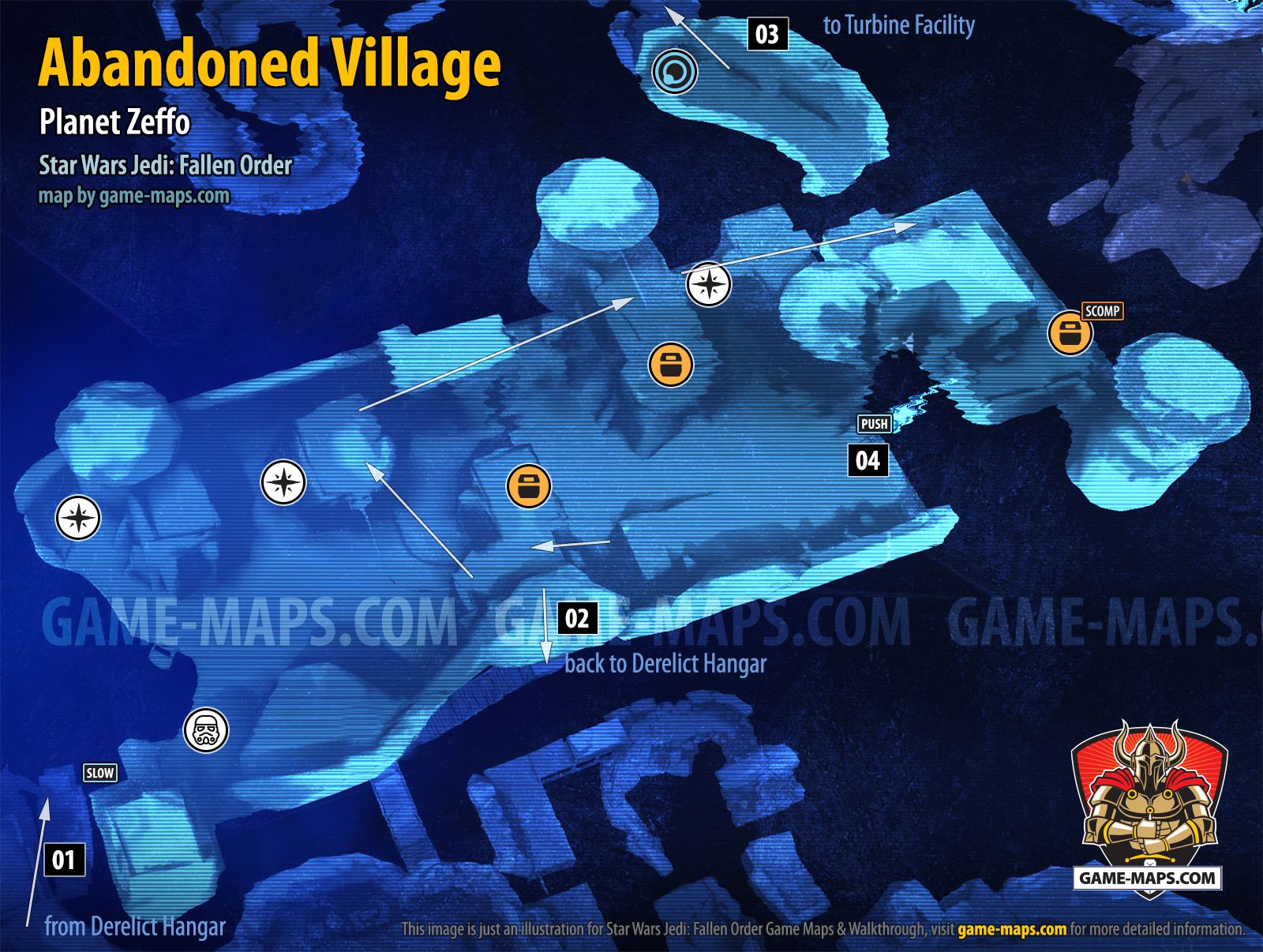 Other Location Maps for Zeffo
Abandoned Village Completion
Zeffo Planet

Chests
3

Force Echoes
3

Save Points
1

Enemies to Scan
1
Required Abilities



You will not be able to discover all the mysteries of the Zeffo planet during the first visit. You will have to come back here again at least once with Force Powers, Abilities and Doid Upgrades you earn in the following locations.
Abandoned Village Walkthrough
on Zeffo Planet
Entrance from Derelict Hangar
Back to Derelict Hangar
Return to Derelict Hangar for a second to use Save Point and open Shortcut.
After you learn Push and got Scomp Link
Use Push and open chest.

Chests
in Abandoned Village

Chest: Outfit Material - Guardian

Chest: Lightsaber Sleeve - Duty and Resolve


Chest: Lightsaber Material - Durite
Force Echoes
in Abandoned Village
The Zeffo Villagers
(10)

1. Eviction
A pack left by villagers forced from their homes by the Empire and shipped off to labor camps or worse.

2. Eviction Notice
"Eviction Notice. Civilians must immediately report for relocation. Looters will be shot. In accordance with Imperial Code 94364: No Selling or Trading without proper authorization and explicit consent, this property and its belongings are now under the protection of the Galactic Empire. General Markon 201st Squadron"

3. Separated
A bag left by a family as they became separated. The father caused a distraction, allowing the mother to escape with their child.
Tactical Guide Updates
in Abandoned Village
Empire (17)

Scout Trooper
Can block limited lightsaber attacks but defense is easily diminished. Easily defeated in single combat, but dangerous in numbers.
Imperial Scout Troopers are specially trained Stormtroopers in service to the Galactic Empire for a range of missions. They are equipped with light armor for greater mobility and specialized helmets that allow for greater adaptability, Armed with electro riot batons when blasters are identified as insufficient, they are especially skilled in melee combat, crowd control, and defense against a lightsaber.
Abilities and Upgrades
giving access to locations.
Force Power Abilities, BD-1 Droid Upgrades and other Abilities will alow you, as they are discovered, to visit previously inaccessible locations. If you encounter a place you can't reach or enter, go exploring further to find more skills or abilities , then come back and try again.
Force Power Abilities

Force Slow - you know this power from the beginning of the game, it allow you to slow down time.

Wall Run - you will learn this power relatively early on the planet Bogano in Subterranean Refuge, it allow you to run for a short while on some vertical ridged walls.

Force Push - you will learn this on planet Zeffo in Tomb of Eilram, it allow you to push objects and enemies.

Force Pull - you will learn this on planet Zeffo in Tomb of Miktrull, it allow you to pull objects, enemies abd open passages.

Jedi Flip - you will learn this on planet Kashyyyk. it is long double jump.
BD-1 Droid Upgrades

Scomp Link - you can find Scomp Link on planet Zeffo but you will need Force Push, it will allow you open locked doors and chests.

Overcharge - you will get this on planet Kashyyyk, BD-1 can turn machinery on and off.

Slice - First Slice: Security Droid you will find on planet Kashyyyk, it allow BD-1 to control damaged security droids. Second Slice: Probe Droid you will find on Zeffo, it allow to control damaged probe droids.

Powered Zipline - on Zeffo after Kashyyyk, it will allow you to travel up and down ziplines.
Equipment

Underwater Breather - you can learn it on Kashyyyk, it allow to explore undewater locations, You need this skill to dive under water.

Climbing Claws - you will find Climbing Claws on planet Dathomir, they will allow you to climb on new types of walls.