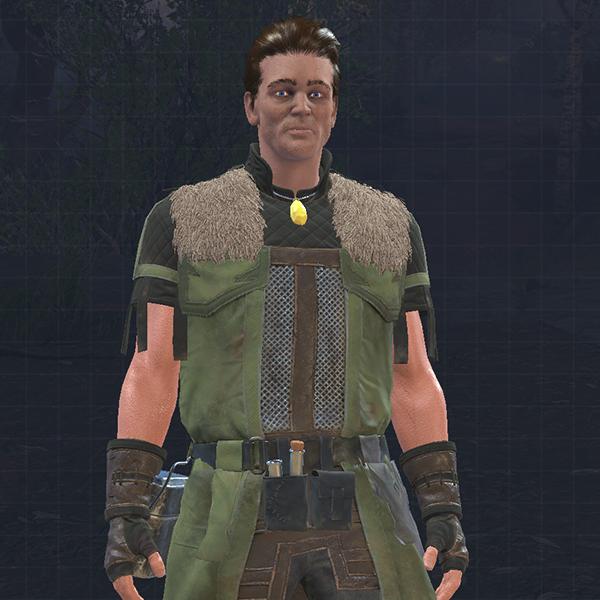 Faction: Berserkers
Melee Weapon: Axe
Ranged Weapon: Bow
You meet him south west of Berserkers in the woods.
No Romance
This young Berserker rose to the rank of Warrior much faster than any before him. Nevertheless, he was known among the Berserkers for being unruly: A Fox among wolves.
A strong, clever boy, good at anything he tried, who avoided open confrontation whenever he could. Life with the Berserkers made him hard, but he always strived to stay fair. Whenever possible, he decided on a just solution. The world was evil, but he always believed in a better future.
He always had a flippant remark on the tip of his tongue, even in the most dangerous situations, and had a calm, detached demeanor. His fearless, impish approach to life was the origin of his nickname.
Fox Likes (Loyality):
Good Deeds
Berserkers
Clerics
Courage
Smartness
Inappropriate Jokes
Fox Dislikes (Loyality):
Bad Deeds
Outlaws
Morkons
Albs
Greed
Cowardice
Silliness
Where you can find Fox?
Fox is easy to find early in the game, he is hunting southwest of The Fort.
Fox
You can find Fox in South Central Magalan in ELEX 2 between The Fort and Old Wind Farm Teleport.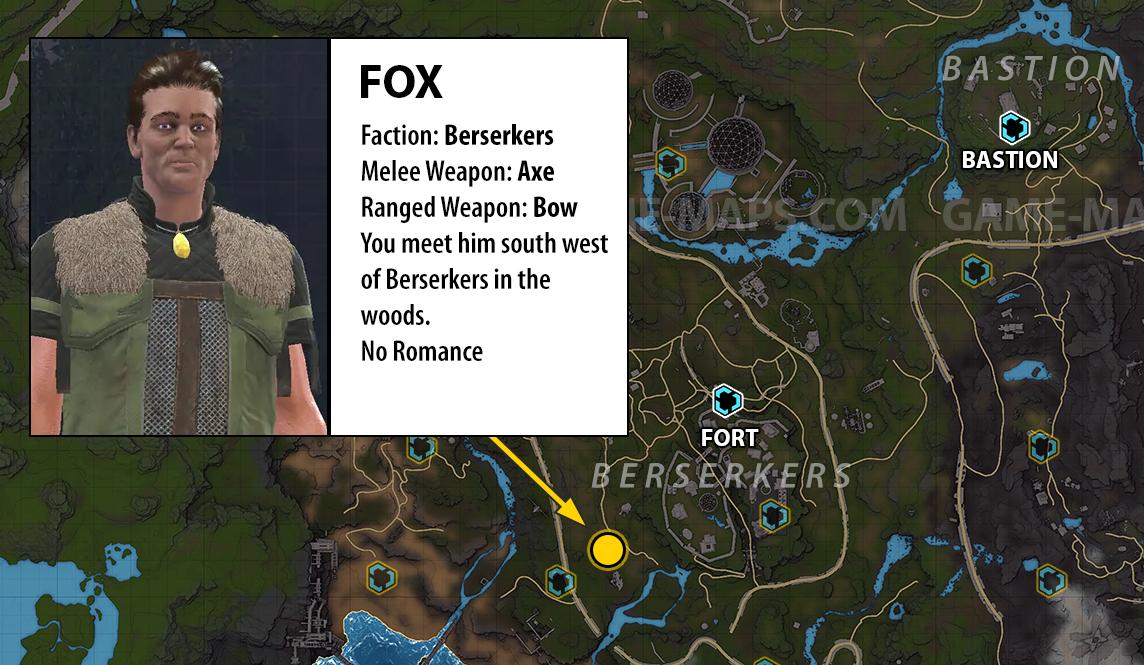 Fox Recruitment Missions
Talk to Fox when you meet him.
A Fox Among Wolves.
A Fox Among Wolves Mission Walkthrough
Fox is a strong Berserker Warrior without any ambitions to rise through the Berserker ranks, even though he could easily become a Warlord. He'd be a suitable companion if only I could convince him to join my cause.
💬 "So you want to go hunting?"
💬 "OK, lead the way ..."
Neighborly Help part of A Fox Among Wolves.
Neighborly Help Mission Walkthrough
Fox the Berserker want to go hunting with me. He seems to be testing me, but I'm not sure why.
It is a simple mission. After the first exchange of courtesy, Fox invites you to hunt together.
Follow Fox until he stops and resumes the conversation.
💬 "Get moving and we'll find out."
Hunting Expedition part of A Fox Among Wolves.
Hunting Expedition Mission Walkthrough
Fox the Berserker want to go hunting with me again. Could be interesting.
This time, the hunting expedition with Fox will be longer. Run after Fox, kill the monsters that will attack you. At some point, Fox will stop and resume the conversation.
💬 "I see. So they won't exactly be welcoming ..." Fox likes that.

💬 "How long do you plan on ..."
💬 "Maybe I should speak to Caja."
Reading The Riot Act part of A Fox Among Wolves.
Reading The Riot Act Mission Walkthrough
Fox is in trouble for insubordination. He has to speak to a Warlord but doesn't want to talk to any of the Warlords in the Fort. I suggested that I talk to Caja on his behalf. Maybe the punishment won't be that bad. I guess we'll see.
Ask Caja: 💬 "Do you know anything about a Warrior called Fox? ..."
Return to Bastion and find Fox.
💬 "I've spoken to Caja ..."
💬 "So you screwed ..."
Fox is now in your team.
Fox Missions
💬 "So where are these Albs that ..."
Field Duty.
Field Duty Mission Walkthrough
Fox wants to recapture a seeding from a troop of Albs.
You will be moved automaticaly to mission location.
Kill Trooper and 4 Scouts.
(...)
Companions Missions
in ELEX 2
Companions missions are tasks given to you by your companions after you gain their trust and add them to your party.