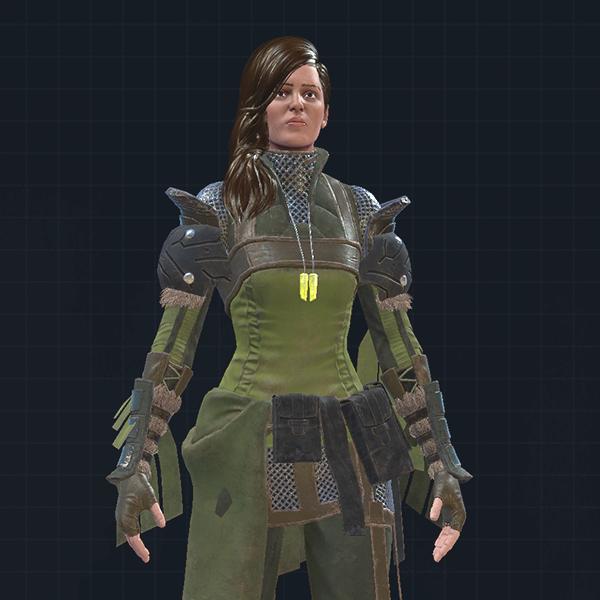 Faction: Berserkers
Ranged Weapon: Fire Magic
You meet her south of Bastion, during the missions related to the plot in Act I
Possible Romance
Head Oracle and strongest Berserker mage.
She was mother to Jax' son, Dex and a warmhearted and just woman. She always wanted the best for all of humanity.
As a general, however, she found herself caught up in a crusade against her enemies. She changed a lot after the war against the Albs. The nice, friendly young woman turned into a leader and warrior, ready to defend her territory without mercy.
She studied dark Elex when she could find the time, searching for a key to end the threat caused by the new plague.
Caja Likes (Loyality):
Good Deeds
Berserkers
Clerics
Smartness
Courage
Caja Dislikes (Loyality):
Bad Deeds
Outlaws
Morkons
Albs
Cowardice
Silliness
Greed
Inappropriate Jokes
Where you can find Caja?
Caja is the first Companion you recruit. You will meet her at the very beginning of the game, right after exiting the Prologue.
Caja
You can find Caja in South Central Magalan in ELEX 2 south of Bastion in Berserkers Camp [010].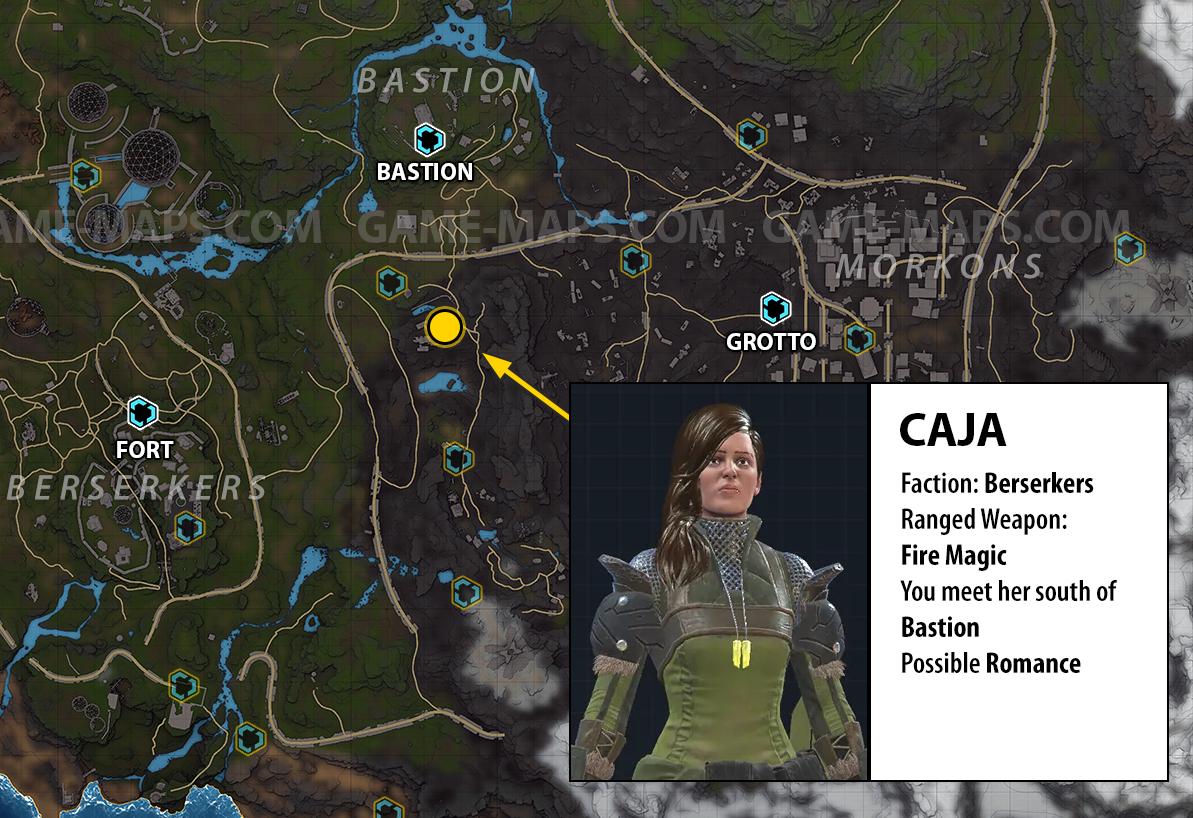 Caja Recruitment Missions
In [010]
💬 "I'll take care of your Morkon problem." Caja likes that
Only A Dead Morkon....
Only A Dead Morkon ... Mission Walkthrough
Caja followed the Morkons that attacked the western World Heart in Carakis and wants to punish them for their crime before they reach the Grotto, the Morkons' headquarters.
When you complete "Only A Dead Morkon ..." you will be able to join Caja to your team.
Caja Missions
💬 "So just what is it you do in Tavar?".
Securing the Land.
Securing the Land Mission Walkthrough
Caja wants to make sure there are no threats to the borders of Tavar. I'm afraid she won't let up until her Berserker faction has the strongest army in Magalan. Caja has many duties, and they'll continue to be an issue.
Securing the Land is a mission beyond the main storyline and you can complete it when you want it by talking to Caja.
💬 "Time to go on that scouting expedition to Tavar." you will be transferred to the mission site.
You will be automatically transferred to the mission location.
Cleric Junk part of "Securing the Land".
Cleric Junk Mission Walkthrough
Some of the Clerics' mechs have entered Tavar and are trying to spy on the Berserkers. Caja wants to neutralize them. I bet she could use my help.
The mission is to destroy three groups of machines located in three places around The Fort.
After mission.
💬 "You can always count on me." Caja like that.

Later ...
💬 "A mutant hunt in Tavar ..."
Alb Remains. part of "Securing the Land"
Alb Remains Mission Walkthrough
Some Alb mutants have moved into Tavar and are trying to reach the Fort. Caja wants to eliminate them. Sounds like the best thing for all involved.
Companions Missions
in ELEX 2
Companions missions are tasks given to you by your companions after you gain their trust and add them to your party.