Anechoic Lazaret Walkthrough & Map - Torment | Numenera
Torment: Tides of Numenera Game Guide & Walkthrough with Maps
Anechoic Lazaret Walkthrough & Map - Torment | Numenera Map, Walkthrough and Game Guide. It contains Points of Interest (PoI), Quest starters, quests walkthrough, different ways of solving quests. Location and conversation variants with an important NPC including Companions. The location and description of the important items in the game as Artifacts, Cyphers and Oddities. Location of places to sleep and shopkeepers.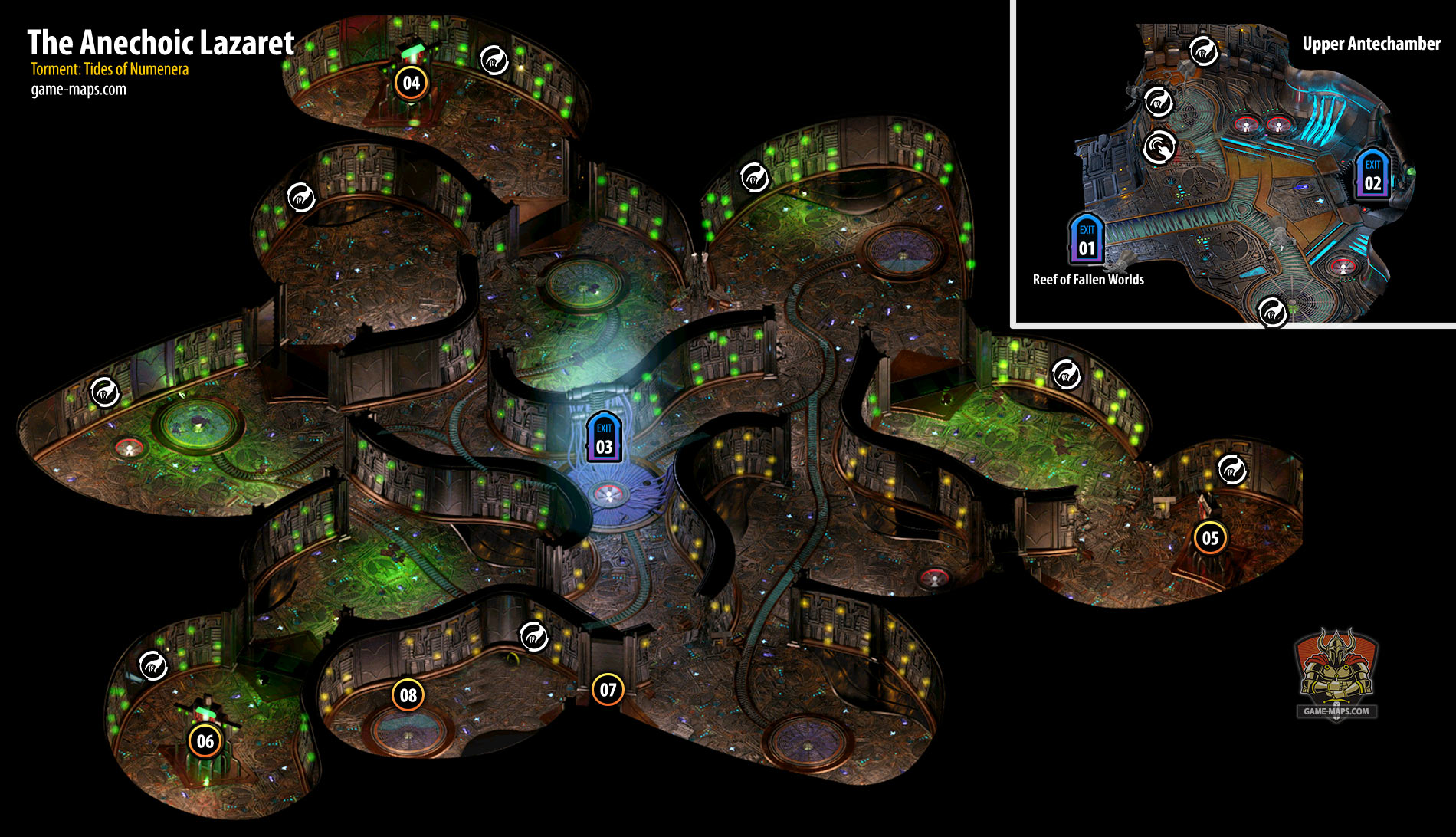 You can enter here for solving The Anechoic Lazaret Quest from Salimeri The Order of Truth 02
You will need Metallic Eye from Salimeri
Upper Antechamber
01Enter from Reef of Fallen Worlds.
Murden
A cluster of hunched creatures awaits you this dark room smelling of rust and blood. They are birdlike abhumans with chipped beaks, matted feathers, and filthy, leather robes. It's not their appearance that reminds you who they are. It's the gritty static that fills your head - a side effect of the creatures' telepathy. These are murdens - cruel and cunning scavengers. And a fifth of their number lies dead on the ground, with great chunks torn out its body.
[Anamnesis]
They are hostile and you heve to kill them all.
Pickup all items, and loot dead bodies.
Gravity Bomb +12 Relativistic damage
02 Stairs down
Climb Down
Anechoic Lazaret
03 Exit from Anechoic Lazaret
Peerless Drone
Talk to them.
So the drones are copies of tyou? +2 EXP
I'm leaving
Now you have to turn off consoles 04, 05 and 06
If you move deeper into Lazaret, Drones will attack you. Do not fight them just move 3 characters to 3 consoles in one time.
04 Control terminal - you have to turn it off +3 EXP
05 Control terminal - you have to turn it off
06 Control terminal - you have to turn it off
You will be healed after using Consoles, and Peerless Drones will stop to be aggressive.
Pickup all items
Antagonist Oddity value 120 shins
Chromavulum Oddity value 184 shins
07 Closed Doors
Open Doors.
08
Peerless the Eternal
[Lore: Machinery] [Quick Fingers] Disable the damaged drone.
Return to Salimeri The Order of Truth 02 to finish quest.