Daughter's Fathom Walkthrough & Map - Torment | Numenera
Torment: Tides of Numenera Game Guide & Walkthrough with Maps
Daughter's Fathom Walkthrough & Map - Torment | Numenera Map, Walkthrough and Game Guide. It contains Points of Interest (PoI), Quest starters, quests walkthrough, different ways of solving quests. Location and conversation variants with an important NPC including Companions. The location and description of the important items in the game as Artifacts, Cyphers and Oddities. Location of places to sleep and shopkeepers.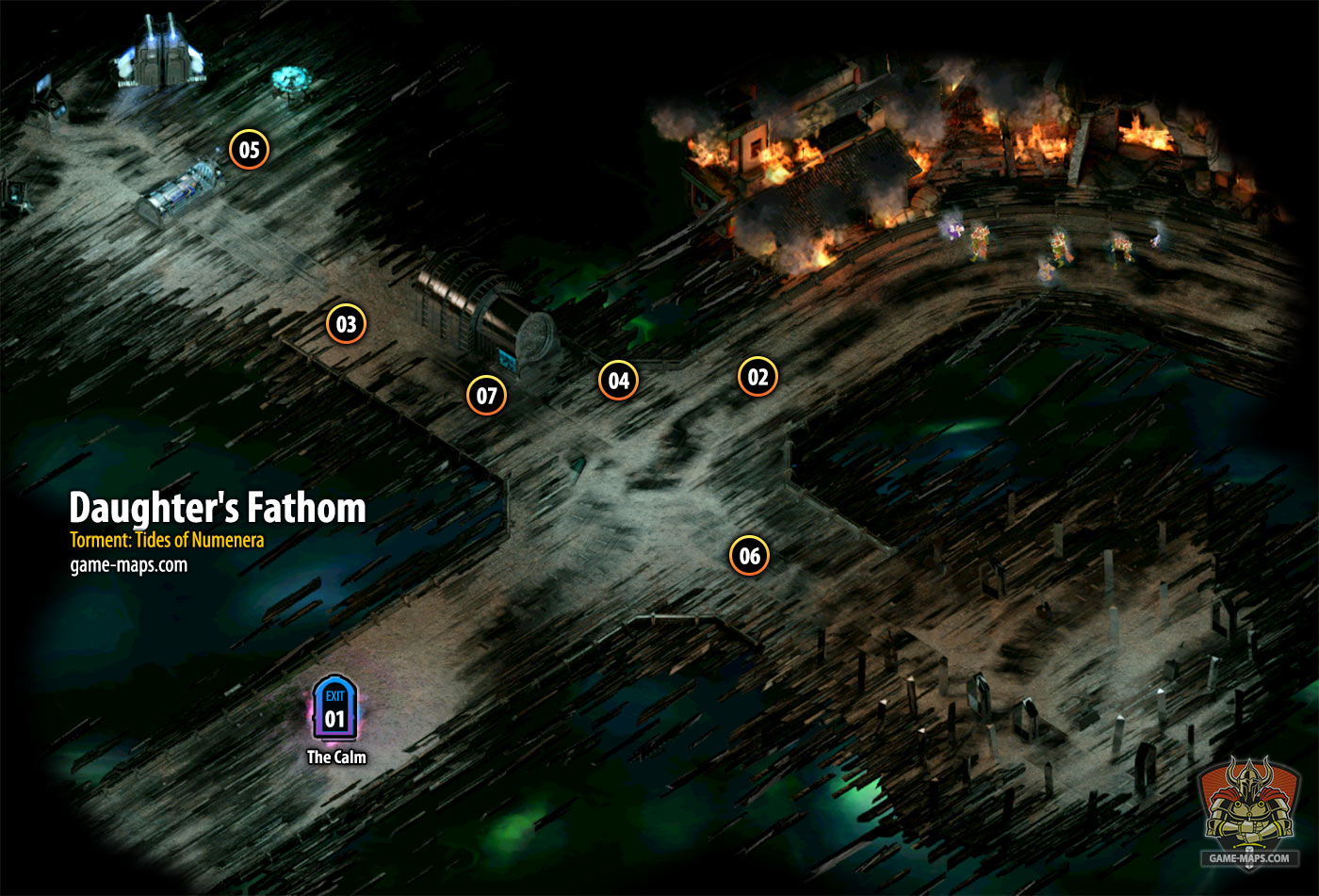 Daughter's Fathom location is related to Ashen Imitation Quest.
First time you come here when talking to Ghostly Woman in The Fifth Eye Tavern 11, let the ghost strangle you, die and you will wake up here.
Each next time when you want to come in here, talk to Tranquility and ask him about trance.
Before you will be able to solve this location you have to find five women.
Avina, a young girl who lives in Cliff's Edge, was hearing the ghost's voice in her dreams, but she drove it out of her mind by sheer force of will. She is in Cliff's Edge 07
Kiyatawa, a member of the Dendra O'Hur, is one of the affected women. Underbelly 16
Loss-of-self, an emotionally disturbed young woman I met in Cliff's Edge, is one of the affected women. She is in Cliff's Edge 20
Seria, the adopted daughter of the castoff Orseolo, seems to have been one of the affected women. When she was alive, she was confused about her identity and felt that she was supposed to become someone else. You will meet her during The Sorrow's Prey Quest. Talk to her in The Calm
Sigyn, the Captain of Levies, was one of the affected women, but she managed to escape her fate. Government Square 08
When you meet already all 5 women, the time to solve their mystery.
01 Exit/Entrance to The Calm
02 Avina
Talk to Avian, then talk to Ghostly Woman
03 Loss-of-self
Talk to Loss-of-self, then talk to Ghostly Woman
04 Sigyn
Talk to Sigyn, then talk to Ghostly Woman
05 Seria
Talk to Seria, then talk to Ghostly Woman
06 Kiyatawa
Talk to Kiyatawa, then talk to Ghostly Woman
07
Ghostly Man talk to him after you done all previous steps.
Can I help you?
I'd really like to help you
I need to know how to turn the machine off
The machine doesn't work. Every copy it creates dies at an early age just like your daughter. Even if it could create a perfect copy, she would die.
If you lead the discussion that way there will be no fight.
Ashen Imitation
The ghostly woman's father showed me how to shut down the probability engine. Now I need to find the machine in the real world and repeat the process
Though she isn't sure where the probability engine is located in the real world, the ghostly woman thinks it is hidden somewhere underneath Sagus Cliffs.
Probability Engine is in Buried Crossroads 03. Go there and turn it off.