The Calm (Labirynth) Walkthrough & Map - Torment | Numenera
The Calm (Labirynth) Walkthrough & Map - Torment | Numenera Walkthrough and Game Guide. It contains Points of Interest (PoI), Quest starters, quests walkthrough, different ways of solving quests. Location and conversation variants with an important NPC including Companions. The location and description of the important items in the game as Artifacts, Cyphers and Oddities. Location of places to sleep and shopkeepers.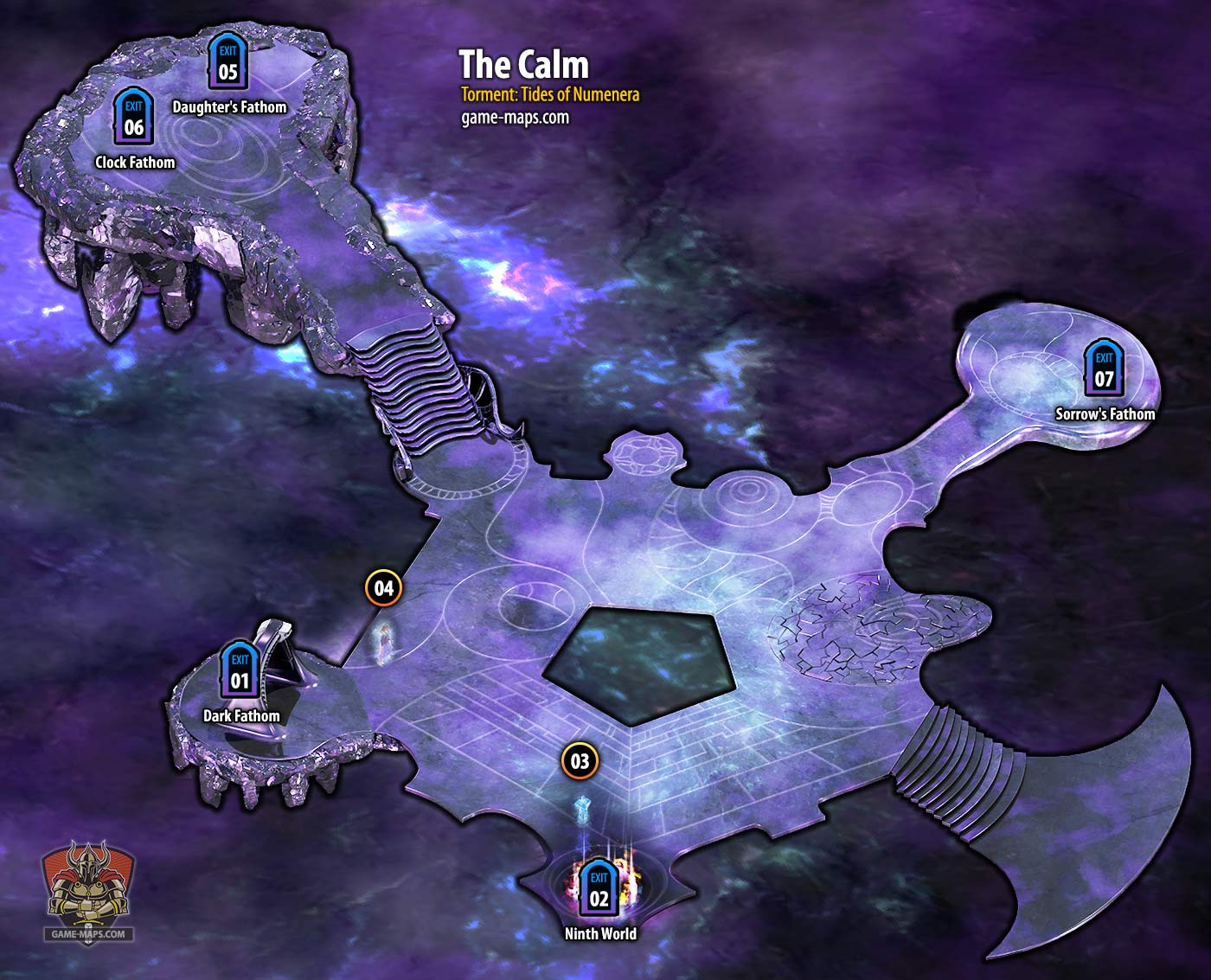 Quests
Walkthrough
You can enter here:
from Caravanserai (07) talk to Tranquility and ask for trance.
from The Fifth Eye buing and drinking pink sludge drink
after any not perma death
01 Dark Fathom
This is the place from which you came
02to Ninth World
By this exit you enter and enter to the game world.
03
The Specter
04
Seria
She will appears during The Sorrow's Prey Quest in Cliff's Edge
You gain a new ability Seria's Peace. +1 Might, +1 Speed and +1 Intellect.
05to Daughter's Fathom
This is location for Ashen Imitation Quest
06 Clock Fathom
First time you visit Clock Fathom during Fallen To Earth Quest. You meet here Kamose, Diviaticu and Villon. You managed to escape but they remained inside.
Later in the game, more or less when we meet Matkina, we will have the opportunity to return to the Clock Fathom. New entrance will open here. Try to enter.
A Wrested Mind Cast the Sorrow Fragment out of the clock fathom
The seal on the portal to the fathom where I met Kamose, Villon, and Diviaticu has weakened. It should now be possible to open a way back there, but no doubt the Sorrow Fragment that sealed it in the first place still remains.
The Sorrow Fragment that forcibly ejected me from the fathom during my last visit is undoubtedly still there. I must find a way to get rid of it in order to cleanse this portion of the Labyrinth.
Enter Clock Fathom
Kamose, Villon, and Diviaticu are still there.
Villon's right. We'd be better off fighting the monster together
Allow the Reflections to join you
Defeat the fragment. You should kill Sorrow Fragment with no problem with seven characters.
I have driven out the Sorrow Fragment that remained in the clock fathom +35 EXP
Return to The Calm
07to Sorrow's Fathom
After finishing A Wrested Mind Quest you will get another.
Infestation Enter the infested fathom
Fragments left behind by the Sorrow's incursion have wormed their way deep into the Labyrinth. Like plagues in my mind, they are stunting my potential.
A new portal in the Calm leads to the fathom the Sorrow's fragments have infested. I must destroy or contain them if I hope to rid myself of the Sorrow's interference in my mind.
Before you enter Sorrow's Fathom, go sleep.