West Edan Map & Walkthrough | Edan | ELEX
Map of West Edan for Elex. Missions, NPCs, Quests, Teleporters, Trainers, Traders, Monsters, Items, Secrets, Hints, Locations ELEX Walkthrough, ELEX Maps, ELEX Guide & Wiki.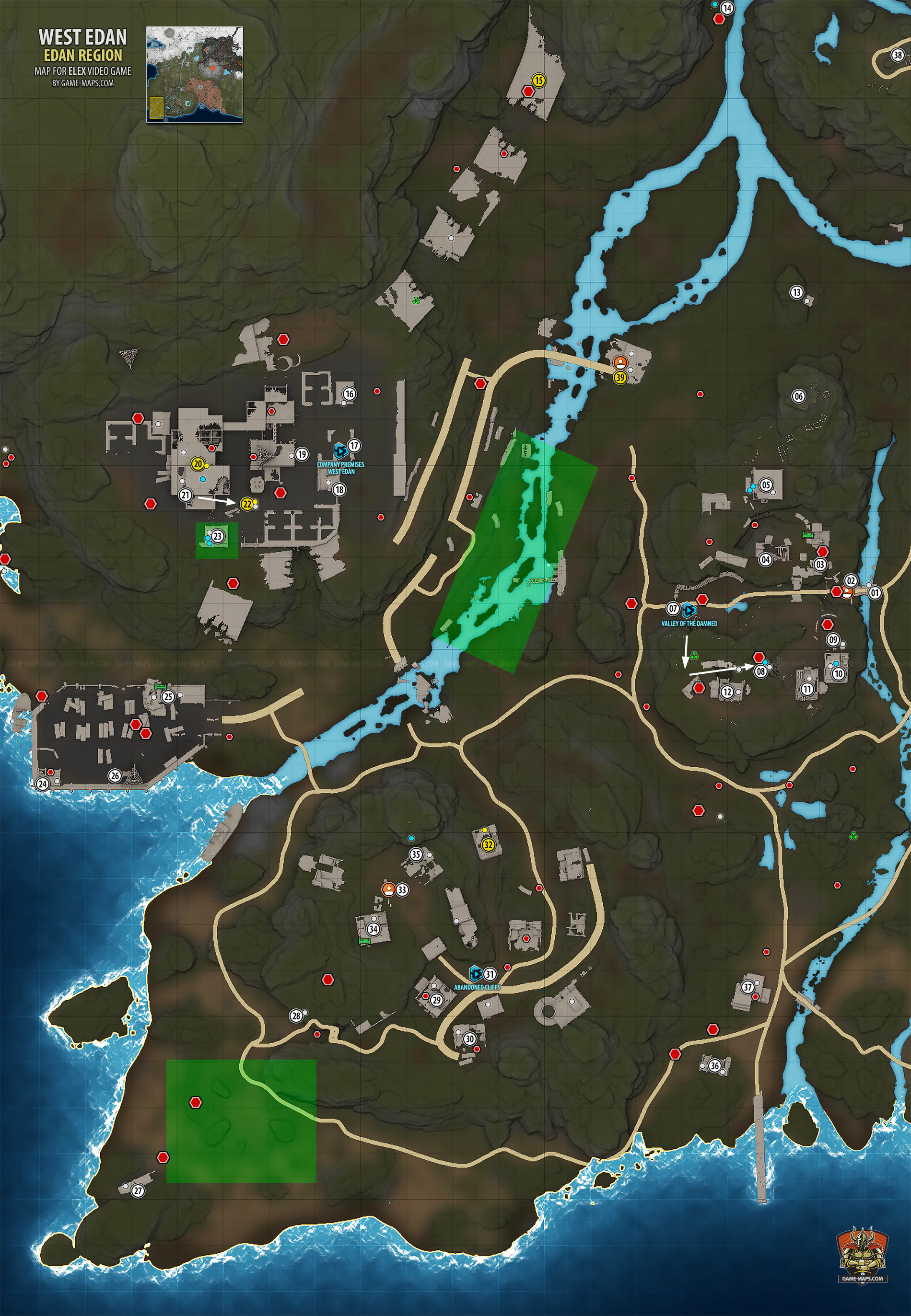 Search ELEX Game Guide & Walkthrough
In general, almost all of Edan West is hostile.
01
Legacy of an Exile
02
Exile - this is trap. After short dialogue they will attack you.
03
Scratched Recording - Audio Log
Ominous Note
04
Mana Potion Recipe
Chest
05
Gaia's Wrath Legendary One-handed Weapon DAM:39, STR:25, CON:65
Photograph 07
Thief's Ring + 5 DEX
Chest 2
Secret Conversation Recording 3 - Audio Log
Axe - Weapon - upper floor
Rusty Axe - Weapon on the roof
06
Golden Whisper - plant
07 Teleport Valley of the Damned
Powerful Mana Potion Recipe
08 Cave
Small Green Gemstone
Kiss of Death - Legendary Two-handed Weapon DMG:87, STR:76, CON:92
09
Rusty Axe - Weapon
10
Hunting Bow - Weapon
Wooden Shield - on the roof
11
High-performance Soup Recipe
Old Voice Recording 3 - Audio Log
12
Weathered Announcement
13
Travel Journal
14
Battleaxe Weapon
15 Five Weakened Albs
Kill them for [Clearing the Forest]
Clearing the Forest
As my mission proves, Albs area threat even here in Edan.
You will get reward from Nezol in (39)
16
Old Note - date is code for safe
Safe code for safe: 1706
17 Company Premises West Edan Teleporter
18
Lauri's Memo 3 - Audio Log
19
Employee Recording - Audio Log
20
Stasis Dual Hammer I - Weapon
A truth is told - Audio Log
Lauri's Memo 4 - Audio Log
On upper floors:
Small Red Gemstone
Four Houses Part 9
Weathered Picture 09
The Road to Calaan - The Ninth Clue
There is something behind all of this. A secret between the lines. These clues must lead somewhere.
21 Descent to underground levels.
Go down few levels to basement.
Secret Message - Audio Log
Chest 3
Chest 2
Switch - use it to open next underground levels.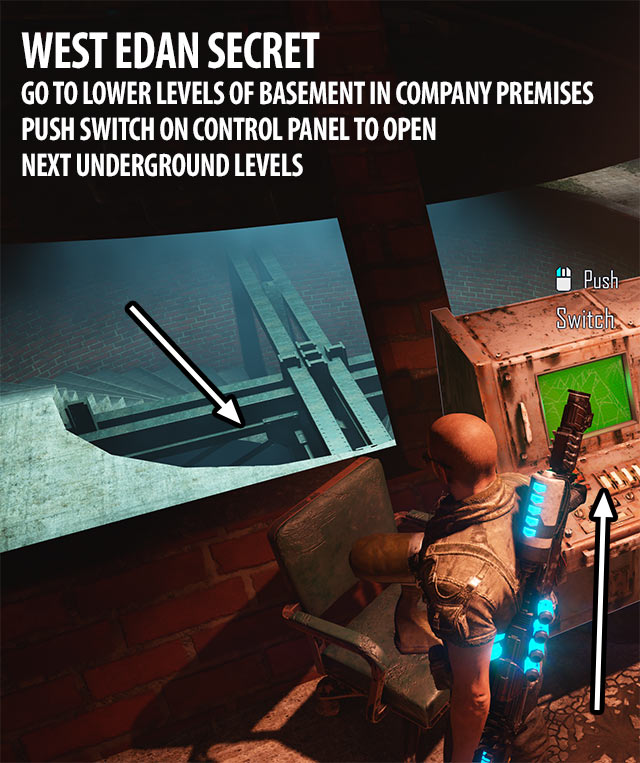 22 Lower Underground Levels
Hastily Written Report
Powerful Healing Potion I Recipe
X48 Reactor Coil - Replacement part for a rider
New Reactor Coil
It should be possible to find a type X48 reactor coil in a hidden Old World Science lab in Edan.
Dr. Dawkins's Memoirs 1
Safe - code for safe is written on the wall - 5517
Dr. Dawkins's Memoirs 2
23
Security Protocol
Photograph 06
Scrap Shotgun - Weapon
24
Captain's Log - Audio Log
Safe code for safe: 6180
25
Chest 2
26
Forgotten Message 6
by Kürşat Konak
"Sailor's log just north of #26 between 2nd and 3rd crates"
27
Dead Skald
Skald's Journal
28 Abandoned Bunker
Dead Grindill
Dead Artag - outside
Rehabilitation Order
Artag's Journal
Supply List
Mana Potion Recipe
Chest
Grindill's Journal
29
Ring of Power Recipe - on the roof
30
Secretary Recording
31 Abandoned Cliffs Teleporter
32
Four Houses Part 6
Weathered Picture 06
The Road to Calaan - The Sixth Clue
There is something behind all of this. A secret between the lines. These clues must lead somewhere.
33
Thorald- it will not be friendly to you until you have a task associated with him. Go away and do not take Mana lying around.
34
Safe code for safe: 1848 - code is on one of walls inside ground floor
Chest 3 - upstairs
Berserker's Ring inside chest
35
Cultivator Bow - Weapon
Golden Whisper - above on the cliff
36
Dead Ulfar
Dead Cyr
Two-handed Sword I
Cyr's Journal
Ulfar's Journal
Chest - on the roof
Hunter Helmet - Armor - inside chest
Small Blue Gemstone - inside chest
37
Hammer - Weapon
Numbered Slip of Paper 1 - "7" - this is first number for code for Safe in Xacor West (09)
Classic Sunglasses - Temporarily makes livings things easier to see.
Ring of Combat
Safe - upstairs - code for safe: 7590
38 Destroyed Berserkers Camp
39
Nezol
Do not return to Hakon in Goliet until you finish all things with Nezol and finish [Clearing the Forest].
The Negotiator
I spoke to an Alb Separatist called Nezol. He wants to broker a peace agreement with the Berserkers.
After you finish talk with Separatists, return to Hakon in Goliet for [The Negotiator] and [Searching for Clues].
After you return from Hakon, there are no more Separatist here. You will meet two Berserkers here. Talk to them
Albs Are Albs
The Berserker Hakon had the Separatists in Edan killed instead of making a deal with them. I should find out why.
ELEX Map Legend
Location / POI
Significant places in the game world are numbered on the map. Each number on the map has its equivalent in the description below the map. The number can mean a specific point in the game, as well as an area or building. The sequence of numbers shows suggested order of visiting locations.

Quest Starter Location
This is location with NPC, item or actions which are starting a quest or mission. Some quests activate automatically, some need to talk to an NPC or raise / use an item.

Teleporter
The Magalan world of ELEX has a network of teleporters. You must activate each of the teleporters before you can use it. To activate a teleporter, you must find him and reach him on foot. Then you will be able to fast travel between any two activated teleports.

Ability Trainer
There are four types of main ability trainers: Combat Trainer, Survival Trainer, Crafting Trainer, Charisma Trainer and three faction specific trainers: Berserker Trainer, Outlaw Trainer, Cleric Trainer.

Trader or Merchant
They act as shops where you can buy the equipment you need.

Trader / Trainer
This NPC is both a ability trainer and a shopkeeper.

Interactive NPC
Not all NPCs are marked on maps. Such a symbol is only for more important NPCs and those with whom we can take a more meaningful interaction. This is a sign for friendly or neutral NPCs.

Quest / Mission Item Location
This icon indicates the location of item needed to complete the task / quest / mission or start a new quest.

Normal Item / Location Pointer
This icon indicates places, objects and devices of normal importance, but significant in the context of this zone. Not all items are marked on maps, the marker means those that are more difficult to notice or interesting.

Special Item / Location Pointer
This is for marking, special, interesting or worth gathering items or locations. These are the ones that you should collect.

Aggressive enemy / monster.
Not all opponents are marked on maps. This mark indicates the opponents relevant in the context of the place and / or threatening player at a level that is relevant to the level of the environment.

Workbench
With the right skill and the right recipe you can put gems into sockets here to modify weapons, brew potions or craft jewellery.

Ore Veins
You can mine Ore Veins using Jackhammer.

Continuous damage zones
Areas where you get constant poisonous, radiation or freezing damage.
All your comments, suggestions and corrections are very welcome. Your experience helps other players. We invite you to add comments, thank you.