ELEX Map Pieces - Location Map
Location of Map Pieces for puzzle in ELEX. There are 16 Map Pieces hidden around the world of ELEX. If you find them and you will be able to put them all together you will get a reward. Missions, NPCs, Quests, Teleporters, Trainers, Traders, Monsters, Items, Secrets, Hints, Locations ELEX Walkthrough, ELEX Maps, ELEX Guide & Wiki.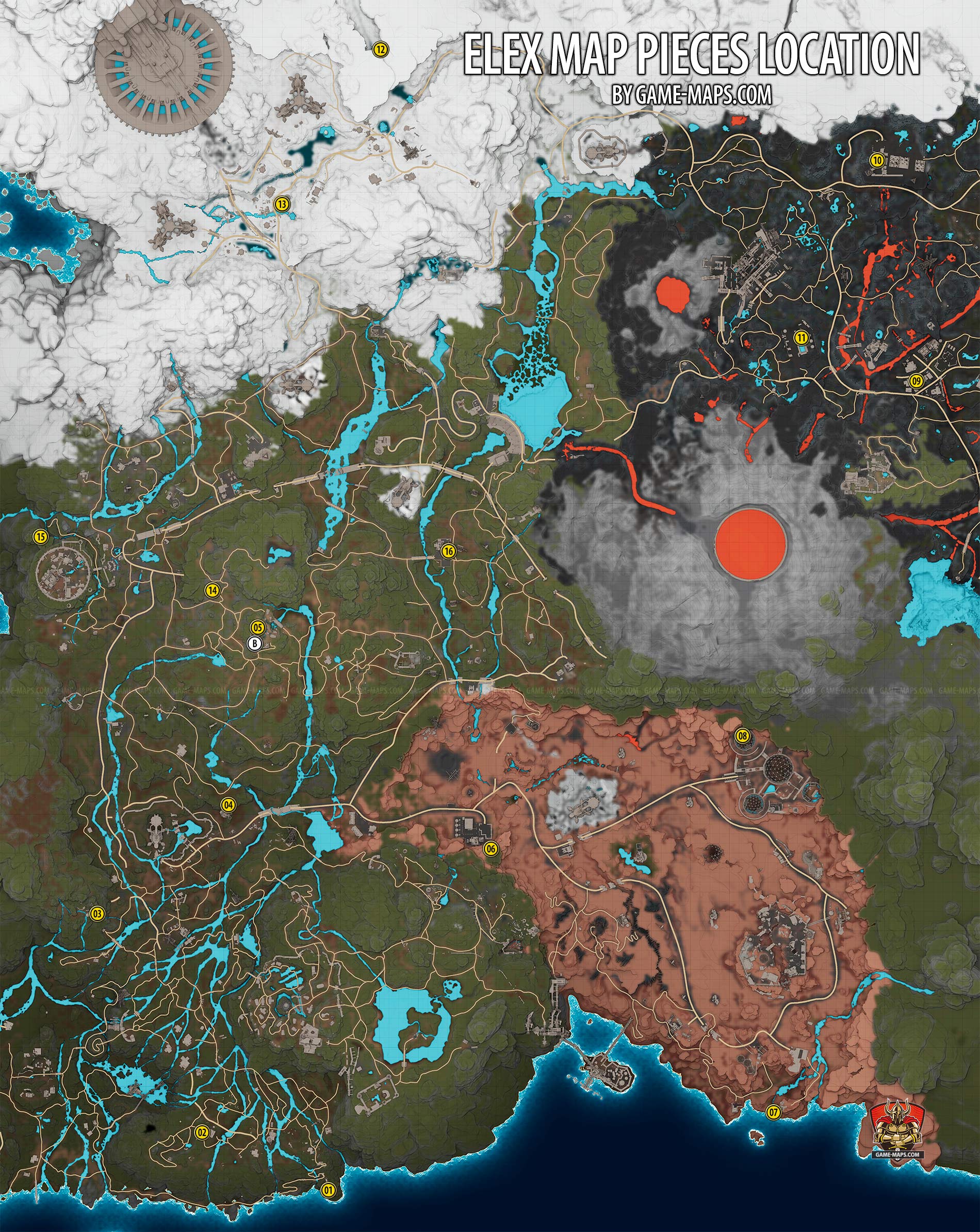 Search ELEX Game Guide & Walkthrough
B There is Board inside your house in Origin where you should put Map Pieces.
01 Map Piece 01
In the house on the sea cliff in South Edan. Quite high level monsters.
02 Map Piece 02
On the ground floor in hostile Hermits house.
03 Map Piece 03
In Old Observatory (near starting location) near Rat.
04 Map Piece 04
On very top, above toxic zone.
05 Map Piece 05
In Origin, below main building in the basement.
06 Map Piece 06
Enter from East Edan, on cliff in Tavar. Monsters there.
07 Map Piece 07
Near Lighthouse in South Tavar.
08 Map Piece 08
In Dome in North Tavar.
09 Map Piece 09
House in Ignadon near Crater Teleport
10 Map Piece 10
Inside control tower building.
11 Map Piece 11
Inside house near Volcano Teleporter
12 Map Piece 12
Inside cave near Snow Pass teleporter
13 Map Piece 13
Inside building in West Xacor
14 Map Piece 14
Inside old car tunnel.
15 Map Piece 15
North (outside) of Domed City.
16 Map Piece 16
On top of building in East Abessa