Balloons in Hogwarts Legacy
Hogwarts Legacy Map Balloons Location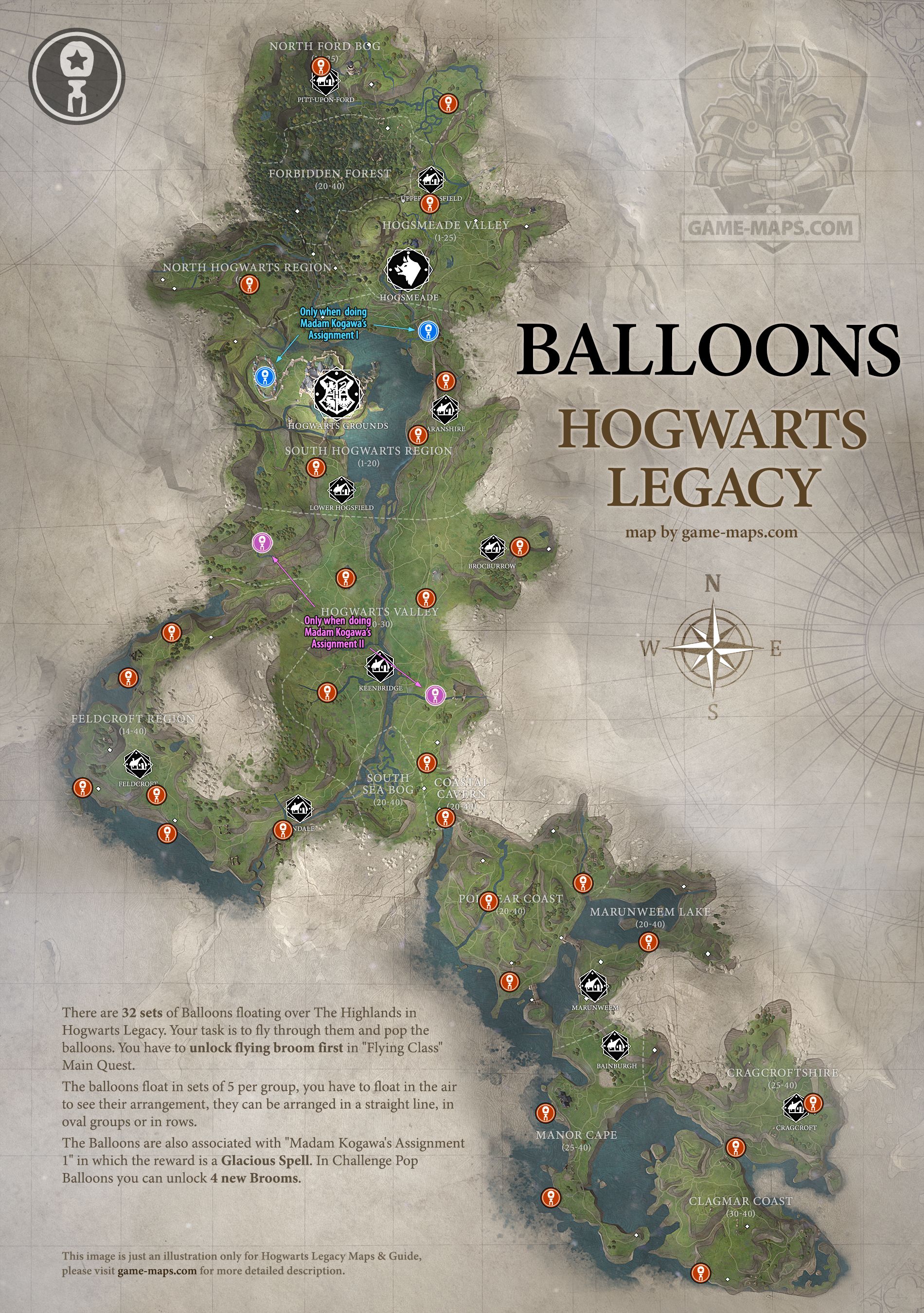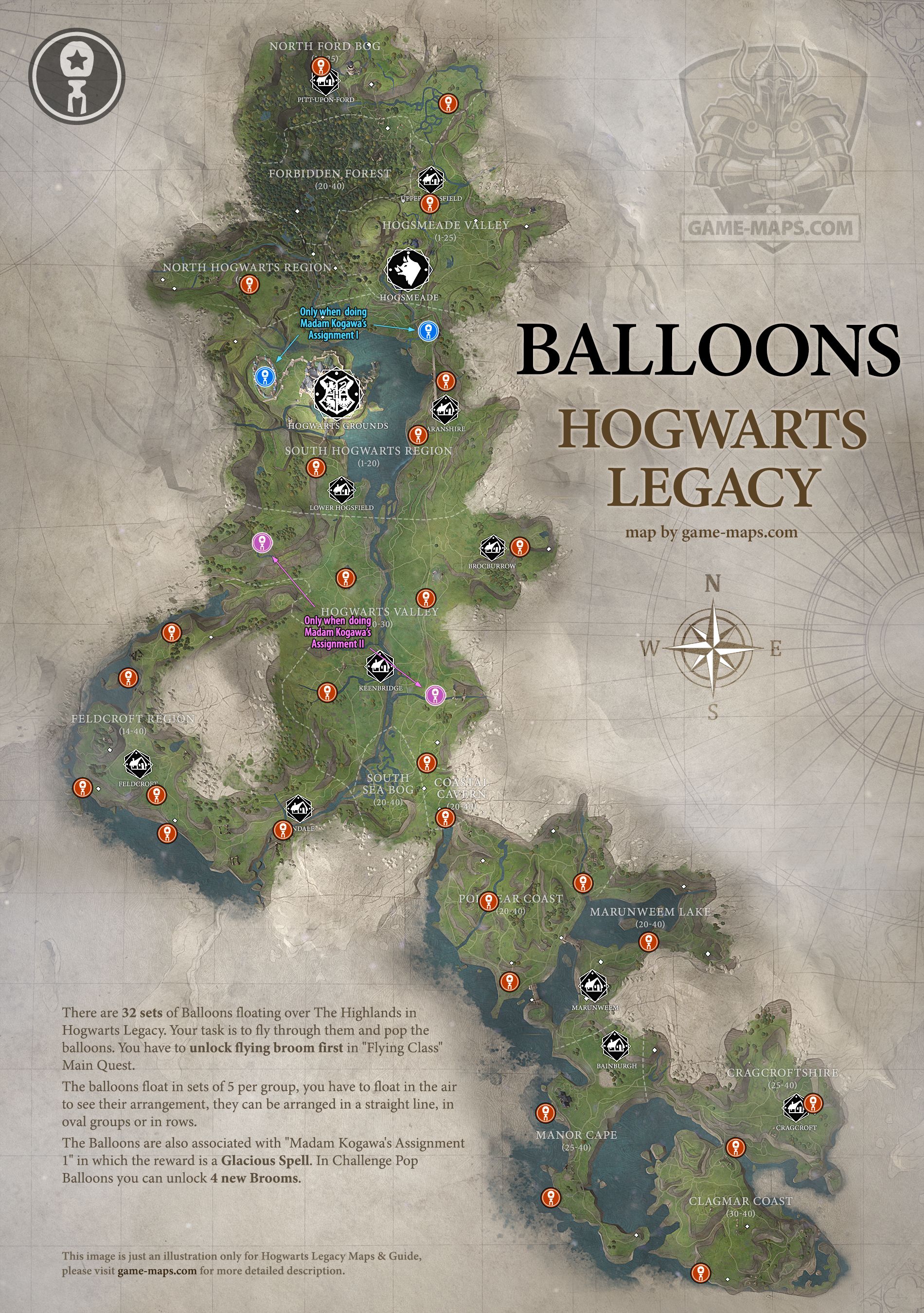 Map with locations of all Balloons in Hogwarts Legacy. There are 32 Balloon Sets in Hogwarts Legacy.
Your task is to fly through them and pop the balloons. You have to unlock flying broom first in "Flying Class" Main Quest.
The balloons float in sets of 5 per group, you have to float in the air to see their arrangement, they can be arranged in a straight line, in oval groups or in rows.
The Balloons are also associated with "Madam Kogawa's Assignment 1" in which the reward is a Glacious Spell. In Challenge Pop Balloons you can unlock 4 new Brooms.
Balloons Location
in Hogwarts Legacy
Any of the Hogwarts regions except Forbidden Forest and South Sea Bog has at least one Balloons, each set contains 5 balloons. 4 sets will appear only in connection with Madam Kogawa's Assignments.
South Hogwarts Region - 3 Sets of Balloons
Assignment - South Hogwarts Region - 2 Sets of Balloons - will appear during Madam Kogawa's Assignment I
Hogsmeade Valley - 1 Set of Balloons
North Ford Bog - 2 Sets of Balloons
North Hogwarts Region - 1 Set of Balloons
Hogwarts Valley - 5 Sets of Balloons
Assignment - Hogwarts Valley - 2 Sets of Balloons - will appear during Madam Kogawa's Assignment II
Feldcroft Region - 6 Sets of Balloons
Coastal Cavern - 1 Set of Balloons
Poidsear Coast - 3 Sets of Balloons
Marunweem Lake - 1 Set of Balloons
Manor Cape - 2 Sets of Balloons
Cragcroftshire - 2 Sets of Balloons
Clagmar Coast - 1 Set of Balloons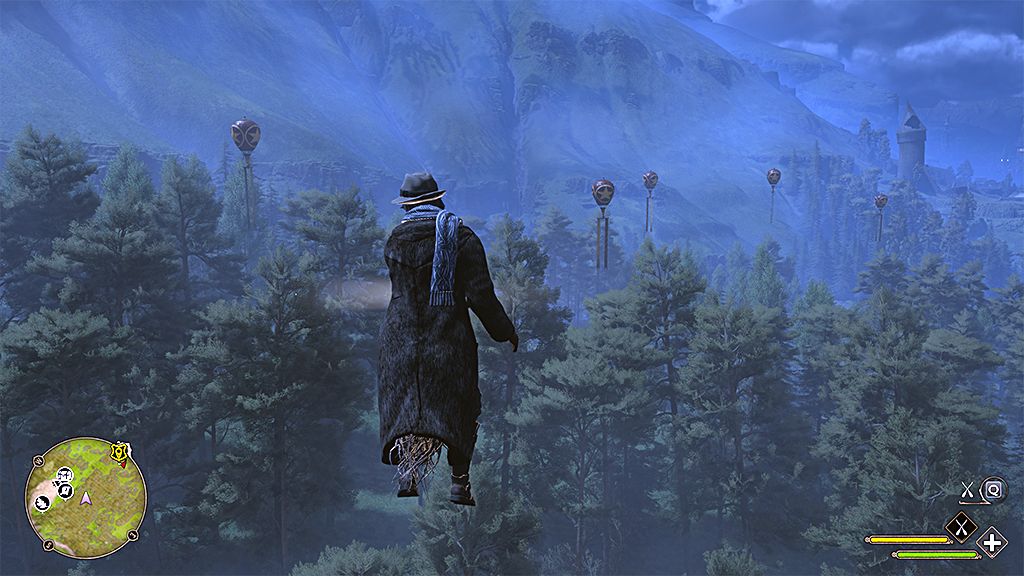 This is what the Balloons in Hogwarts Legacy looks like