Edgewater Map for The Outer Worlds
Map for Edgewater in Emerald Vale Region on Terra 2 Planet for The Outer Worlds, with discovered Points of Interest, Fast Travel locations, Quest List, NPCs, Vendors and Vending Machines and Workbenches. Game Guide & Walkthrough for The Outer Worlds.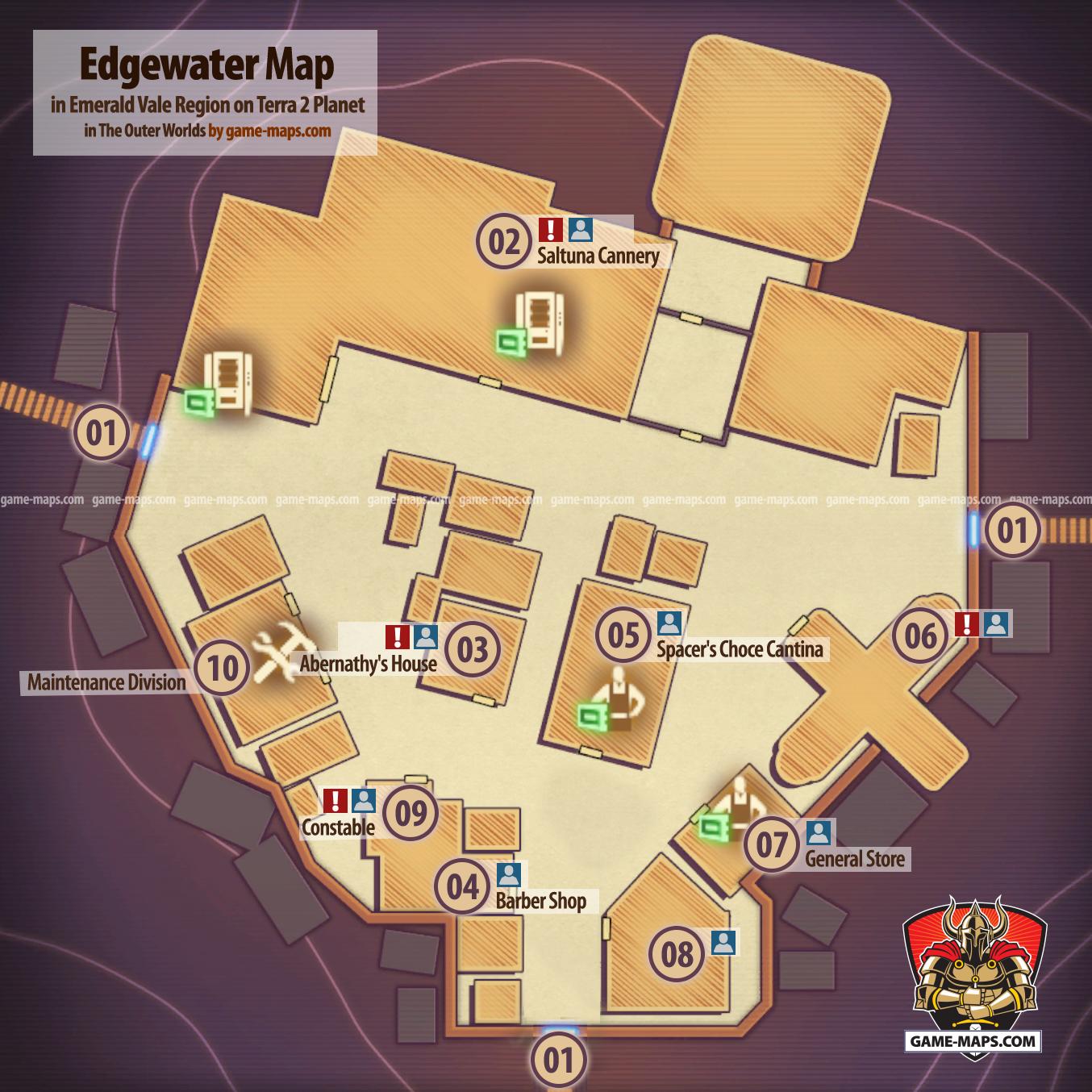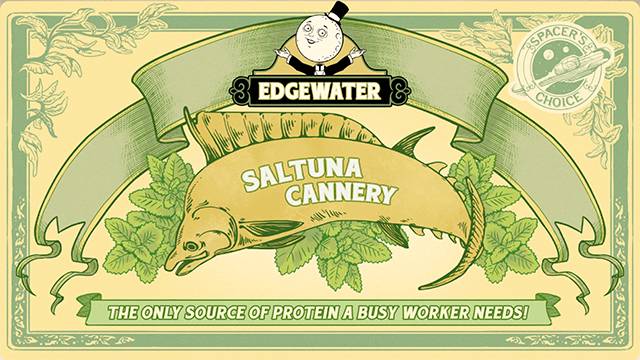 Edgewater Location in Emerald Vale on Terra 2 Planet in The Outer Worlds
02
Saltuna Edgewater Cannery
Upper Floor - Office
Reed Tobson
Stranger In A Strange Land Find a Power Regulator
Comes Now The Power Comes Now The Power Main Quest
Geothermal Passcode passcode for Geothermal Power Plant
Parvati join her to your team.
Outside Office
Comes Now The Power talk to Parvati about Vicar Max
Down in factory
Phyllis Granger
A Small Grave Matter Collect Phyllis's Gravesite Fees
⏳ Later in game after Botanical Lab:
The Frightened Engineer Second Volume
Guide to Mechanical Engeneering Volume 2 it is in factory on upper floor in side room.
04
Barber Shop
Conrad Sadik
A Small Grave Matter Collect Conrad's Gravesite Fees
Conrad says he can't afford to pay his fees. It might be worth mentioning this to Silas. Silas suggested searching around Conrad's shop for some leverage to aid in getting him to pay his fees.
You found a note from Phyllis to Conrad. Perhaps you could use the information from it to convince Conrad to pay his gravesite fees.
Letter from Phyllis is in next room on table.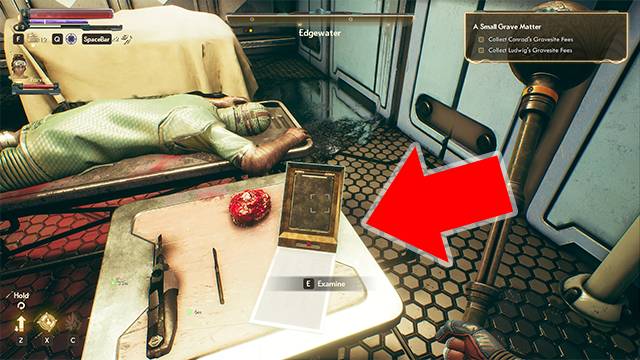 Letter from Phyllis for A Small Grave Matter in Barber Shop
05
Spacer's Choce Cantina
In bathroom Die, Robot Find Ludwig's Secret Weapon Ludwig's Bundle
Die, Robot Return to Ludwig
Amelia Kim
Winslow
06
Vicar Max
Comes Now The Power (Optional) Speak to the Vicar
The Illustrated Manual The Illustrated Manual Companion Quest
Vicar Max will join your team after The Illustrated Manual, when you main quests in Emerald Vale.
07
General Store
Julius Moreau
10
Maintenance Division
First Floor
On terminal you can find log about location of "Young Spacer's Guide to Mechanical Engeneering", it will be useful later for The Frightened Engineer Side Quest.
Edgewater Locations
Barber Shop
Constable
Maintenance Division
Saltuna Cannery
General Store
Spacer's Choce Cantina
Edgewater Quests
Comes Now The Power Comes Now The Power Main Quest
Fistful Of Digits Fistful Of Digits Side Quest
The Long Tomorrow The Long Tomorrow Side Quest
The Illustrated Manual The Illustrated Manual Companion Quest
The Outer Worlds Map Legend

Point of Interest

Point of Interest
with Fast Travel

Location

Quest Giver

Friendly NPC

Enemy NPCs

Vendor

Vending Machine

Workbench