Character Attributes in The Outer Worlds
In The Outer Worlds there are six character attributes describing your protagonist, they are Strength, Dexterity, Intelligence, Perception, Charm and Temperament, each of the attributes affects six character skills. There are three types of attributes: Body, Mind and Personality.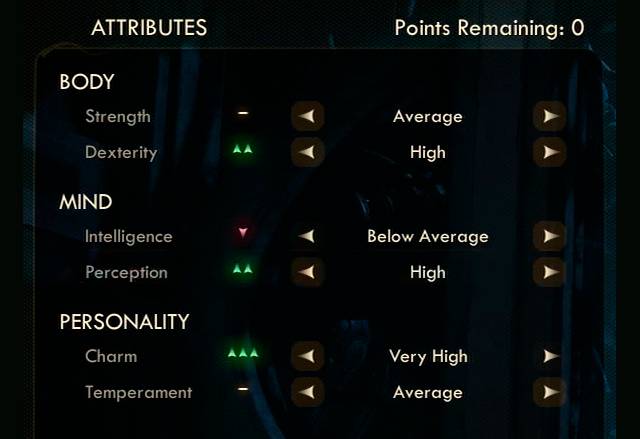 Sample Character Attributes in The Outer Worlds
Intelligence is lowered, and Charm is heavily raised. Which means that the starting value of Skill related to Intelligence will decrease, and with Charm will increase.
By raising an attribute, you also increase the value of the skills associated with it. At the beginning of the game, all attributes are set to "average", you have six points to raise the attributes of your choice. You can also lower their value below the "average" level.
Character Attributes in The Outer Worlds
Strength
Strength affects melee weapon damage and the amount you can carry.
Strength Attribute affected Skills:
1-Handed Melee
2-Handed Melee
Heavy Weapons
Block
Inspiration
Intimidate
Dexterity
Dexterity affects melee attack speed and ranged weapon reload speed.
Dexterity Attribute affected Skills:
1-Handed Melee
Handguns
Dodge
Block
Sneak
Lockpick
Intelligence
Intelligence affects Critical Hit bonus damage.
Intelligence Attribute affected Skills:
Long Guns
Persuade
Hack
Medical
Science
Determination
Perception
Perception affects Headshot and Weakspot damage bonuses.
Perception Attribute affected Skills:
Handguns
Long Guns
Heavy Weapons
Dodge
Lockpick
Engineering
Charm
Charm effects Faction Reputation and Companion Ability cooldowns.
Charm Attribute affected Skills:
Persuade
Lie
Intimidate
Hack
Science
Inspiration
Temperament
Temperament improves your natural health regeneration.
Temperament Attribute affected Skills:
2-Handed Melee
Lie
Sneak
Medical
Engineering
Determination
Types of Character Attributes
Body Attributes: Strength and Dexterity
Mind Attributes: Intelligence and Perception
Personality Attributes: Charm and Temperament