Val Royeaux Dragon Age: Inquisition Map
Val Royeaux Map Dragon Age: Inquisition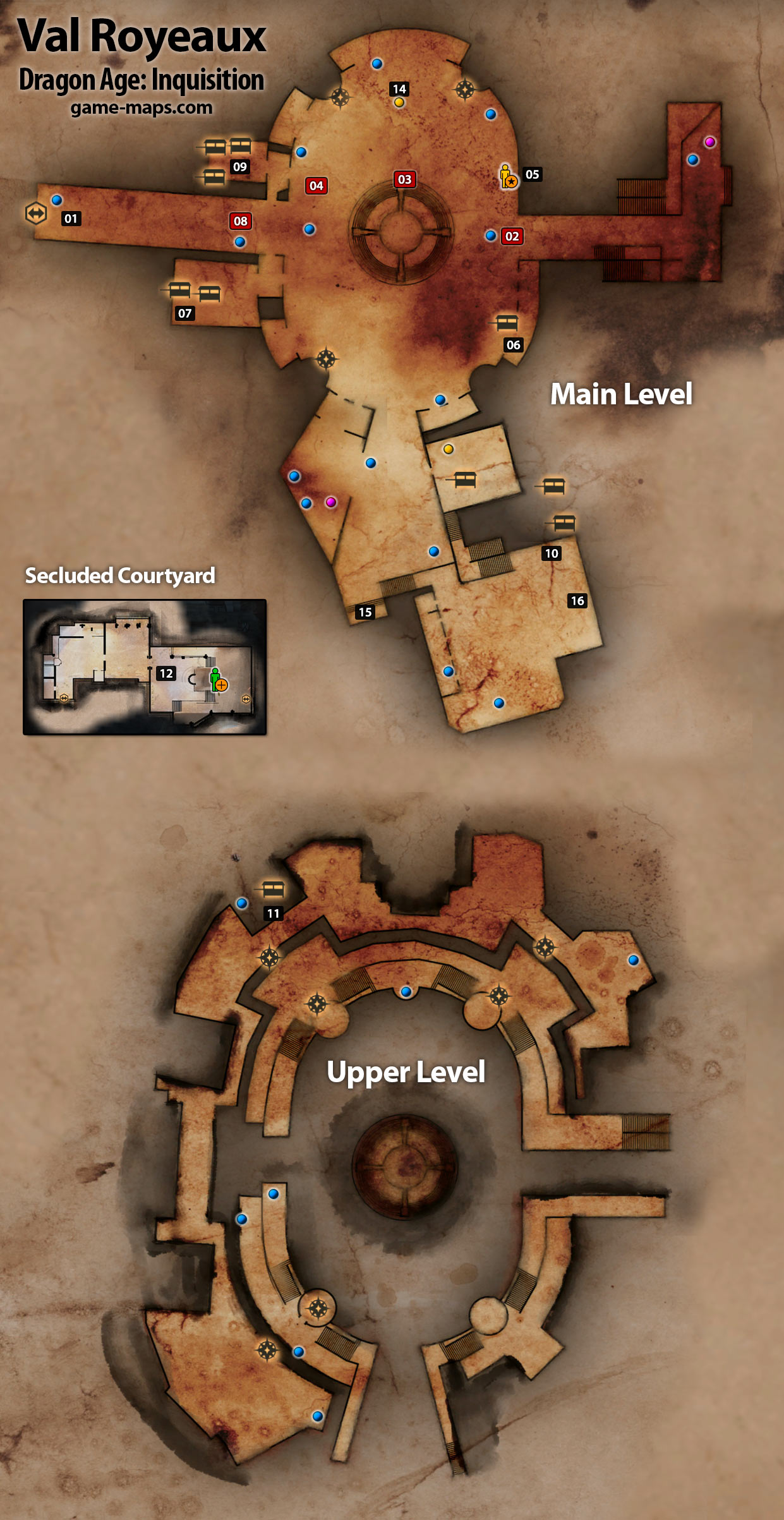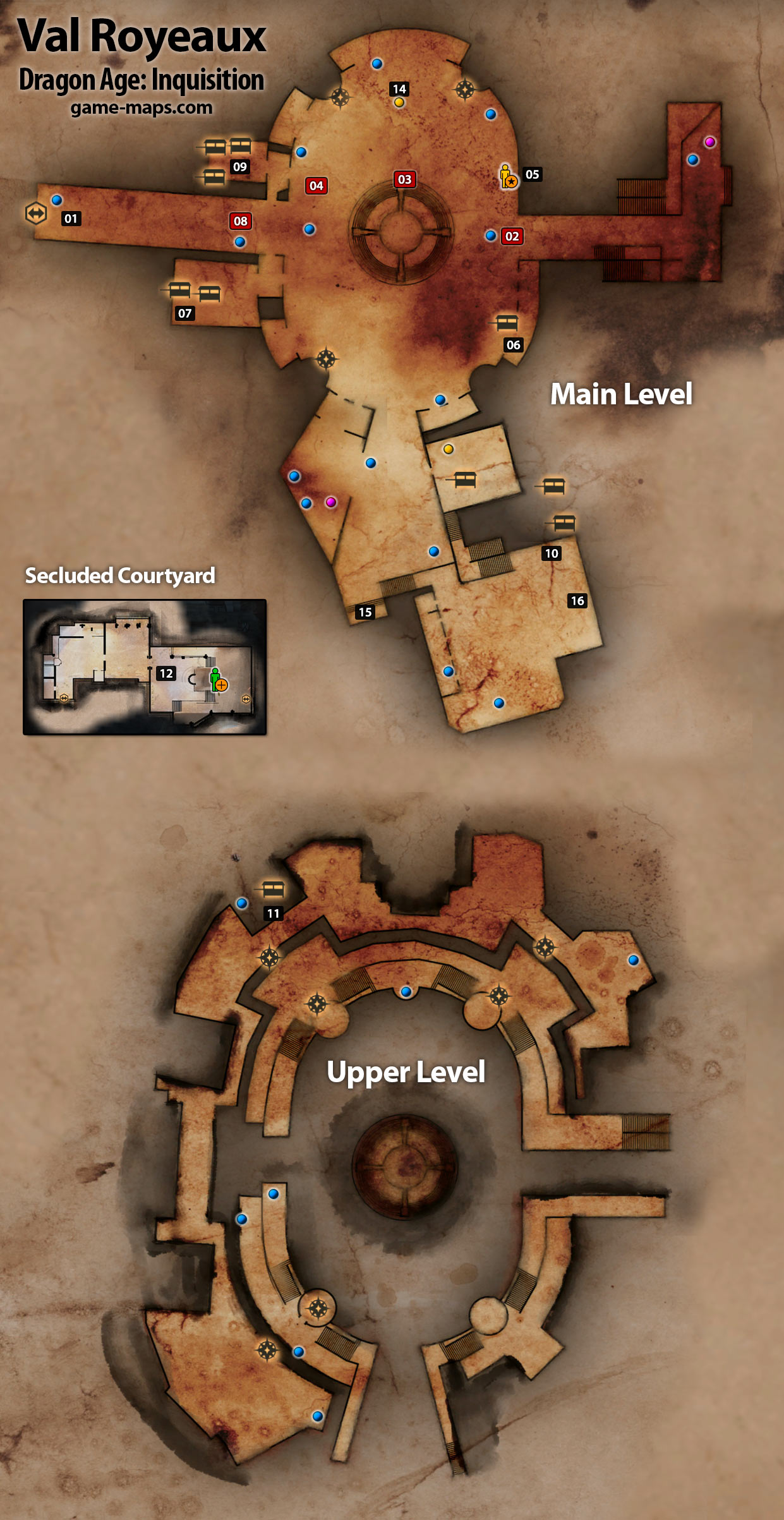 Val Royeaux Walkthrough
Dragon Age: Inquisition
EXCERPTED FROM VAL ROYEAUX: EXCESSES GRAND AND OTHER WISE BY (FORMERLY) SISTER LAUDINE
VAL ROYEAUX. ANY RESIDENT, A "ROYAN", WILL SAY IT IS THE GREATEST CITY IN THE WORLD. MANY TAKE SUCH PRIDE FOR ARROGANCE, BUT THEY DO SO THROUGH SMILES AS THEY NOD IN AGREEMENT, FOR SUCH IS THE COST OF DOING BUSINESS IN THE CAPITAL. VAL ROYEAUX IS IN EVERY WAY. A WORLD LEADERIN COMMERCE, CULTURE, AND ITS OWN EXAGGERATED BEAUTY.
THE SITE WAS FOUNDED DURING EVRIONS GRAND UNIFICATION, THE RESULT OF A MIX OF INFLUENCES NOT SO MUCH. BALANCED AS DRIVEN TOGETHER. AND WHILE SUCH AN AMALGAMATION WOULD BE CAUSE FOR CHAOS ELSEWHERE, THE PROSPERITY OF THE REGION HAS ENABLED AN UPWARD SPIRAL OF INDULGENCE. THE CAPITAL HAS ENDURED THE AGES TO BECOME A BEACON OF CIVILIZATION, AND ITS CITIZENS THE MEASURE OF MODERNITY. JUST ASK THEM.
IT EXISTS HARMONIOUSLY BESIDE THE ARISTOCRACY AND THE PALACE BUREAUCRATS. INDEED, THE ARISTOCRACY TENDS TO INDULGE IN THE CITYS DARKER SIDE QUITE FREQUENTLY (IF DISCREETLY), AND THAT ONLY ADDS TO THE MYSTIQUE. NOBILITY ELSEWHERE TEND TO BE MUCH MORE CONSERVATIVE AND CONCERNED ABOUT THEIR REPUTATION, EVEN IF A TRIP INTO THE CAPITAL TO INDULGE A FEW PRIVATE PLEASURES IS NOT COMPLETELY OUT OF THE QUESTION.
INVAL ROYEAUX, TRANSGRESSIONS ARE SUFFERED AND FORGIVEN WITH FLAMBOYANT URGENCY. THAT IS NOT TO SAY THE CITY IS WITHOUT LASTING SCANDAL OR HARDSHIP; BUT ONE MUST SQUINT PAST THE GILDING TO BE ALLOWED EVEN A GLIMPSE, AS ROYANS ARE VERY CAREFUL ABOUT THE FACE THEY PRESENT. SUCH IT IS WITH THE MASKS OF NOBILITY AND THE UNDERBELLY OF THEIR STREETS.
A PLAQUE DEDICATING THE SUMMER BAZAAR, "FOR VICTORIES EARNED AND TO COME", PLACED IN 5:30 EXALTED.
WE REDEDICATE THIS JEWEL OF VAL ROYEAUX AS THE SUMMER BAZAAR OF THE FIRST LION, TO REFLECT THE SPIRIT OF RENEWAL THAT IS AT THE HEART OF THE CAPITAL AND OF OUR PEOPLE. LET THE STRENGTH OF THE FOUR ALWAYS GUARD THE GRACE OF THE EMPIRE. LET THE BLOSSOMS AND PROMISE OF THE CHANGING SEASONS BE A TRIBUTE TO TRADE AND PUBLIC GATHERING. FOR HERE, IN THE NAME OF THE LION VALMONT, WE WILL BEAN EXAMPLE TO THE WORLD OF HOW ORLESIANS RESPOND TO ADVERSITY.
OUR WAY CANNOT BE THREATENED, FOR IT EMBODIES THE TRUTH OF TRADITION AND THE PROMISE OF PROGRESS. THE BLIGHT FINDS NO PURCHASE IN THE HEART OF COMMERCE.
01 Entrance to Val Royeaux
02
NPC: Revered Mother Hevara
NPC: Lord Seeker Lucius
QUEST: Champions of the Just (Inquisitor's Patch)
03
ITEM: Mysterious Arrow
QUEST: A Friend of Red Jenny (The Inner Circle)
04
NPC: Messenger
ITEM: Invitation: First Enchanter Vivienne
QUEST: The Imperial Enchanter (The Inner Circle)
05
NPC: Belle - Recruit her as a Agent
06
NPC: Barnabus
Trader Buy / Sell - Accessories
07
NPC: Pierre-Marie
Trader Buy / Sell - Mage Stuff
08
When heading to Exit.
NPC: Grand Enchanter Fiona
QUEST: In Hushed Wispers (Inquisitor's Patch)
09
NPC: Merchant
Trader Buy / Sell - Rare, expensive, high level stuff.
10
NPC: Merchant
Trader Buy / Sell - High level Schematics.
---
Use Fast Travel to go to Upper Level
11
NPC: Deraboam
Trader, but he is selling only one item Mystery Box for 10 000 coins.
If you buy Mystery Box you will gain "The Big One?" operation available in War Room.
ITEM: Set of Exotic Mounts as Reward
After visiting Val Royeaux you gain access to two small locations.
12 Secluded Courtyard
Its for A Friend of Red Jenny Quest. You can recruit Sera NPC for your team there.
NPC: Sera
13 Ghislain Estate (No Map)
Its for The Imperial Enchanter Quest. You can recruit Vivienne NPC for your team there.
NPC: Vivienne
14 Execution Place
QUEST: Revelations This Quest is given by Blackwall in Skyhold
One day Blackwall will left Inquisition and come here to see execution on soldier names Mornay.
NPC: Bailiff
Come here to watch Blackwall admits he is Thom Rainier. Go and speak Rainier in his cell (15)
by Phl4W
"... there is also a song lyric attached to the gallows. Gallows are found by going straight from main entrance and then hanging left from the roundabout"
15 Val Royeaux Prison
NPC: Blackwall Talk to him, then go to prison exit and talk to Cullen. Try to get Blackwall out of prison.
Return to Skyhold and select operation Thom Rainier's Fate. Now you can judge him at Skyhold. If you free him he will come back to Inquisition.
16
NPC: Josephine
She will appears here due to Of Somewhat Fallen Fortune
06 Shop
ITEM: Montilyet Family Crest for Heraldry Drom a Herald Quest
Map Legend
for Dragon Age: Inquisition

Location - This is in game location. The sequence of numbers shows suggested order of visiting locations.

Starting Quest Location This is location with quest giver. It can be item, person or place.

Inquisition Camp - Heals, restock potion, place to rest, change party members, use it to fast travel. Setup camps as fast as you can.

Landmark - POIs (Points of Interest). Visit and claim to complete collections.

Shop Traders & Merchants, to buy / sell items.

Crafting Station - Here you can create or modify Weapons, Armor, Accesories, Runes and Potions.

Fade Rift - You can close Rifts using your ability. Rifts grows in difficulties in following locations. Closing a Fade rift rewards with amount of Power. There are a total of 81 rifts in Thedas.

Astrarium - Astrariums are ancient relics of Tevinter origin that allow the viewing of constellations in the stars. Solve Astrarium puzzles to reveal secret location with treasure.

Ocularum - Use Ocularums to reveal locations of magical Shards. Shards can be used in Forbidden Oasis Location.

Dungeon Entrence - Entrence to Cave, Dungeon, Crypt, Underground.

Locked Door - This kind of Locked Doors require Special Key or "Deft Hands, Fine Tools" Inquisition Perk

Fast Travel - You can travel to this points pointing on world map.

Area Exit This is Exit to main map

Mosaic Piece Collect mosaic for Collections. Mosaic sets are Sacrifice, Invasion, The Fall, Archdemon and Freed Are Slaves. Each Mosaic set has 12 pieces.

Bottle of Thedas Collect Bottles for Collections. There are 29 bottles that can be collected.

Inquisition Agent Here you can hire new Inquisition Agent.

Party Member Here you can recruit new Party Member

Secret - Use Search ("V" on PC) to reveal secrets. Sometimes you need to use search key few times.

Codex Entry It can be book, letter, place, item. After you collect 250 codex entries you become Loremaster.

Specials - Important place, interesting place, easy to be missed, just look around carefully.

Ballad Collection - Song Lyrics or sung song for Collection. There are 21 songs to collect.

Logging Stand - for Resource Requisition Quest, used for crafting Skyhold improvements.

Quarry - for Resource Requisition Quest,, used for crafting Skyhold improvements.

Artifact - Artifact to Activate for Solas. When activated they strengthen the Veil in the close area.

Glyph - Use Veilfire to obtain Rune

Keep - Tou have to defeat enemy and claim this keep for Inquisition, then it will be your Camp.

Operation - You have to perform Operation here.

Dragon - Dragon for High Dragon Collection. There are 10 high dragons in Dragon Age: Inquisition.