Redcliffe Castle - Dragon Age: Inquisition
Redcliffe Castle - Dragon Age: Inquisition Walkthrough, Game Guide and Maps, with Quest and Locations of Camps, Merchants, Rifts, Ocularums, Astrarium, Dungeon Entrences, Landmark (POIs), Crafting Station, Mosaic Piece, Inquisition Agent, Secrets, Party Members, Bottle of Thedas and Codex Entry.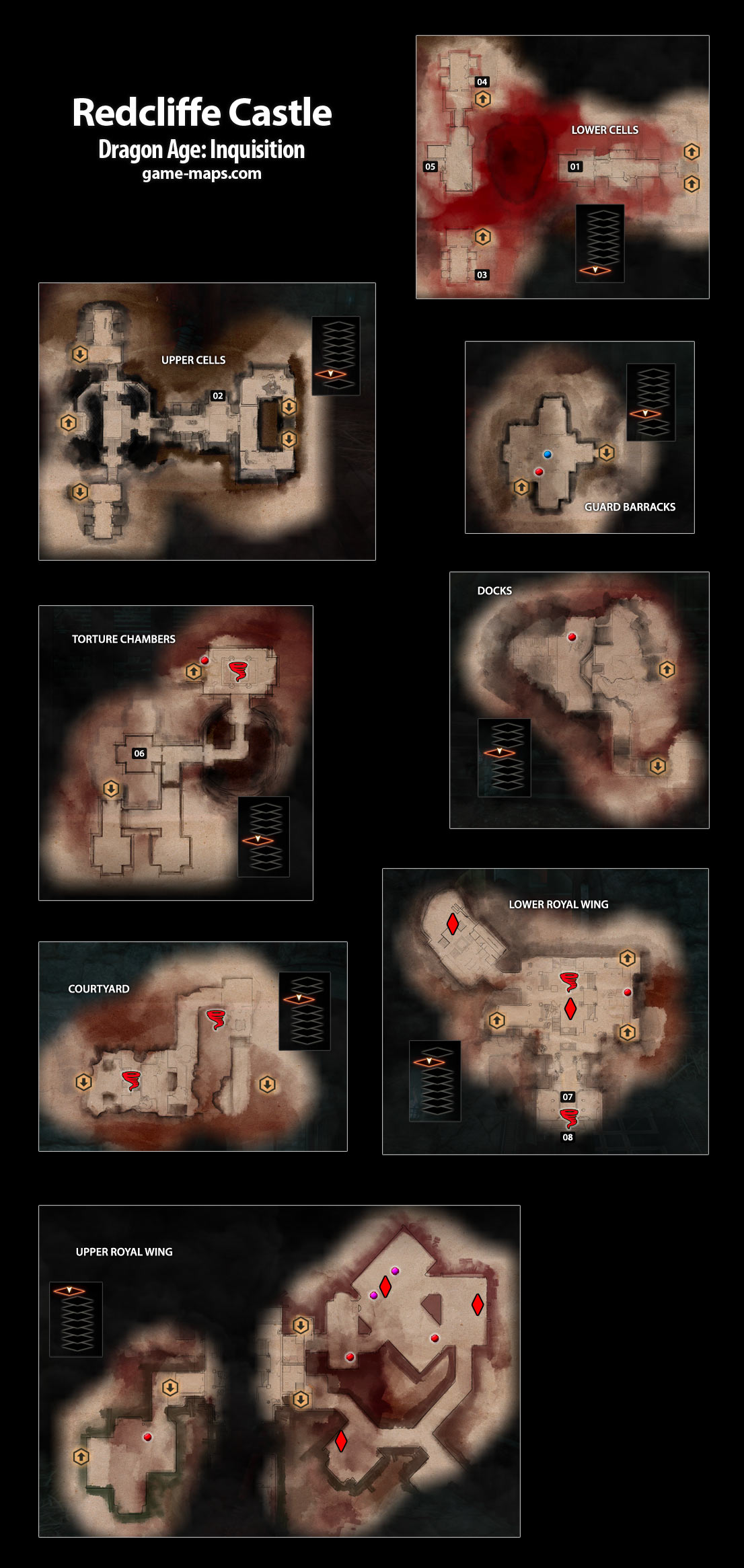 FROM IN PURSUIT OF KNOWLEDGE: THE TRAVELS OF A CHANTRY SCHOLAR BY BROTHER GENITIVI
KING CALENHAD THEIRIN ONCE FAMOUSLY DECLARED, THE FATE OF REDCLIFFE IS THE FATE OF ALL FERELDEN." CERTAINLY, THE CASTLE IS THE FIRST AND LAST DEFENSE FOR THE SOLE LAND ROUTE INTO FERELDEN, AND THE COUNTRY HAS NEVER FALLEN TO ANY FORCE THAT DID NOT FIRST CAPTURE REDCLIFFE.
THE CASTLE, WHICH DESPITE BEING THREE TIMES CAPTURED IS POPULARLY DESCRIBED AS UNASSAILABLE," ALSO GUARDS ONE OF THE LARGEST AND MOST PROSPEROUS TOWNS IN FERELDEN. REDCLIFFE VILLAGE IS WELL SITUATED NEAR THE MOUNTAIN PASS TO ORZAMMAR AND THE ORLESIAN BORDER, AND SO SERVES AS A CENTER OF FOREIGN TRADE. FOR THESE REASONS, REDCLIFFE IS ACCOUNTED AN ARLING DESPITE THE SMALLNESS OF THE DOMAIN.
THE INHABITANTS OF REDCLIFFE VILLAGE ARE PRIMARILY FISHERMEN OR MERCHANTS WHO SHIP DWARVEN GOODS THROUGH THE PASS FROM ORLAIS TO DENERIM. WHEN THE ENTIRE VILLAGE SMELLS OF SMOKED FISH ON CERTAIN LATEAUTUMN MORNINGS, THE MERCHANTS IN THEIR FINERY Do THEIR UTMOST TO PRETEND OTHER WISE.
FROM THE CHANGING FACE OF THEDAS BY SISTER PETRINE, CHANTRY SCHOLAR
THE EVENTS OF THE FERELDAN CIVIL WAR LEFT REDCLIFFE IN TATTERS. ITS RECONSTRUCTION HAS BEEN A SLOW PROCESS, BUT THE CITY HAS MADE A REMARKABLE RECOVERY AFTER ITS ORDEAL AT THE HANDS OF YOUNG LORD CONNOR GUERRIN.
AFTER THE BATTLE OF DENERIM, ARL EAMON GAVE THE ARLING OVER TO HIS YOUNGER BROTHER IN ORDER TO DEVOTE HIS FULL ATTENTION TO ADVISING THE THRONE. HE LEFT THE NEW ARL TEAGAN WITH THE MONUMENTAL TASK OF REBUILDING THE TOWN AND PERHAPS THE EVEN GREATER CHALLENGE OF DEALING WITH THE INFLUX OF MAGES INTO THE AREA FOLLOWING THE BREAKING OF THE CIRCLES.
Maps:
Lower Cells
Upper Cells
Guard Barracks
Torture Chambers
Docks
Courtyard
Lower Royal Wing
Upper Royal Wing
---
You come here when you sellect Mages.
01
Here you are only with Dorian.
ITEM: Prison Key
02
NPC: Lysas
03
NPC: Fiona
04
NPC: Cassandra
I took Cassandra with me to Redcliffe Castle
05
NPC: Sera
I took Sera with me to Redcliffe Castle
06
NPC: Leliana
07
To open this door you need 5 Red Lyrium Shards
08
NPC: Alexius
Kill him.
Dragon Age: Inquisition Map Legend
Location - This is in game location. The sequence of numbers shows suggested order of visiting locations.
Starting Quest Location This is location with quest giver. It can be item, person or place.
Inquisition Camp - Heals, restock potion, place to rest, change party members, use it to fast travel. Setup camps as fast as you can.
Landmark - POIs (Points of Interest). Visit and claim to complete collections.
Shop Traders & Merchants, to buy / sell items.
Crafting Station - Here you can create or modify Weapons, Armor, Accesories, Runes and Potions.
Fade Rift - You can close Rifts using your ability. Rifts grows in difficulties in following locations. Closing a Fade rift rewards with amount of Power. There are a total of 81 rifts in Thedas.
Astrarium - Astrariums are ancient relics of Tevinter origin that allow the viewing of constellations in the stars. Solve Astrarium puzzles to reveal secret location with treasure.
Ocularum - Use Ocularums to reveal locations of magical Shards. Shards can be used in Forbidden Oasis Location.
Dungeon Entrence - Entrence to Cave, Dungeon, Crypt, Underground.
Locked Door - This kind of Locked Doors require Special Key or "Deft Hands, Fine Tools" Inquisition Perk
Fast Travel - You can travel to this points pointing on world map.
Area Exit This is Exit to main map
Mosaic Piece Collect mosaic for Collections. Mosaic sets are Sacrifice, Invasion, The Fall, Archdemon and Freed Are Slaves. Each Mosaic set has 12 pieces.
Bottle of Thedas Collect Bottles for Collections. There are 29 bottles that can be collected.
Inquisition Agent Here you can hire new Inquisition Agent.
Party Member Here you can recruit new Party Member
Secret - Use Search ("V" on PC) to reveal secrets. Sometimes you need to use search key few times.
Codex Entry It can be book, letter, place, item. After you collect 250 codex entries you become Loremaster.
Specials - Important place, interesting place, easy to be missed, just look around carefully.
Ballad Collection - Song Lyrics or sung song for Collection. There are 21 songs to collect.
Logging Stand - for Resource Requisition Quest, used for crafting Skyhold improvements.
Quarry - for Resource Requisition Quest,, used for crafting Skyhold improvements.
Artifact - Artifact to Activate for Solas. When activated they strengthen the Veil in the close area.
Glyph - Use Veilfire to obtain Rune
Keep - Tou have to defeat enemy and claim this keep for Inquisition, then it will be your Camp.
Operation - You have to perform Operation here.
Dragon - Dragon for High Dragon Collection. There are 10 high dragons in Dragon Age: Inquisition.