The Exalted Plains Dragon Age: Inquisition Map
The Exalted Plains Map Dragon Age: Inquisition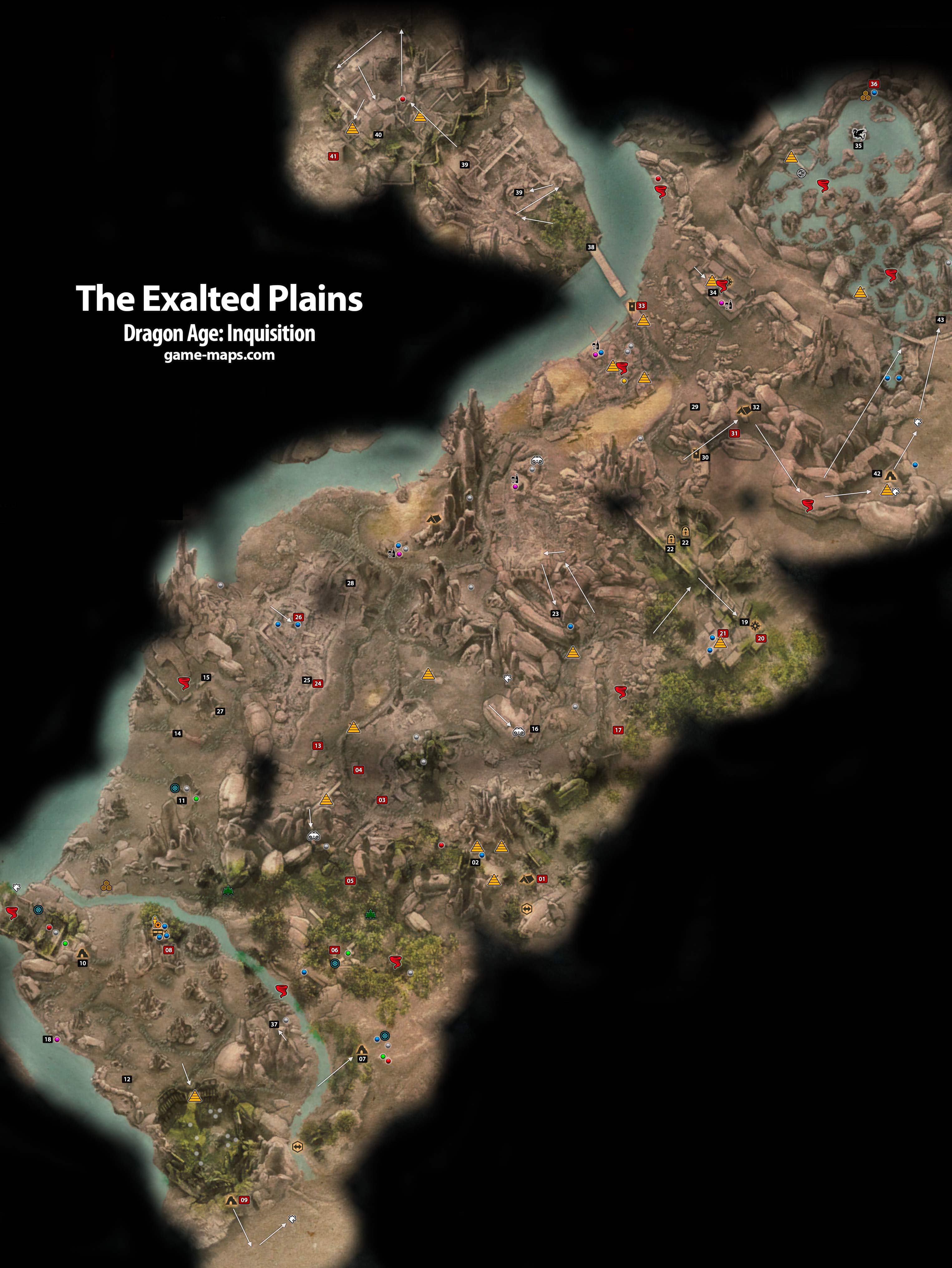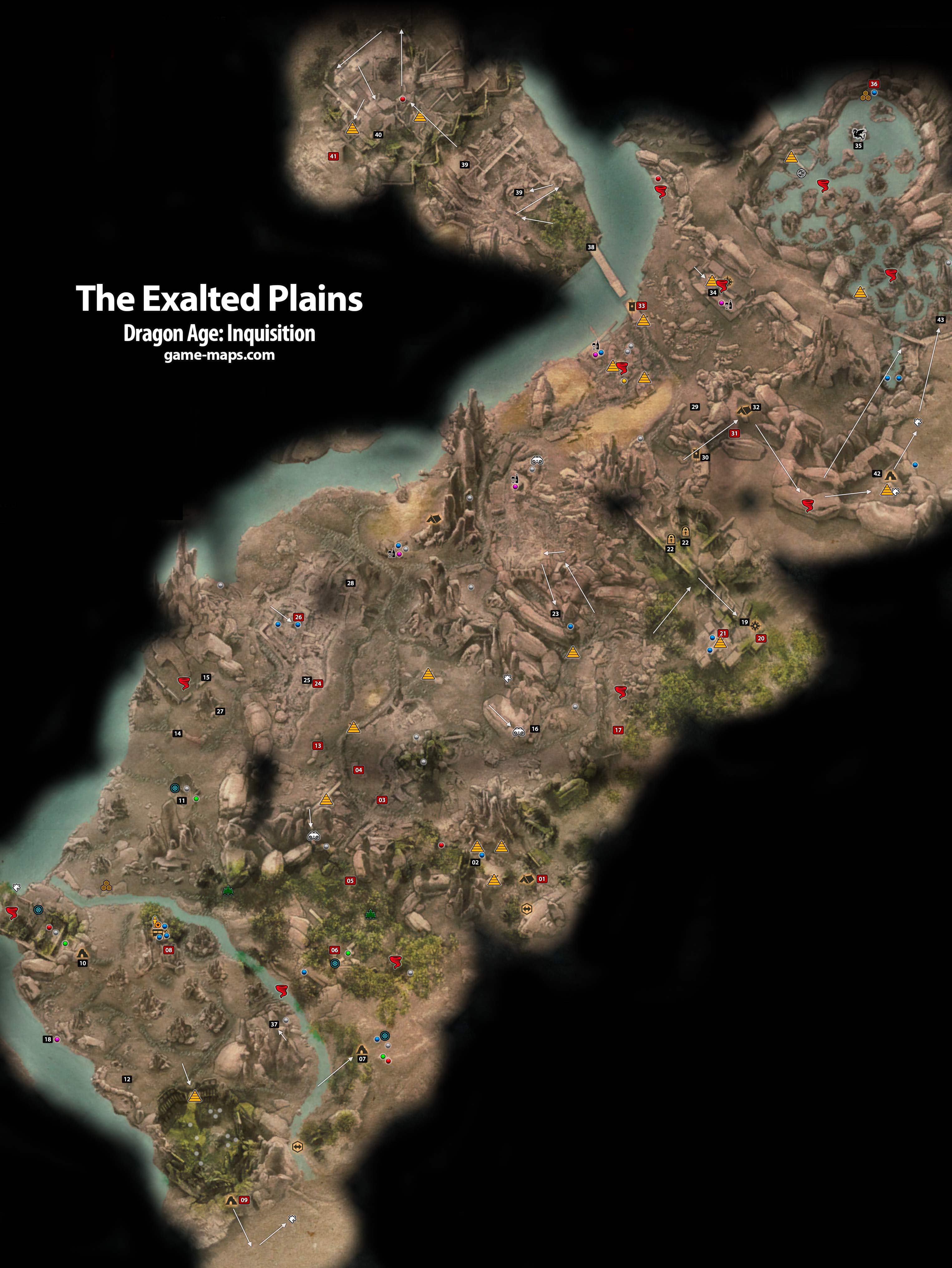 The Exalted Plains Walkthrough
Dragon Age: Inquisition
The Exalted Plains - A MESSAGE FROM MARSHAL BASTIEN PROULX TO HIS SOLDIERS BEFORE BATTLE WAS JOINED
IT IS APPROPRIATE THAT WE PICK THE EXALTED PLAINS AS OUR FIELD OF BATTLE. IT WAS HERE, CENTURIES AGO, THAT THE DALISH KINGDOM MET ITS BITTER END. THE HOLDOUTS OF THE ELVEN ARMY MAKING THEIR LAST STAND, REFUSING TO SURRENDER, AGAINST THE CHAMPIONS OF ANDRASTEZ THE TEMPLAR, THE SISTER, AND THE NOBLEMAN PATRON. THE CHAMPIONS CAUSE WAS JUST, AND THEIR FAITH LED THEM TO VICTORY. THE PLAINS WERE HENCEFORTH CALLED "EXALTED."
SOMEONE ONCE SAID THAT THESE FIELDS ARE CHARACTERIZED BY EQUAL MEASURES OF BEAUTY AND STRIFE. THIS DESCRIPTION WILL HOLD TRUE FOR THE FORESEEABLE FUTURE. THE STRIFE WE BRING TO THE DALES WILL BE QUICKLY FORGOTTEN, HOWEVER, IF WE FIGHT HARD AND FIGHT WELL AND EARN A DEFINITIVE VICTORY. LET THE KNOWLEDGE THAT YOU STRIKE IN THE NAME OF THE TRUE EMPEROR ENCOURAGE AND GUIDE YOU. TRUTH AND RIGHTEOUSNESS PREVAILED ON THE PLAINS, LONG AGO. MAKER WILLING, IT WILL AGAIN.
01 Path of Flame Camp
QUEST: Silence on the Plains
QUEST: Undead Ramparts to the West
QUEST: Rifts in the Old Plains
QUEST: Holding the Exalted Plains
QUEST: Obsidian Survey on the Plains
QUEST: Lore Requisition on the Plains
COLLECTION: COLLECTION: Landmark on the Plains
COLLECTION: COLLECTION: Regions in the Plains
COLLECTION: COLLECTION: Shards on the Plains
02
ITEM: Freemen Messages item from dead body
03
NPC: Corporal Rosselin
QUEST: Lay Rest the Western Ramparts
When you finish Lay Rest the Western Ramparts next is:
QUEST: Another Side, Another Story
04
ITEM: A Father's Guidance
QUEST: A Father's Guidance
05
NPC: Olafin
QUEST: A Dalish Perspective
06
QUEST: Scattered Glyphs Use Veilfire (green dot near) and uncover Ancient Elven Glyphs
ITEM: Glyph
07 Shrine to Sylaise
ITEM: Veilfire
ITEM: Glyph
ITEM: Lindiranae's Talisman
08 Dalish Camp
NPC: Keeper Haven
QUEST: By the Grace of Dalish
QUEST: From The Beyond
NPC: Emalien
QUEST: Someone to Lose Valorin is in (13)
NPC: Loranil if you gain Dalish favor you can recruit Loranil to join inquisition
NPC: Nissa
QUEST: A Well-Stocked Camp Put supplies in chest near Nissa. Check Ledger near Nissa for next assignment. Every time they will need another stuff, and every time you will gain some Dalish Favor.
To finish this quest you will need: Three Great Bears Pelts - Great Bears can be found on Emerald Graves.
NPC: Ithiren
QUEST: The Golden Halla
09 Unadin Grotto
QUEST: The Spoils of Desecration You need to find 3 Key Pieces in tombs around.
10 Ancient Baths
ITEM: Veilfire
ITEM: Glyph
11
ITEM: Glyph
ITEM: Veilfire
When you got all 4 Glyphs, return to War Table and select Operation Investigate the Elven Glyphs. It opens Lost Temple of Dirthamen Dungeon.
Mor info about Lost Temple of Dirthamen at
https://game-maps.com/DAI/Lost-Temple-of-Dirthamen.asp
12
NPC: Golden Halla for The Golden Halla Quest. If you got this quest just follow it (on horse) to Dalish Camp (08).
13
NPC: Dead Valorin for Someone to Lose Quest, return it to Emalien (08)
ITEM: Lindiranae's Talisman
QUEST: Something to Prove return Talisman to Emalien (08)
14
ITEM: Chest for A Father's Guidance Quest
15
ITEM: Red Jenny's Cache
16
ITEM: Book for Favors the First Enchanter Quest
17
ITEM: Map
QUEST: Sketch of Enavuris River Spot marked on the Sketch is in (18)
18
Spot for Sketch of Enavuris River Quest
19 Fort Revasan
20
NPC: Marshal Proulx
QUEST: Lay Rest the Eastern Ramparts
QUEST: No World Back
QUEST: Calming Victory Rise
21
NPC: Sergant Meursault
QUEST: Left to Grieve
22 Locked Doors
Just loot.
23 Pit
for Lay Rest the Eastern Ramparts Quest
NPC: Gordian Kill him
24
NPC: Wounded Chevalier
QUEST: A Familar Ring
25 Pit
for Calming Victory Rise Quest
26
ITEM: Map
QUEST: Map of Enavuris Spot marked on map is at (27)
27 Spot
for Map of Enavuris Quest
28 Pit
for Calming Victory Rise Quest
29 Venatori Mages
for One Less Venatori Quest
by Vladislaus Dereind
"Halfway between marker 29 and the closest landmark is a small pile of refuse, it looks similar to the bait used on the luring the abyssal high dragon quest in WA. if you loot the refuse pile you gain the recipe "Sad Splinters" it will take three of them to make so might want to save all the ones you get from storming keeps (breaking down the gates)."
30
Operation: Ghilan'nain's Grove
Return to War Room and select operation
31
QUEST: Ghilan'nain's Grove
32 Fens Camp
33
Operation: Repair Pond Agur
QUEST: For the Empire
34
Rift is underground.
Bottle of Thedas in in Rift room.
Close Rift and blow horn to finish No Word Back Quest
35 High Dragon
NPC: Gamordan Stormrider 15 lvl
36
ITEM: Map of Halin'sulahn
QUEST: Map of Halin'sulahn Spot marked on map is in (37).
by Lumosg
"2 additions for The Crow Fens area in Exalted Plains, right behind Gamordan Stormrider:
1. Dragon Sketches - on a table positioned atop a rock.
2. A scroll named Confession - atop the rock with the owl(?) statue."
Dragon Sketches location: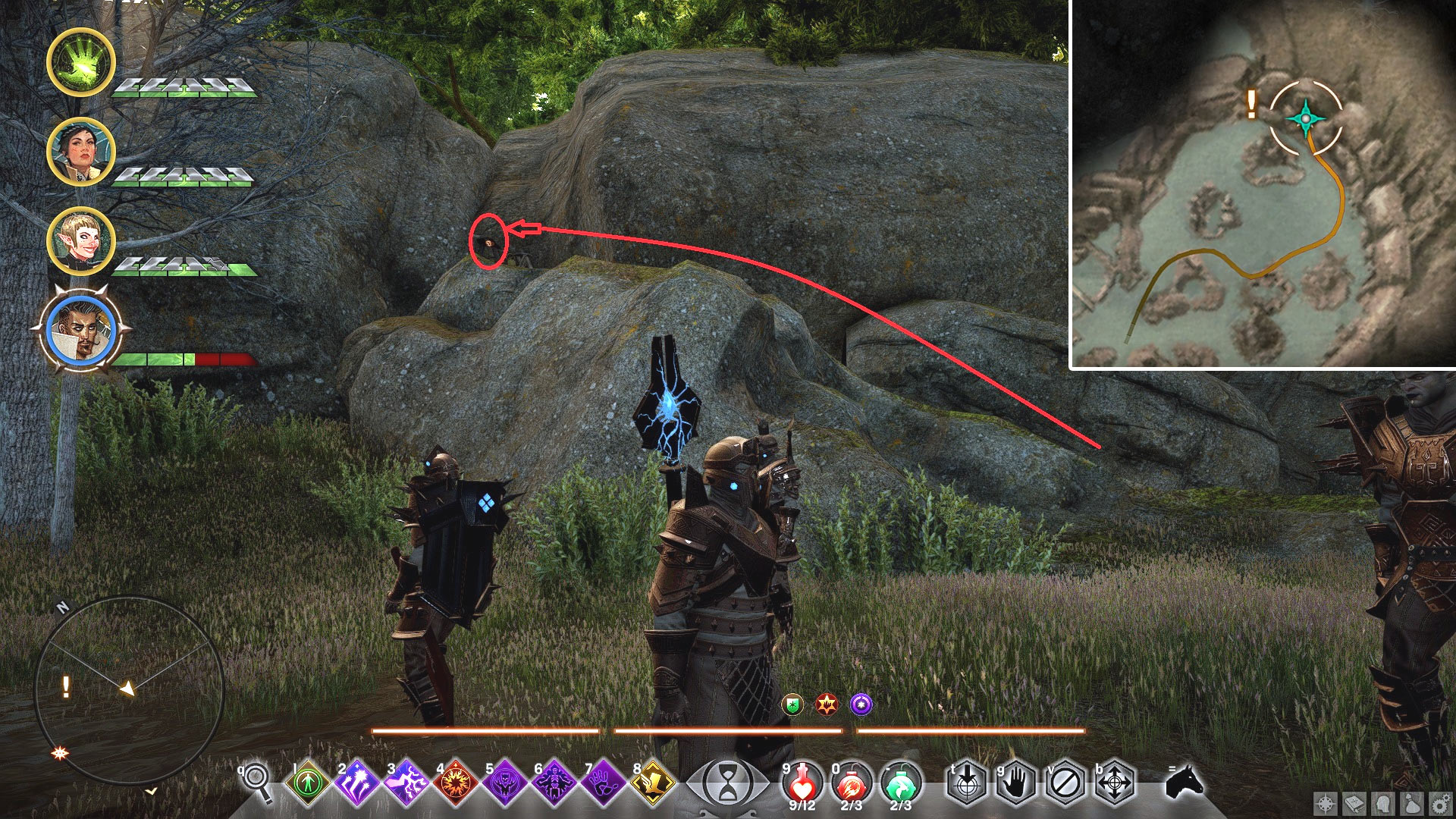 Scroll named Confession location: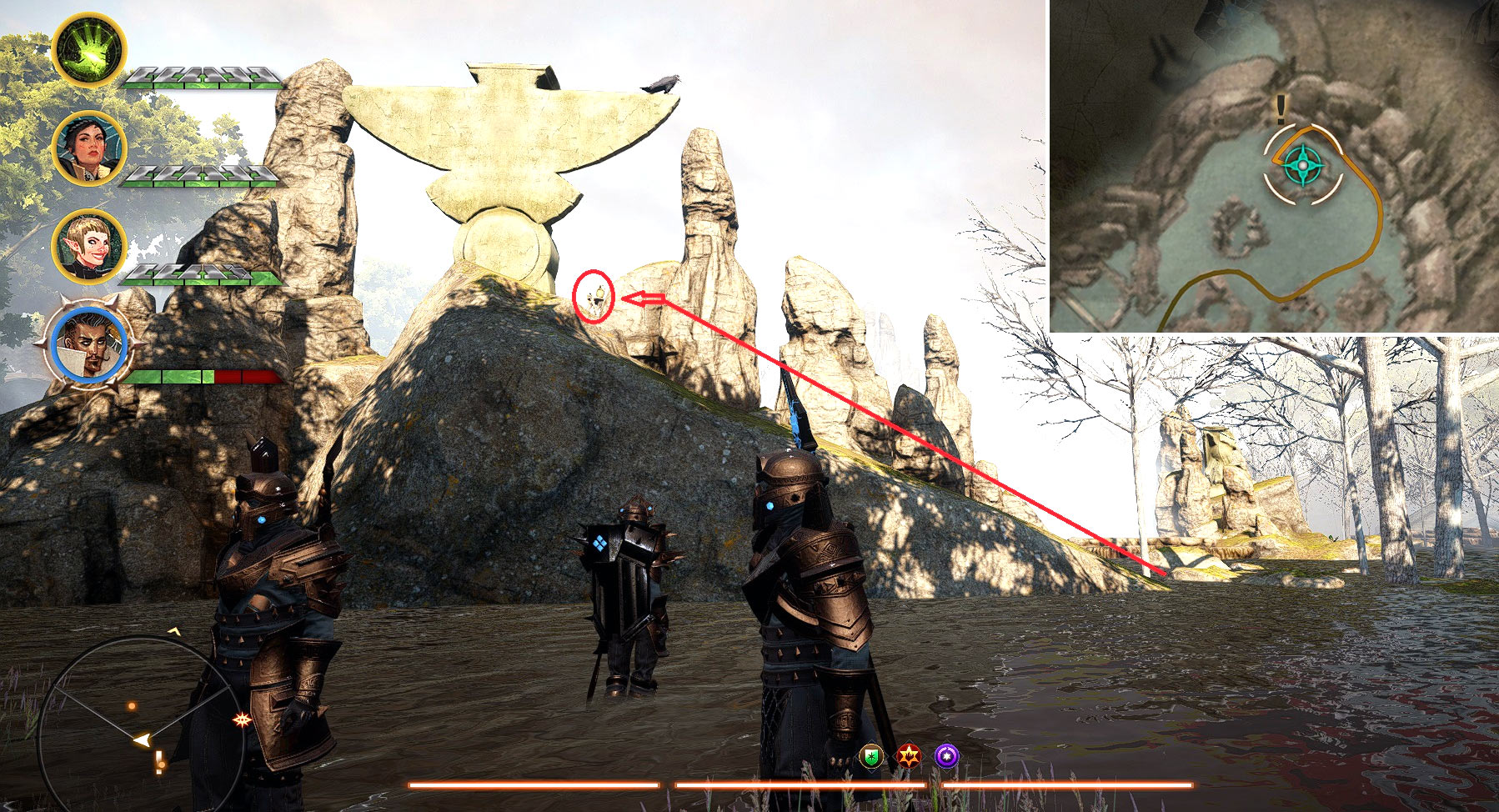 Confession Scroll Location
37 Spot
For Map of Halin'sulahn Quest
38
When you pass the bridge, you will meet "Walking Dead" mob.
39 Pit
For For the Empire Quest
40
Turn off Castle Defence for For the Empire Quest
41 Citadelle du Corbeau
NPC: Commander Jehan
Finish of A Familiar Ring
QUEST: Pressed for Cache
42 Entrance to The Dead Hand Dungeon.
One Mosaic Piece in on surface level, second is underground.
Two Codex Entries inside.
Go underground.
For more info about The Dead Hand go to
https://game-maps.com/DAI/The-Dead-Hand-Dungeon.asp
43 Exit from The Dead Hand
Map Legend
for Dragon Age: Inquisition

Location - This is in game location. The sequence of numbers shows suggested order of visiting locations.

Starting Quest Location This is location with quest giver. It can be item, person or place.

Inquisition Camp - Heals, restock potion, place to rest, change party members, use it to fast travel. Setup camps as fast as you can.

Landmark - POIs (Points of Interest). Visit and claim to complete collections.

Shop Traders & Merchants, to buy / sell items.

Crafting Station - Here you can create or modify Weapons, Armor, Accesories, Runes and Potions.

Fade Rift - You can close Rifts using your ability. Rifts grows in difficulties in following locations. Closing a Fade rift rewards with amount of Power. There are a total of 81 rifts in Thedas.

Astrarium - Astrariums are ancient relics of Tevinter origin that allow the viewing of constellations in the stars. Solve Astrarium puzzles to reveal secret location with treasure.

Ocularum - Use Ocularums to reveal locations of magical Shards. Shards can be used in Forbidden Oasis Location.

Dungeon Entrence - Entrence to Cave, Dungeon, Crypt, Underground.

Locked Door - This kind of Locked Doors require Special Key or "Deft Hands, Fine Tools" Inquisition Perk

Fast Travel - You can travel to this points pointing on world map.

Area Exit This is Exit to main map

Mosaic Piece Collect mosaic for Collections. Mosaic sets are Sacrifice, Invasion, The Fall, Archdemon and Freed Are Slaves. Each Mosaic set has 12 pieces.

Bottle of Thedas Collect Bottles for Collections. There are 29 bottles that can be collected.

Inquisition Agent Here you can hire new Inquisition Agent.

Party Member Here you can recruit new Party Member

Secret - Use Search ("V" on PC) to reveal secrets. Sometimes you need to use search key few times.

Codex Entry It can be book, letter, place, item. After you collect 250 codex entries you become Loremaster.

Specials - Important place, interesting place, easy to be missed, just look around carefully.

Ballad Collection - Song Lyrics or sung song for Collection. There are 21 songs to collect.

Logging Stand - for Resource Requisition Quest, used for crafting Skyhold improvements.

Quarry - for Resource Requisition Quest,, used for crafting Skyhold improvements.

Artifact - Artifact to Activate for Solas. When activated they strengthen the Veil in the close area.

Glyph - Use Veilfire to obtain Rune

Keep - Tou have to defeat enemy and claim this keep for Inquisition, then it will be your Camp.

Operation - You have to perform Operation here.

Dragon - Dragon for High Dragon Collection. There are 10 high dragons in Dragon Age: Inquisition.