Lost Temple of Dirthamen - Dragon Age: Inquisition
Lost Temple of Dirthamen - Dragon Age: Inquisition Walkthrough, Game Guide and Maps, with Quest and Locations of Camps, Merchants, Rifts, Ocularums, Astrarium, Dungeon Entrences, Landmark (POIs), Crafting Station, Mosaic Piece, Inquisition Agent, Secrets, Party Members, Bottle of Thedas and Codex Entry.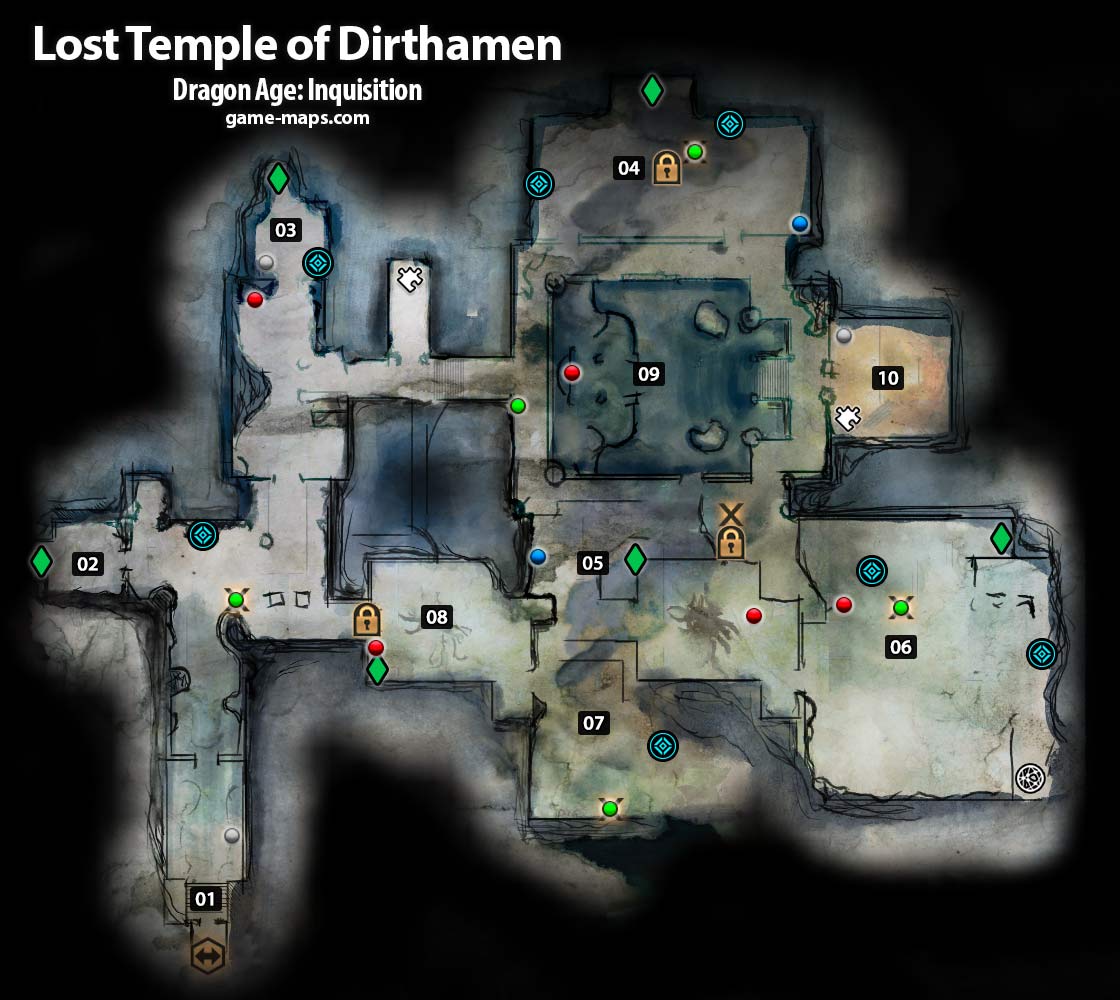 Tale of The Lost Temple of Dirthamen
WE FEW WHISPER HERE WHERE SHADOW DWELLS. SOME WORDS REMAIN UNUTTERED. TRUTHS ARE PUSHED DOWN, DOWN WHERE THEY SHALL NEVER ARISE AGAIN.
DIRTHAMEN IS GONE, HE SAID. OUR HIGHEST ONE BRINGS TO US THIS GRAVEST NEWS. WHAT SHALL WE DO2 WHERE SHALL WE GO 2 WHAT OF THE OLD SECRETS THAT BURN WITHIN OUR HEARTS?
THEY WILL COME FOR US IN THE NIGHT THOSE WHO WOULD STEAL THE WORDS FROM OUR LIPS AND OUR GOD NO LONGER RISES TO OUR DEFENSE. WE CLAW AT THE WALLS, AT THE WALLS. NOW. WE PRAY FOR A DAWN THAT WILL NEVER ARRIVE.
OUR HIGHEST ONE, HE DECEIVES US. THE HONEYED WORDS THAT DRIP FROM HIS TONGUE WE KNOW THE DESPAIR THEY MASK. WE DISCIPLES OF DIRTHAMEN KNOW TRUTH, NOW As EVER.
THE HIGHEST ONE PROMISES SAFETY. I SHALL PROTECT OUR ANCIENT SECRETS, HE CLAIMS ALL THAT DIRTHAMEN ONCE GRANTED US WILL BE SAFE. BUT IT IS OUR BLOOD HE SEEKS A SACRIFICE DARK AND UNHOLY A PRISON OF EVIL TO KEEP US IN AND ALL ELSE OUT.
WE WILL NOT HAVE IT, WILL NOT HAVE IT! THE SECRETS ARE MADNESS IN OUR EARS, BUT THEY ARE OURS
THE HIGHEST ONE CANNOT TAKE THEM FROM US.
ONLY DIRTHAMEN, OUR KEEPER, ONLY HE AND IF HE DOES NOT TAKE THE SECRETS THEY ARE OURS FOREVER .
HIS MIND WHICH CANNOT THINK HIS TONGUE WHICH CANNOT SPEAK HIS HANDS WHICH CANNOT TOUCH HIS EARS WHICH CANNOT HEAR HIS EYES WHICH CANNOT SEE AND THUS SHALL OUR HIGHEST ONE BE BOUND. HE SHALL JOIN US IN OUR SILENCE.
FOR HIS HEART, FOR HIS HEART OUR HIGHEST ONE IS BOUND. THE SECRET THAT HE KEEPS, HE KEEPS WITH US THE VIGIL THAT HE KEEPS, HE KEEPS WITH US HIS FEAR WILL NOT WEAKEN US NO-ONE SHALL COME, DEAR MENTOR. IN OUR ETERNITY, ONLY DARKNESS REIGNS.
To enter Lost Temple of Dirthamen you should do Scattered Glyphs Quest in The Exalted Plains and finish Operation Investigate the Elven Glyphs in War Room
---
ITEM: Mosaic Piece x 2 inside dungeon, see map.
01 Exit / Entrance
QUEST: God of Secrets
QUEST: Runes in the Lost Temple
02 Chamber of Misery
03 Chamber of Whispers
04 Crypts of the Forgotten
05 Chamber of Sorrow
06 Chamber of Unheeding
07 Path of Secrets
08 Chamber of Despondency
ITEM: Ornate Elven Key
09
Place all itemas on altars and summon Highest One.
NPC: The Highest One lvl 15 - Kill Him
10 The Chamber of of the Oracle
Dragon Age: Inquisition Map Legend
Location - This is in game location. The sequence of numbers shows suggested order of visiting locations.
Starting Quest Location This is location with quest giver. It can be item, person or place.
Inquisition Camp - Heals, restock potion, place to rest, change party members, use it to fast travel. Setup camps as fast as you can.
Landmark - POIs (Points of Interest). Visit and claim to complete collections.
Shop Traders & Merchants, to buy / sell items.
Crafting Station - Here you can create or modify Weapons, Armor, Accesories, Runes and Potions.
Fade Rift - You can close Rifts using your ability. Rifts grows in difficulties in following locations. Closing a Fade rift rewards with amount of Power. There are a total of 81 rifts in Thedas.
Astrarium - Astrariums are ancient relics of Tevinter origin that allow the viewing of constellations in the stars. Solve Astrarium puzzles to reveal secret location with treasure.
Ocularum - Use Ocularums to reveal locations of magical Shards. Shards can be used in Forbidden Oasis Location.
Dungeon Entrence - Entrence to Cave, Dungeon, Crypt, Underground.
Locked Door - This kind of Locked Doors require Special Key or "Deft Hands, Fine Tools" Inquisition Perk
Fast Travel - You can travel to this points pointing on world map.
Area Exit This is Exit to main map
Mosaic Piece Collect mosaic for Collections. Mosaic sets are Sacrifice, Invasion, The Fall, Archdemon and Freed Are Slaves. Each Mosaic set has 12 pieces.
Bottle of Thedas Collect Bottles for Collections. There are 29 bottles that can be collected.
Inquisition Agent Here you can hire new Inquisition Agent.
Party Member Here you can recruit new Party Member
Secret - Use Search ("V" on PC) to reveal secrets. Sometimes you need to use search key few times.
Codex Entry It can be book, letter, place, item. After you collect 250 codex entries you become Loremaster.
Specials - Important place, interesting place, easy to be missed, just look around carefully.
Ballad Collection - Song Lyrics or sung song for Collection. There are 21 songs to collect.
Logging Stand - for Resource Requisition Quest, used for crafting Skyhold improvements.
Quarry - for Resource Requisition Quest,, used for crafting Skyhold improvements.
Artifact - Artifact to Activate for Solas. When activated they strengthen the Veil in the close area.
Glyph - Use Veilfire to obtain Rune
Keep - Tou have to defeat enemy and claim this keep for Inquisition, then it will be your Camp.
Operation - You have to perform Operation here.
Dragon - Dragon for High Dragon Collection. There are 10 high dragons in Dragon Age: Inquisition.