The Storm Coast - Dragon Age: Inquisition
The Storm Coast - Dragon Age: Inquisition Walkthrough, Game Guide and Maps, with Quest and Locations of Camps, Merchants, Rifts, Ocularums, Astrarium, Dungeon Entrences, Landmark (POIs), Crafting Station, Mosaic Piece, Inquisition Agent, Secrets, Party Members, Bottle of Thedas and Codex Entry.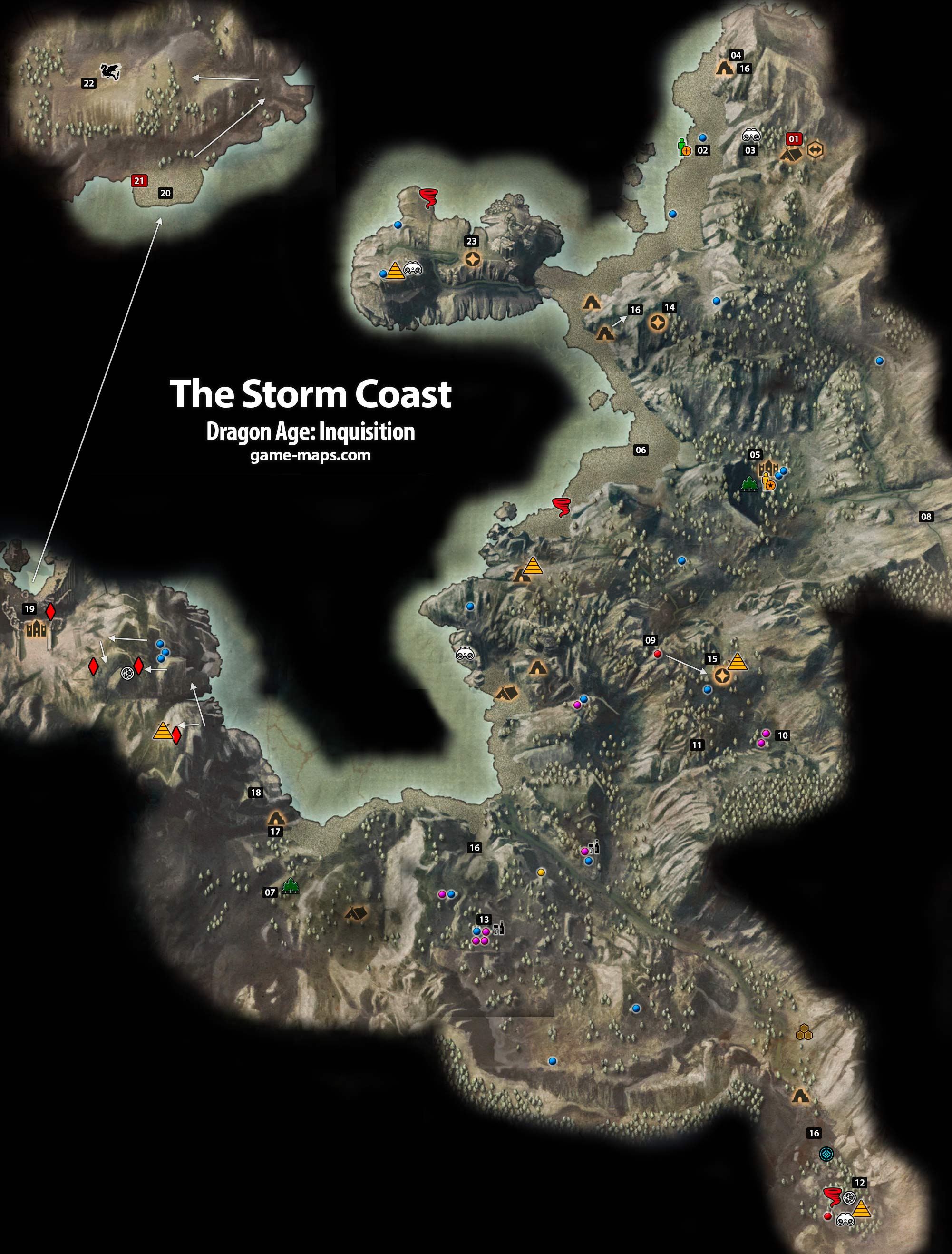 FROM IN PURSUIT OF KNOWLEDGE: TRAVELS OFA CHANTRY SCHOLAR BY BROTHER GENITIVI
I CANNOT SAY WHETHER THE STORM COAST RECEIVES MORE INCLEMENT WEATHER THAN ANY OTHER STRETCH OF NORTHERN FERELDAN COASTLINE. THAT HASN'T STOPPED THE REGION FROM BOASTING MORE THAN ITS FAIR SHARE OF TRAGIC TALES. IF ALL ARE TO BE BELIEVED, RICH MERCHANT SHIPS BLANKET THE DEPTHS DUE TO THE FOLLIES OF THEIR PROUD CAPTAINS. THE INFAMOUS -AND LIKELY FICTIONAL- PIRATE, DENEL OF SALLE, GAVE UP THE SEA TO BECOME A GREY WARDEN WHILE STANDING ON THESE SHORES, AND COUNTLESS YOUNG WOMEN PINE FOR GROOMS LOST TO THE WAVES.
I WITNESSED NOTHING SO FANCIFUL ON MY BRIEF SOJOURN TO THE COAST. HOWEVER, THE AREA IS SPARSELY POPULATED, AND AS I WATCHED THE WAKING SEA STRIKE THE SHORE, I COULD SEE WHY SUCH TALES ARE BORN.
01 Storms Solitude
Entrance to The Storm Coast
COLLECTION: Regions on the Coast
COLLECTION: Landmarks on the Coast
COLLECTION: Shards in The Hinterlands
QUEST: Cleaning House more
QUEST: Rifts on the Coast more
QUEST: Rifts at the Falls more
QUEST: Holding the Storm Coast more
QUEST: Wardens of the Coast more
QUEST: Antivenom Requisition on the Coast
QUEST: Salvage Requisition on the Coast
02
After fight you can recruit Iron Bull to your party.
03
Ocularum
04 Cave
05 Hessarian Camp
You can storm camp and kill all, but much better is to approach Camp wearing Mercy's Crest.
Mercy's Crest can be made as requisition.
Challenge the Bandit Leader while wearing Mercy's Crest and make The Blades of Hessarian your Allies and agents in Sthe Storm Coast.
They will stop to attack you all around the map.
06
Dragon Vinsomer fights Giant
If you come fast enough, Dragon fly away and Giant stay alive, so you can kill him and take loot.
07
Logging Stand - Resource
08
Ancient Tomb - some loot inside
09
Use (fallen) Stone Tree to move to upper locations
10
Two separate secrets near each other for Wardens Quest and for Blackwall personal Quest.
11
Cave - Entrance is revealed after completing Astrariums on the Coast
Two big chest and one small chest.
12 Lyrium Falls
13
Secrets x 3
14 Astrarium Solution Great Cove - The Storm Coast
15 Astrarium Solution Apostate's Landing - The Storm Coast
Later in game
16 Tunel to seal.
QUEST: Keeping the Darkspawn Down Kill Darkspawns in 4 locations and seal 4 tunels with Energize.
17Way to Red Templar Stronghold
You can enter here when you get Red Water Quest. You will get this quest when you finish Red Templars on the Storm Coast Mission from War Table. This mission will be available after finishing quest in Adamant Fortress, Here lies the Abyss Quest. If you meet requirements, doors will be just open.
QUEST: Red Water
18
ITEM: Red Templar Key on the ground on loot.
19 Daerwin's Mouth
Port - There is Operation Available about restoring this port.
ITEM: Boat Take boat and sail to the Dragon Island
20 Dragon Island
Here you land on Dragon Island
21 Dead Body
ITEM: Inadequate Mail
QUEST: Fragment of Inadequate Chain Mail give it to Dahna in Skyhold
22 Dragon
NPC: High Dragon Vinsomer he is lvl 19
23 Astrarium Morrin's Outlook
Constellation: Frevenial
Dragon Age: Inquisition Map Legend
Location - This is in game location. The sequence of numbers shows suggested order of visiting locations.
Starting Quest Location This is location with quest giver. It can be item, person or place.
Inquisition Camp - Heals, restock potion, place to rest, change party members, use it to fast travel. Setup camps as fast as you can.
Landmark - POIs (Points of Interest). Visit and claim to complete collections.
Shop Traders & Merchants, to buy / sell items.
Crafting Station - Here you can create or modify Weapons, Armor, Accesories, Runes and Potions.
Fade Rift - You can close Rifts using your ability. Rifts grows in difficulties in following locations. Closing a Fade rift rewards with amount of Power. There are a total of 81 rifts in Thedas.
Astrarium - Astrariums are ancient relics of Tevinter origin that allow the viewing of constellations in the stars. Solve Astrarium puzzles to reveal secret location with treasure.
Ocularum - Use Ocularums to reveal locations of magical Shards. Shards can be used in Forbidden Oasis Location.
Dungeon Entrence - Entrence to Cave, Dungeon, Crypt, Underground.
Locked Door - This kind of Locked Doors require Special Key or "Deft Hands, Fine Tools" Inquisition Perk
Fast Travel - You can travel to this points pointing on world map.
Area Exit This is Exit to main map
Mosaic Piece Collect mosaic for Collections. Mosaic sets are Sacrifice, Invasion, The Fall, Archdemon and Freed Are Slaves. Each Mosaic set has 12 pieces.
Bottle of Thedas Collect Bottles for Collections. There are 29 bottles that can be collected.
Inquisition Agent Here you can hire new Inquisition Agent.
Party Member Here you can recruit new Party Member
Secret - Use Search ("V" on PC) to reveal secrets. Sometimes you need to use search key few times.
Codex Entry It can be book, letter, place, item. After you collect 250 codex entries you become Loremaster.
Specials - Important place, interesting place, easy to be missed, just look around carefully.
Ballad Collection - Song Lyrics or sung song for Collection. There are 21 songs to collect.
Logging Stand - for Resource Requisition Quest, used for crafting Skyhold improvements.
Quarry - for Resource Requisition Quest,, used for crafting Skyhold improvements.
Artifact - Artifact to Activate for Solas. When activated they strengthen the Veil in the close area.
Glyph - Use Veilfire to obtain Rune
Keep - Tou have to defeat enemy and claim this keep for Inquisition, then it will be your Camp.
Operation - You have to perform Operation here.
Dragon - Dragon for High Dragon Collection. There are 10 high dragons in Dragon Age: Inquisition.