Forbidden Oasis - Dragon Age: Inquisition
Forbidden Oasis - Dragon Age: Inquisition Walkthrough, Game Guide and Maps, with Quest and Locations of Camps, Merchants, Rifts, Ocularums, Astrarium, Dungeon Entrences, Landmark (POIs), Crafting Station, Mosaic Piece, Inquisition Agent, Secrets, Party Members, Bottle of Thedas and Codex Entry.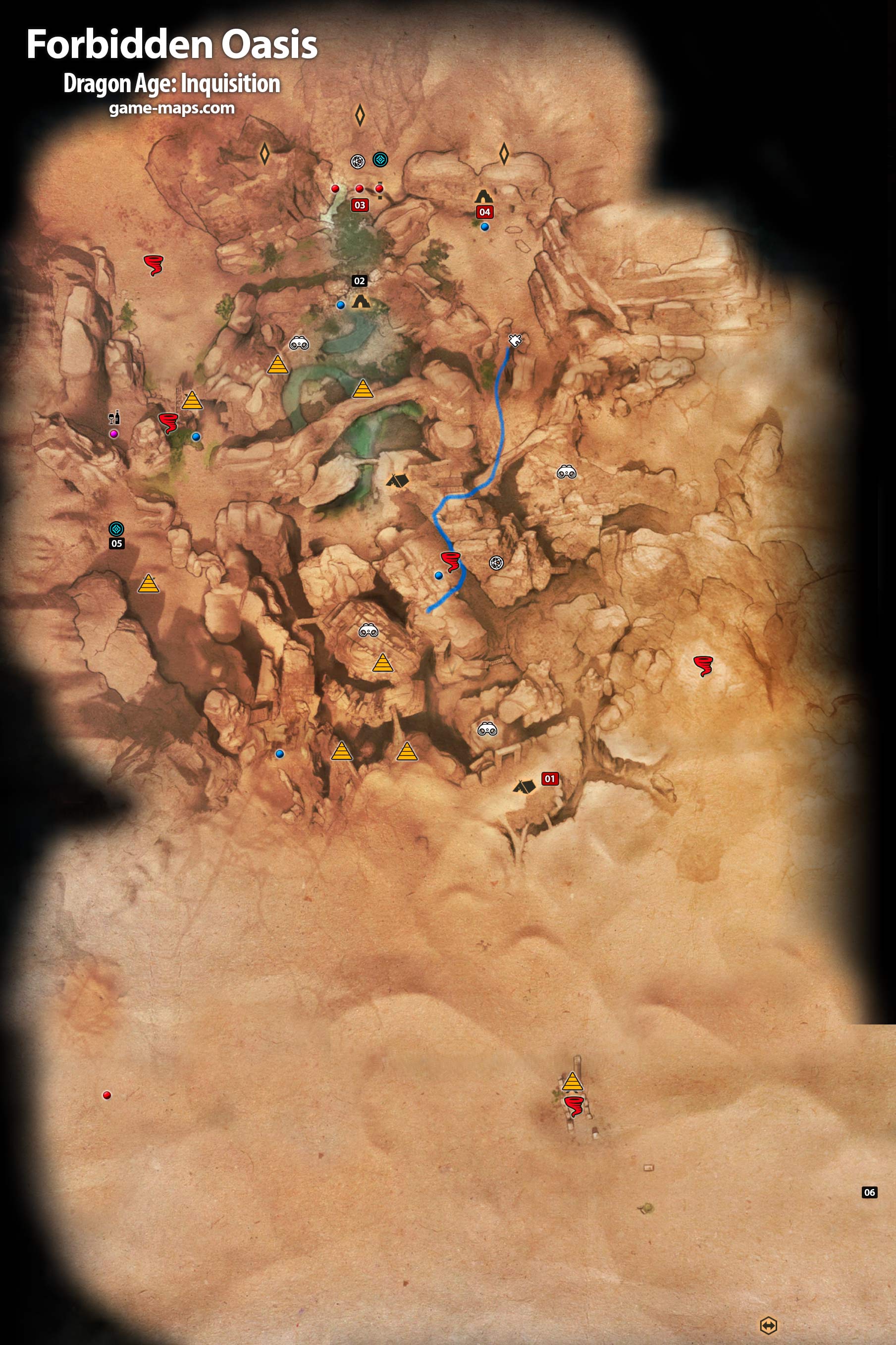 EXCERPT FROM A LETTER WRITTEN BY SAUL DIDOT TO HIS WIFE, LYNETTE,
DATED :38 DRAGON. NO FURTHER CORRESPONDENCE WAS SENT.
I MET BAYARD IN VAL FIRMIN. FROM HERE, WE WILL TRAVEL WITH THE MINERS TO THE WESTERN APPROACH. I ALREADY MISS THE SOUND OF YOUR VOICE, BUT THE CONTRACT THEY OFFERED WILL PROVIDE FOR US, AND WHAT IS A YEAR IF I KNOW YOU ARE WAITING AT THE END OF IT?
BAYARD SAYS THE MINERS CALL THE PLACE "THE FORBIDDEN OASIS." I FEARED PERHAPS THE WATER WAS POISONOUSYOU. HEAR OF SUCH. THINGSOR THAT THE AREA WAS HOME TO ONE OF THE BEASTS IN JOAQUIMS BOOKS. BAYARD SIMPLY LAUGHED AND TOLD ME NOT TO WORRY SO MUCH. WHEN I ASKED HOW THE OASIS EARNED ITS DRAMATIC NAME, BAYARD REPLIED "DON'T ASK ABOUT THE DOOR."
01 Desert Camp
QUEST: The Temple of Pride
02 Solasan Temple Entrance
You will need Shards (from any location) to open doors in Temple.
03
Dowstairs:
Magic Light and Rune on the wall.
Three Doors. Doors are opened with Shards.
QUEST: The Fire Captured
QUEST: The Cold Endurance
QUEST: The Spirit Calmed
Upstairs:
Closed Doors.
04 Par'as Cavern
Lot of strong spiders after entrance. Light torches to avoid spider spawns
Inside, closed doors.
QUEST: The Door in Par'as Cavern
NPC: Miner
QUEST: What It's Worth
To open locked doors in Par'as Cavern you have to find Miner. She is walking around location. Blue line on map is a way I follow her.
Talk to Miner and get a Key to open Door.
05
Underground, Rune on The Wall - An Apostate's Message
06
Hidden Cache
by Jason Edward Van Osdol
"Jump on it"
* Events with more starting locations
COLLECTION: Regions in the Oasis
COLLECTION: Shards in the Oasis
COLLECTION: Landmarks in the Oasis
COLLECTION: Freed Are Slaves
QUEST: Rifts in the Oasis
QUEST: Holding the Oasis
QUEST: Serpentstone Survey in the Oasis
QUEST: Rifts High and Low
QUEST: Luster Survey in the Oasis
QUEST: Spider Requisition in the Oasis
Dragon Age: Inquisition Map Legend
Location - This is in game location. The sequence of numbers shows suggested order of visiting locations.
Starting Quest Location This is location with quest giver. It can be item, person or place.
Inquisition Camp - Heals, restock potion, place to rest, change party members, use it to fast travel. Setup camps as fast as you can.
Landmark - POIs (Points of Interest). Visit and claim to complete collections.
Shop Traders & Merchants, to buy / sell items.
Crafting Station - Here you can create or modify Weapons, Armor, Accesories, Runes and Potions.
Fade Rift - You can close Rifts using your ability. Rifts grows in difficulties in following locations. Closing a Fade rift rewards with amount of Power. There are a total of 81 rifts in Thedas.
Astrarium - Astrariums are ancient relics of Tevinter origin that allow the viewing of constellations in the stars. Solve Astrarium puzzles to reveal secret location with treasure.
Ocularum - Use Ocularums to reveal locations of magical Shards. Shards can be used in Forbidden Oasis Location.
Dungeon Entrence - Entrence to Cave, Dungeon, Crypt, Underground.
Locked Door - This kind of Locked Doors require Special Key or "Deft Hands, Fine Tools" Inquisition Perk
Fast Travel - You can travel to this points pointing on world map.
Area Exit This is Exit to main map
Mosaic Piece Collect mosaic for Collections. Mosaic sets are Sacrifice, Invasion, The Fall, Archdemon and Freed Are Slaves. Each Mosaic set has 12 pieces.
Bottle of Thedas Collect Bottles for Collections. There are 29 bottles that can be collected.
Inquisition Agent Here you can hire new Inquisition Agent.
Party Member Here you can recruit new Party Member
Secret - Use Search ("V" on PC) to reveal secrets. Sometimes you need to use search key few times.
Codex Entry It can be book, letter, place, item. After you collect 250 codex entries you become Loremaster.
Specials - Important place, interesting place, easy to be missed, just look around carefully.
Ballad Collection - Song Lyrics or sung song for Collection. There are 21 songs to collect.
Logging Stand - for Resource Requisition Quest, used for crafting Skyhold improvements.
Quarry - for Resource Requisition Quest,, used for crafting Skyhold improvements.
Artifact - Artifact to Activate for Solas. When activated they strengthen the Veil in the close area.
Glyph - Use Veilfire to obtain Rune
Keep - Tou have to defeat enemy and claim this keep for Inquisition, then it will be your Camp.
Operation - You have to perform Operation here.
Dragon - Dragon for High Dragon Collection. There are 10 high dragons in Dragon Age: Inquisition.