Crestwood - Dragon Age: Inquisition
Crestwood - Dragon Age: Inquisition Walkthrough, Game Guide and Maps, with Quest and Locations of Camps, Merchants, Rifts, Ocularums, Astrarium, Dungeon Entrences, Landmark (POIs), Crafting Station, Mosaic Piece, Inquisition Agent, Secrets, Party Members, Bottle of Thedas and Codex Entry.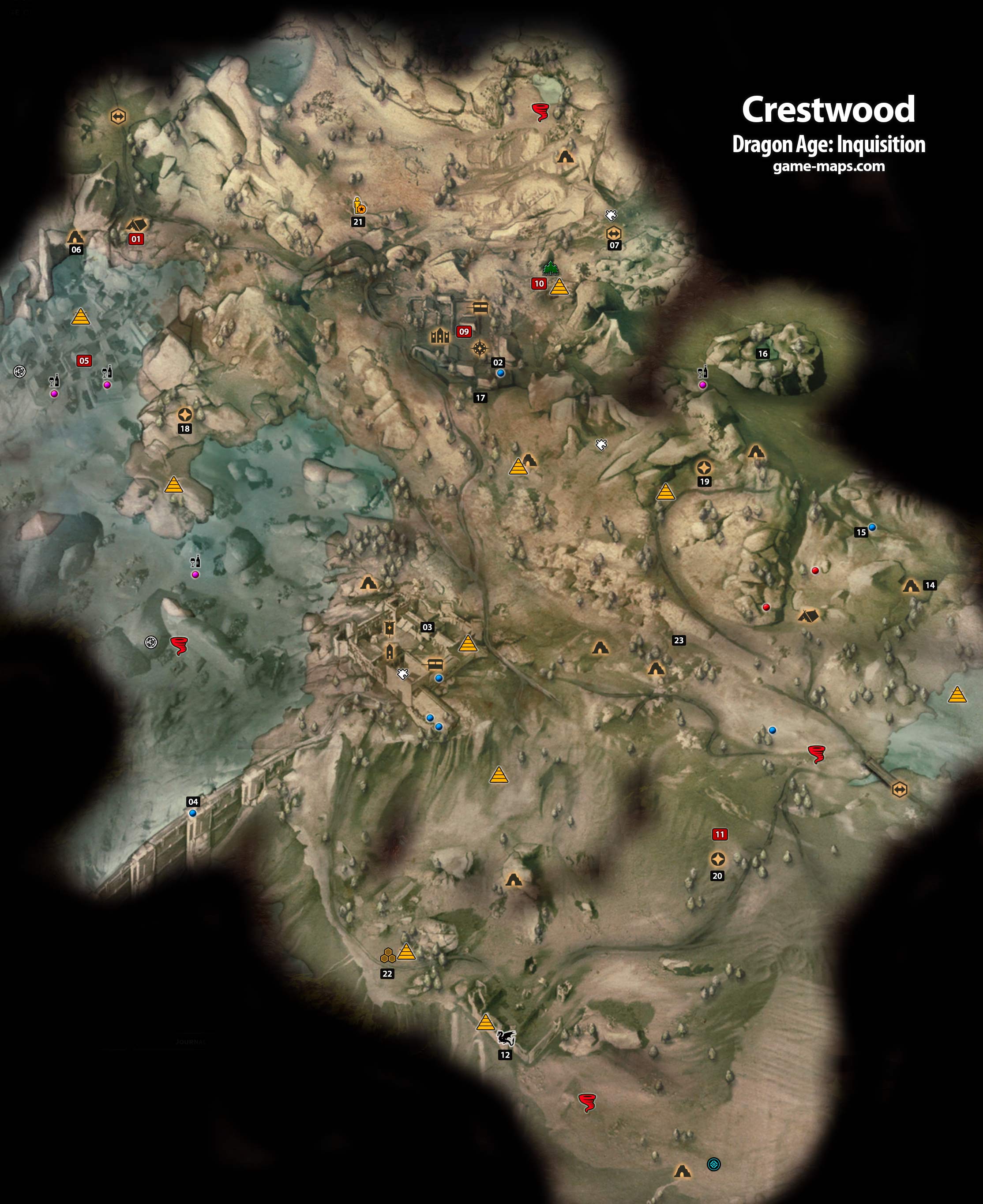 FROM THE DIARY OF A TRAVELER FROM VAL CHEVIN, DATED THREE MONTHS BEFORE THE START OF THE FIFTH BLIGHT
CRESTWOOD IS A SMALL WILLAGE OF NO REAL CONSEQUENCE TO THE LORDS AND LADIES WHO RIDE THROUGH ON THEIR WAY TO VAL ROYEAUX OR DENERIM. THE PEOPLE ARE GLAD FOR VISITORS, HOWEVER. RESIDENTS TEND LIVESTOCK AND GROW WHAT CROPS THEY CAN, BUT THEIR CHIEF INcoME coMEs FROM TRADE.
I WAS DINING ALONE AT THE LOCAL INN, WHICH IS QUAINTLY PERCHED ON THE TOP OF A DAM, WHEN I OVERHEARD THE BARMAN MENTION TUNNELS BENEATH THE VILLAGE. I WAS SURPRISED TO LEARN THAT A VAST CAVE SYSTEM RIDDLES THE LAND SURROUNDING CRESTWOOD. THE LOCALS TOLD ME TALES OF STRANGE NOISES AND EERIE LIGHTS, OF ENTIRE EXPEDITIONS SWALLOWED BY UNDERGROUND FISSURES, OF SCREAMS IN THE DARK THAT COME FROM NOWHERE AND RETURN, JUST AS SWIFTLY, TO NOTHING.
I SCOFFED, THEN WENT FOR A STROLLAROUND THE AREA. THE NIGHT WAS CLEAR, AND I WAS WENDING DOWN A PLEASANT GLADE IN THE HILLS WHEN I HEARD A RASPING HISS. DROPPING MY WALKING STAFF, I SPIED AN OVERGROWN OPENING TO A SMALL CAVERN. WERE THOSE FOOTSTEPS PADDING AWAY INTO THE DARK I HEARD THEN, OR A STARTLED ANIMAL?
THAT NIGHT, I LET THE CANDLE IN MY ROOM BURN LONGER THAN USUAL.
FROM THE MEMOIRS OF SISTER VAUGHN OF CRESTWOOD
THREE TROUT POND HIDES A SINKHOLE HUNDREDS OF YARDS DEEP. DARKSPAWN EMERGED FROM THIS AND OTHER CAVES TO ATTACK CRESTWOOD DURING THE BLIGHT. THE FLOOD THAT DESTROYED OLD CRESTWOOD DROWNED THE BLIGHTED ONES, AND THE EXCESS WATER CREATED THE POND WE SEE TODAY.
HAD THE DAM NOT BEEN DAMAGED, WE WOULD NEVER HAVE SURVIVED THE DARKSPAWN. WAS THE MAKER'S HAND IN THIS? I CANNOT BELIEVE HE WOULD BE SO PURPOSEFULLY CRUEL TO HIS CHILDREN, FLAWED THOUGH WEARE.
01 North Gate Camp
QUEST: Still Waters more
QUEST: Rift near the North Gate more
QUEST: Holding Crestwood more
QUEST: Longbow Requisition in Crestwood
COLLECTION: Regions in Crestwood
02 Village Crestwood Mayors House
NPC: Mayor
03 Caer Bronach Keep
QUEST: Capturing Caer Bronach more
Smash the gate, kill bandits and claim this keep for Inquisition.
Operation
QUEST: Rift at Caer Bronach more
NPC: Charter
QUEST: High Stakes more
QUEST: Weeding Out Bandits more
by Illyria52
"After capturing Caer Bronach Keep, a person stationed inside near the keep's entrance (just past the area where you break down the doors to take out the bandits) offers the war table mission "Rescue the Spy"."
04 The Rusted Horn Tavern
Unlock the door to reach the controls and drain the lake
05
NPC: Wraith
QUEST: Burdens of Command more
by Sesyl
"The spirit gives the Amulet of Power for Cole even if he is not in the active party when you complete the quest."
by Chris
"Having Cole with you when you turn in the "Burdens of Command quest" (map #5) will gain him an amulet that will give him another ability point."
06 The Flooded Caves Entrance
For more info about The Flooded Caves Dungeon look at https://game-maps.com/DAI/Flooded-Caves.asp
07 Exit from The Flooded Caves
Upstairs
ITEM: Mosaic Piece
ITEM: Lever - Pull the lever to open door.
08 Rusted Gate
NPC: Snowball - Big Spider
09
NPC: Gauld
QUEST: The Naturalist more
10
NPC: Sister Vaughn
QUEST: Homecoming more
ITEM: Logging Stand
11
NPC: Judith
QUEST: Wyrm Hole more
12
NPC: Northern Hunter High Dragon lvl 13
13
ITEM: Butcher's Body
14
NPC: Hawke
15
NPC: Stroud
16
NPC: Wyvern
17 Complex Door Lock
Nothing special, just loot.
18 Astrarium East Side Hills
Constellation: Tenebrium
19 Astrarium Glenmorgan Mine
Constellation: Kios
20 Astrarium Forester Homestead
Constellation: Silentir
21
NPC: Jana
She will be Agent of Inquisition if you tell her to Avoid Wardens and let Solas to talk to her.
22
ITEM: Quarry
23Astrarium Cave
ITEM: Big Chest
Dragon Age: Inquisition Map Legend
Location - This is in game location. The sequence of numbers shows suggested order of visiting locations.
Starting Quest Location This is location with quest giver. It can be item, person or place.
Inquisition Camp - Heals, restock potion, place to rest, change party members, use it to fast travel. Setup camps as fast as you can.
Landmark - POIs (Points of Interest). Visit and claim to complete collections.
Shop Traders & Merchants, to buy / sell items.
Crafting Station - Here you can create or modify Weapons, Armor, Accesories, Runes and Potions.
Fade Rift - You can close Rifts using your ability. Rifts grows in difficulties in following locations. Closing a Fade rift rewards with amount of Power. There are a total of 81 rifts in Thedas.
Astrarium - Astrariums are ancient relics of Tevinter origin that allow the viewing of constellations in the stars. Solve Astrarium puzzles to reveal secret location with treasure.
Ocularum - Use Ocularums to reveal locations of magical Shards. Shards can be used in Forbidden Oasis Location.
Dungeon Entrence - Entrence to Cave, Dungeon, Crypt, Underground.
Locked Door - This kind of Locked Doors require Special Key or "Deft Hands, Fine Tools" Inquisition Perk
Fast Travel - You can travel to this points pointing on world map.
Area Exit This is Exit to main map
Mosaic Piece Collect mosaic for Collections. Mosaic sets are Sacrifice, Invasion, The Fall, Archdemon and Freed Are Slaves. Each Mosaic set has 12 pieces.
Bottle of Thedas Collect Bottles for Collections. There are 29 bottles that can be collected.
Inquisition Agent Here you can hire new Inquisition Agent.
Party Member Here you can recruit new Party Member
Secret - Use Search ("V" on PC) to reveal secrets. Sometimes you need to use search key few times.
Codex Entry It can be book, letter, place, item. After you collect 250 codex entries you become Loremaster.
Specials - Important place, interesting place, easy to be missed, just look around carefully.
Ballad Collection - Song Lyrics or sung song for Collection. There are 21 songs to collect.
Logging Stand - for Resource Requisition Quest, used for crafting Skyhold improvements.
Quarry - for Resource Requisition Quest,, used for crafting Skyhold improvements.
Artifact - Artifact to Activate for Solas. When activated they strengthen the Veil in the close area.
Glyph - Use Veilfire to obtain Rune
Keep - Tou have to defeat enemy and claim this keep for Inquisition, then it will be your Camp.
Operation - You have to perform Operation here.
Dragon - Dragon for High Dragon Collection. There are 10 high dragons in Dragon Age: Inquisition.