The Still Ruins Dungeon - Dragon Age: Inquisition
The Still Ruins Dungeon - Dragon Age: Inquisition Walkthrough, Game Guide and Maps, with Quest and Locations of Camps, Merchants, Rifts, Ocularums, Astrarium, Dungeon Entrences, Landmark (POIs), Crafting Station, Mosaic Piece, Inquisition Agent, Secrets, Party Members, Bottle of Thedas and Codex Entry.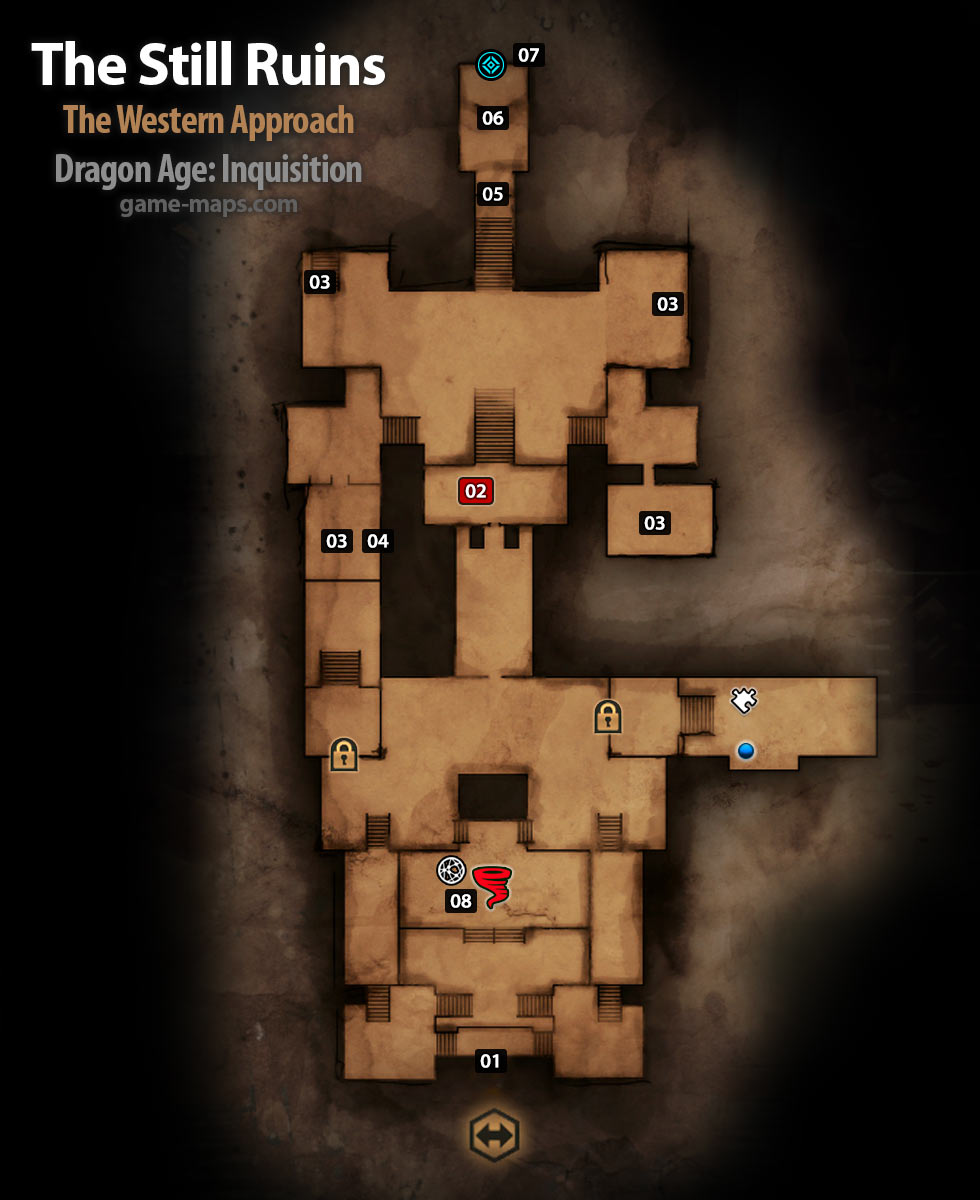 STILL RUINS - FROM THE JOURNAL OF NICOLETTE ENVERS, HEALER'S APPRENTICE
24 HARVESTMERE
A PAIR OF HUNTERS ARRIVED TODAY FROM THE WESTERN APPROACH. THEY CARRIED A THIRD BETWEEN THEM, UNCONSCIOUS. THE HUNTERS FOUND THE MAN WANDERING THE APPROACH. HE COLLAPSED AT THEIR FEET BEFORE THEY COULD LEARN HIS IDENTITY. THE ROUGH STORIES YOU HEAR, I'M SURPRISED THEY DIDN'T SLIT HIS THROAT AND CALL IT MERCY. INSTEAD, THEY LAY HIM ALONGSIDE THEIR PRIZES AND TOOK HIM FROM THAT PLACE.
SERISE FORCED HIM TO SWALLOW WATER WITH A MIXTURE OF HERBS. ALAIN SAYS HE WILL SHOW ME HOW TO MAKE IT TOMORROW.
26 HARVESTMERE
SERISE AND ALAIN LEFT THE PATIENT TO MY CARE. THEY BELIEVE THE MAN WILL DIE, SO WHAT HARM COULD I DO?
STILL, I PREPARE THE HERBS WITH CARE. I DO WHAT I CAN To MAKE HIM COMFORTABLE. THE MAN MURMURS IN HIS SLEEP. SOMETHING ABOUT THERE BEING NO WIND. I WOULD OPEN THE WINDOW, BUT THE AIR IS CHILL, AND I FEAR IT WOULD WEAKEN HIM.
5 FIRSTFALL
MY PATIENT OPENED HIS EYES.
"VARGHEST TOOK THE REST. THEN I FOUND IT. EVERYTHING SO STILL. THERE WAS NO WIND." HE SEEMED QUITE INTENT.
THE WESTERN APPROACH?" I ASKED.
"OH, A SOLDIER..."
THIS LAST ABOUT THE FIGURINE I PLACED ON HIS BEDSIDE TABLE FOR SATINALIA. FOOLISH, BUT I THOUGHT IT MIGHT CHEER HIM.
8 FIRSTFALL
MY PATIENT TOOK A SIMPLE MEAL. SPEAKING WEARIES HIM, BUT HE TRIED.
"EVERYTHING WAS SO STILL. THERE WAS NO WIND."
I TOLD HIM THAT SOUNDED PEACEFUL. HIS EYES WIDENED IN FEAR.
"THE DEMONS WERE STILL THERE."
I TRIED To COMFORT HIM, BUT HE WAS DESPERATE TO EXPLAIN THE DISTURBING IMAGES IN HIS MIND. LATER, I SAW HIM STARING AT THE LITTLE SOLDIER. "THEY COULDN'T MOVE," HE MURMURED. I SAID I COULD TAKE THE TOY AWAY, BUT HE SHOOK HIS HEAD.
20 FIRSTFALL
SERISE AND ALAIN DECLARED MY PATIENT WELL ENOUGH TO TRAVEL. HE LEFT BEFORE I RETURNED FROM VISITING MY SISTER.
I SUSPECT HIS "STILL RUINS" WERE A DELUSION BROUGHT ON BY HIS TRIALS IN THE APPROACH, BUT I WILL NEVER KNOW. I WISH I COULD HAVE SAID GOODBYE. SERISE SAYS HE TOOK THE SOLDIER WITH HIM. PERHAPS IT WAS A COMFORT AFTER ALL.
01
Entrance to Dungeon. You can enter here from The Western Approach (33)
02
NPC: Lucanus
Kill him and his followers.
QUEST: A Tevinter Relic Hunter
ITEM: Keystone on Lucanus's corpse
QUEST: The Heart of the Still Ruins Collect 4 more Keystones (03)
03
ITEM: Keystone
04
ITEM: Manuscript for A Manuscript of Some Authority Quest
ITEM: Veilfire
05
Open Doors with Keystones
06
ITEM: Staff This Staff holds time stand still. When you take it time will start again.
Take staff, and go back to entrance.
07
ITEM: Master Spirit Rune
08
Close Rift
QUEST: A Stranger Rift in the Ruins
Dragon Age: Inquisition Map Legend
Location - This is in game location. The sequence of numbers shows suggested order of visiting locations.
Starting Quest Location This is location with quest giver. It can be item, person or place.
Inquisition Camp - Heals, restock potion, place to rest, change party members, use it to fast travel. Setup camps as fast as you can.
Landmark - POIs (Points of Interest). Visit and claim to complete collections.
Shop Traders & Merchants, to buy / sell items.
Crafting Station - Here you can create or modify Weapons, Armor, Accesories, Runes and Potions.
Fade Rift - You can close Rifts using your ability. Rifts grows in difficulties in following locations. Closing a Fade rift rewards with amount of Power. There are a total of 81 rifts in Thedas.
Astrarium - Astrariums are ancient relics of Tevinter origin that allow the viewing of constellations in the stars. Solve Astrarium puzzles to reveal secret location with treasure.
Ocularum - Use Ocularums to reveal locations of magical Shards. Shards can be used in Forbidden Oasis Location.
Dungeon Entrence - Entrence to Cave, Dungeon, Crypt, Underground.
Locked Door - This kind of Locked Doors require Special Key or "Deft Hands, Fine Tools" Inquisition Perk
Fast Travel - You can travel to this points pointing on world map.
Area Exit This is Exit to main map
Mosaic Piece Collect mosaic for Collections. Mosaic sets are Sacrifice, Invasion, The Fall, Archdemon and Freed Are Slaves. Each Mosaic set has 12 pieces.
Bottle of Thedas Collect Bottles for Collections. There are 29 bottles that can be collected.
Inquisition Agent Here you can hire new Inquisition Agent.
Party Member Here you can recruit new Party Member
Secret - Use Search ("V" on PC) to reveal secrets. Sometimes you need to use search key few times.
Codex Entry It can be book, letter, place, item. After you collect 250 codex entries you become Loremaster.
Specials - Important place, interesting place, easy to be missed, just look around carefully.
Ballad Collection - Song Lyrics or sung song for Collection. There are 21 songs to collect.
Logging Stand - for Resource Requisition Quest, used for crafting Skyhold improvements.
Quarry - for Resource Requisition Quest,, used for crafting Skyhold improvements.
Artifact - Artifact to Activate for Solas. When activated they strengthen the Veil in the close area.
Glyph - Use Veilfire to obtain Rune
Keep - Tou have to defeat enemy and claim this keep for Inquisition, then it will be your Camp.
Operation - You have to perform Operation here.
Dragon - Dragon for High Dragon Collection. There are 10 high dragons in Dragon Age: Inquisition.