Scarlet Chorus Camp - Tyranny Map
The Scarlet Chorus have taken residence within the decayed walls of an old fortress. It is currently the base of operations for the Voices of Nerat's campaign in the valley. Scarlet Chorus Camp is located in Vendrien's Well.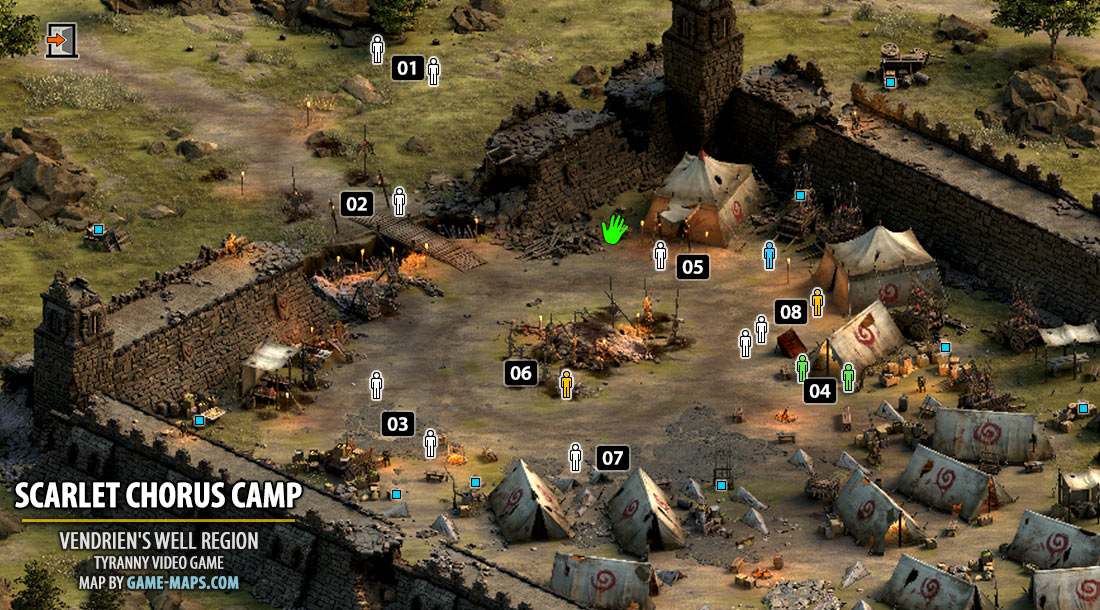 01 Quiet Shiv Shivershank
02 Guard, talk to him.
03 Death Knell Talk to him to unlock Remote Settlement Location
The Way of the Horde The Scarlet Chorus Horde depend on recruitment to increase their numbers. However, due to the casualties and lack of prisoners in battle, their numbers have begun to thin. Death Knell, a Scarlet Fury, has a new tactic she would like to test out, if you are willing to participate.
Salveros
04 Regg (Trainer) Magic Staff, Subterfuge, Lore
Baz (Trainer) Bows, Dual Wield, Unarmed Combat
Tent - you can Rest here
05 Sniggler Dagos (Shop)
Sigil of Vigor
Sigil of Illusion pick it up
Fifth Eye Talk to him about Taking the Outer Valley Quest.
Go talk with prisoners.
06 Prisoners
Variah Kel
Lantry (companion) Try to join Lantry to your team.
Here you can open Tripnettle Wilderness Location.
Talk to Lantry to train in magic, Sigil of Life
Later in game ...
07 Vittles
08 Sirin