Campaign Mode in Idle Heroes
Idle Heroes PvE Campaign. Send hero teams into battle to activate Auto-battle and complete battle events. Battles grant player EXP, Spirit, Gold and equipment. Idle Heroes Strategy Game Guide.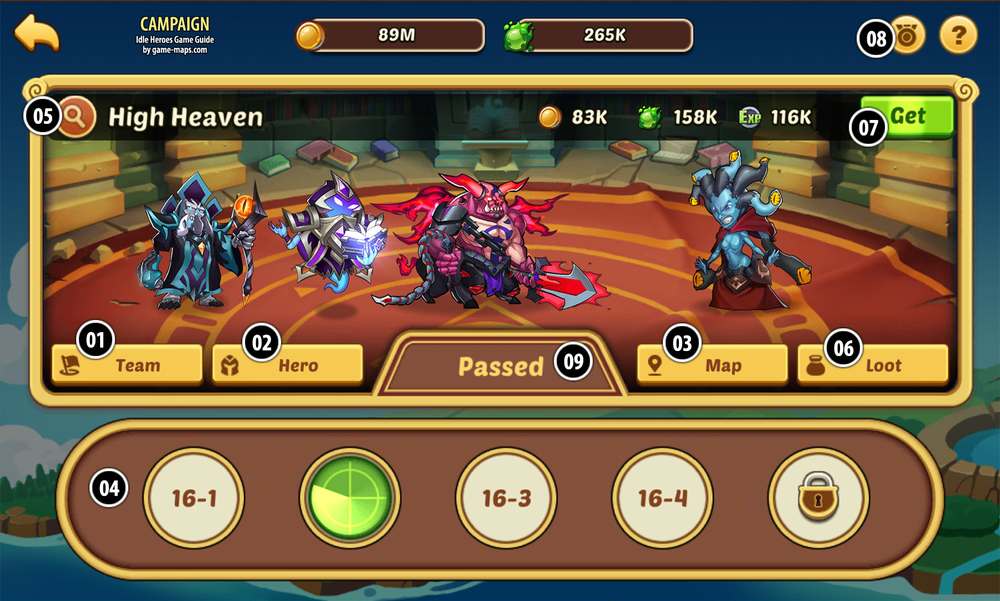 Auto-fight grants experience, spirit and gold. The harder the stage, the higher the amount. Auto-fight has a chance to grant equipment or hero shards.
Each offline auto-fight lasts at most 8 hours, beyond which no revenue will be granted. At least every 8 hours you have to log into the game and collect experience points and treasures.
01 Set Your Team
Set your Auto-Battle Formation. The total formation power is in the top left corner of the formation window. Every stage needs team with given minimum total power.
Set your hero squad in the team menu. You can add more heroes to the squad as you level up. You will begin with 2 heroes and got one heroes every 10 levels. The higher the hero power, the more heroes you can dispatch, the higher the team power. Power of dispatched heroes is related to unlocked stages only. Irrelevant to Trophy. Dispatch more heroes and the team will be stronger.
02 Hero List
List all your available heroes.
03 Map of available Areas and Difficulty Levels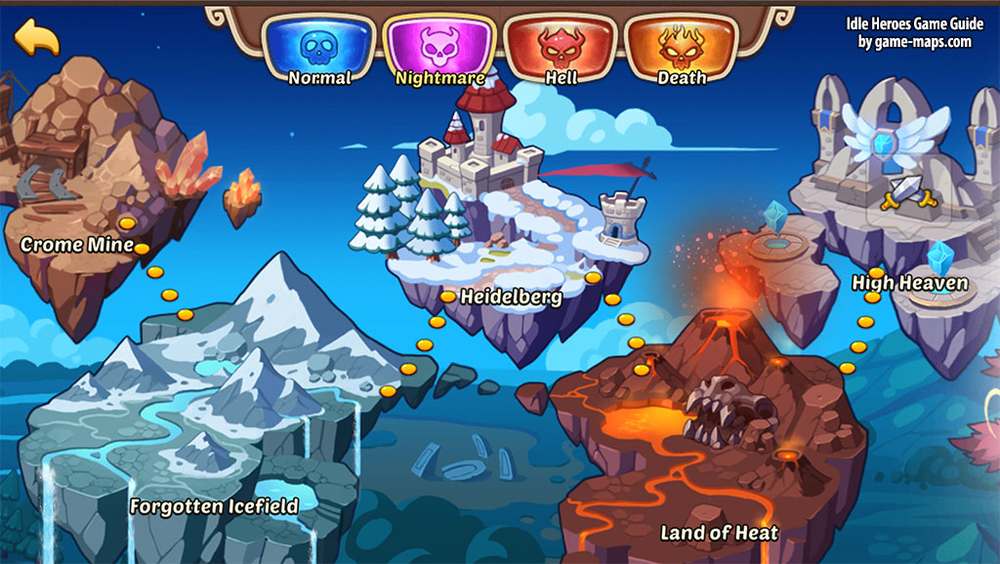 Battle maps have 4 difficulties: Normal, Nightmare, Hell and Death. Each difficulty has certain stages. You must unlock difficulties systematically.
Each battle zone contains several stages. Passing normal mode unlocks nightmare mode, clearing all battle zones in a difficulty will unlock a higher one.
04 Stages
Stages grant set EXP, Gold and Spirit. You can get them from the Auto-battle. The higher the difficulty and the stage progress, the more income you earn. Income increases as your VIP levels up.
When the requirements of a stage have been fulfilled, the next stage will be unlocked.
Winning the battle in each stage will grant you its rewards.
When all stages of an area are complete, the next area will be unlocked. When all stages of a difficulty are cleared, the next difficulty will unlock.
Staying in new stages a certain amount of time triggers battle events. Complete the events and you will be able to enter the next stage if you have enough levels and team power.
Entering a new stage triggers a battle event. Completing the event grants great rewards. Beating every island will award you with a 5 star hero.
05 Possible Loot for current Stage
Here you can see what is your chance for Loot at this Stage. You can check items of a stage in the item loot info. Auto-fight in stages grants corresponding items. Loot includes different type and level of equipment, artifacts, Hero Shards, Magic Dust and Special Event Items.
Theoretically, the strength of the team should give you a better chance of winning high quality loot.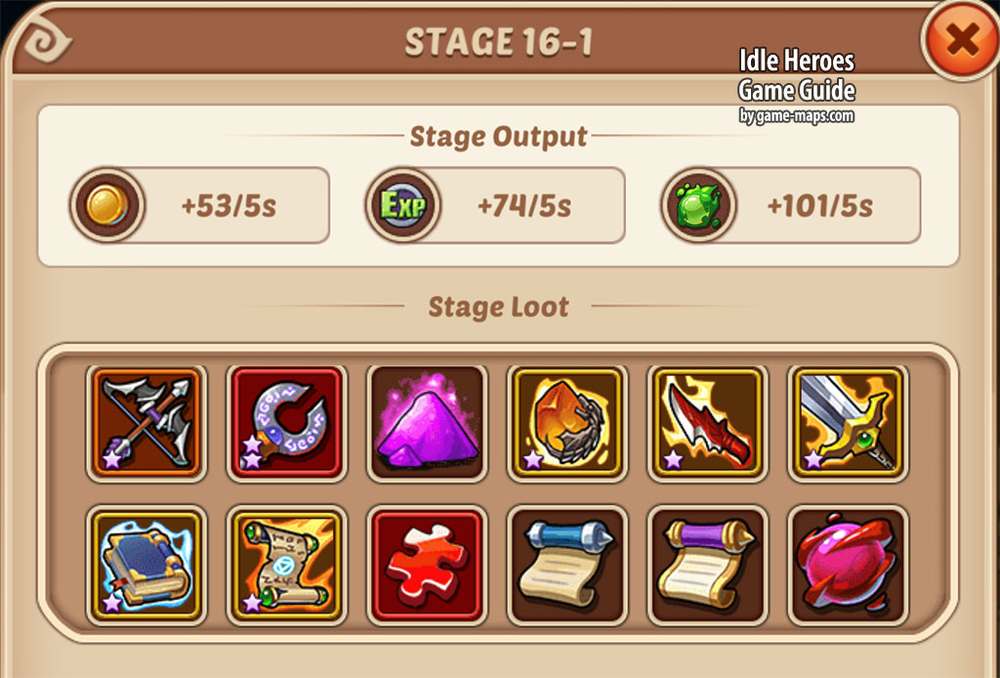 06 Loot & Trophy
Earned rewards can be checked in the Trophy menu.
07 Get EXP, Spirit and Gold
Auto-battle income increases over time. Auto-battle lasts up to 8 hours. After that, no rewards will be granted. Remember to claim your income within 8 hours
08 Campaign Leaderboard
Here you can compare your achievements with other players on this server.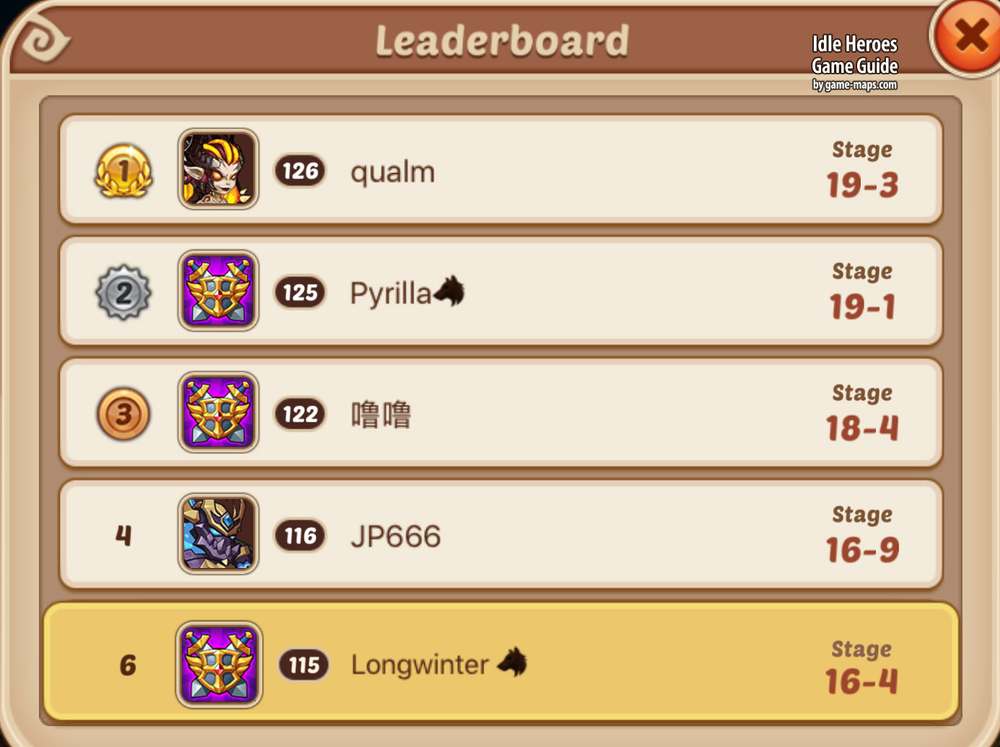 09 Battle
Here you start the battle for the next stage or you will get information on how much you have to wait for the battle.