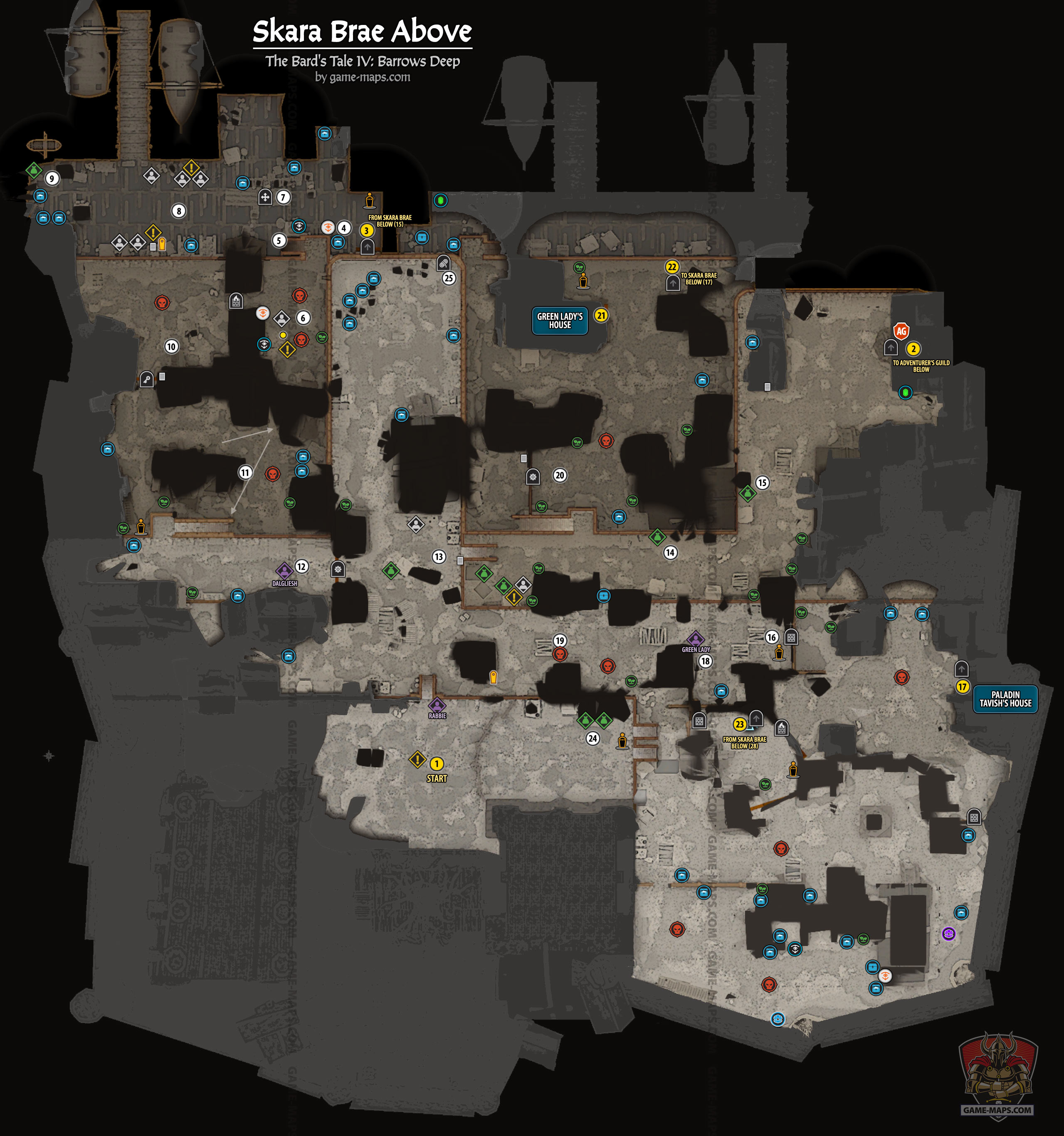 You do not have access to all city locations from the beginning of the game. You have to move with the main game story and finish quests to open access to the next locations. Therefore, do not worry if you can't enter somewhere at the beginning of the game, it's quite possible that in a moment you will get open passage here.
Move in accordance with the order of my numbers, this is the sense of this guide.
Melody the Bard the character you start the game does not have to be your real character. Pass the short Prologue (until you visit Adventureres' Guild) to get real Character Creation Option.
Prologue
in search of Adventurer's Guild
During the Prologue, do not waste time exploring the city, just go straight to Adventurer's Guild to get your real character creation option.
1 Execution - Start of the game.
HARD TIMES IN SKARA BRAE The Fatherites have begun executing members of the Adventurers' Guild. Rabbie has called a meeting at the guild and your attendance is required.
You start the game by witnessing executions on Adventurer's Guild members. There's nothing you can do about it right now.
Speak with Rabbie.
Rabbie he will temporarily join your party in your way to Adventurer's Guild.
Do not talk with NPCs, just go straight to Guild House (2) using blue quest markers.
Character Creation
2 Adventurer's Guild Ground Level
After you enter Adventurer's Guild and hear Rabbie you will got oportunity to Create Your Real Character (or stay with Melody)
Next step is at Skara Brae Underground (1)
After Skara Brae Below
3 Exit from Skara Brae Below (16)
4
Use Hidey-Bide and reval throw stash near
Dragonsible Bomb
5
Prepare for fight, equip Caltrops, heal yourself and go up the stairs.
6
Rescue the kidnapped Trow for Bad Reputation Quest
Search the corpse for clues.
Mickle
Dock Gate Key
Tattered Note pickup from the ground.
The Doppelganger Wringneck suggests looking for his friend Dalgliesh, who has been hunting the thief who stole his account book and who's been harassing his clients. The last Wringneck heard, Dalgiesh was heading for the market.
7 Push Crate
8
Alex Rupert
Wiliam Rifkind
A Brother's Bond Rupert's sworn brother, Ewan, has gone missing. Rupert hinted that Ewan might be in the Stennish Isles.
Harbourmaster
Note near shrine, take note and read it.
Lance Celli
Mab
Tortuga's Swim You met a man on the dock of Skara Brae that is incredibly drunk. That blubbering has to mean something though. Maybe there is a way to understand him.
For this quest you will need: Wrecker's Dram, Stagswift Wine, Selkie's Tears.
9
Hatty
10 Dock Gate
You can try to sneak unnoticed from the side (6) or you can openly fight the guards.
Use Dock Gate Kay to open.
11
When there is no guard, go quickly up the stairs to the bay on the left side, wait as the guard will pass and quickly move on.
Or fight them.
12
Dalgliesh member of you party.
Talk to Dalgliesh and join him.
If you like you can return now to (11) and try to kill guards.
Open Cog Doors and enter Marketplace.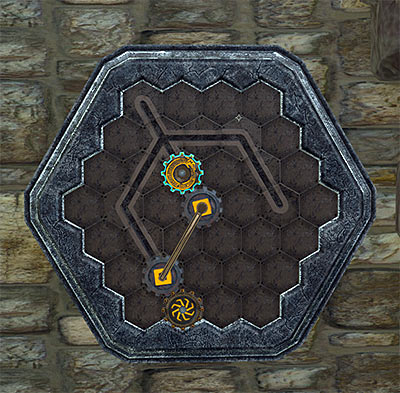 13
Look around and explore.
Anvils-Fist Galo Vendor, great Weapons and Armours
Thomas Hoff
Threadneedle Mary Vendor, Robes for Sorcerer.
Donnell
Lizz
Mirror Room Key
The Dark Mirror Liz has been stricken by Charn magic and is slowly withering away. You have agreed to find the Charn mirror that cursed her and shatter it.
14
Rhona Vendor, Bard Instruments
15
Farmer Killop Vendor
16
Gaufain's Hammer - Here you learned next Song of Exploration (Ability) Gaufain's Hammer, it knock down weak stone walls
Knock down weak stone wall.
17 Paladin Tavish's House
Kill 4 enemies outside and enter Paladin Tavish's House.
18
Green Lady join her to your company.
Jarnenel's Eyes - Here you learned next Song of Exploration (Ability) Jarnenel's Eyes, it reval hidden corruption and reveal a wide area on your map
19
Follow Elven Wiles Quest and use Jarnenel's Eyes to reval hidden corruption, kill them
20
Open Cog Dor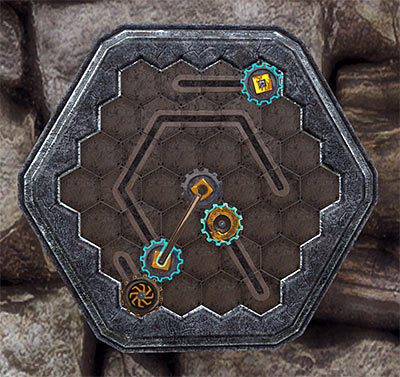 Use Jarnenel's Eyes and kill them
21 Green Lady's House
Enter Green Lady's House to finish Elven Wiles Quest.
22 down to Skara Brae Below
This way will be open after you finish Green Lady's House.
23 From to Skara Brae Below (28)
24
Gellis Vendor
Niall Vendor
25
Use Grappling Hook and climb down and loot chest.
Search The Bard's Tale IV Walkthrough & Maps
The Bard's Tale IV: Barrows Deep Map Legend
Location a description of the location. The order of numbers is the order in which you shoud explore the map.
Exit or Entrence from location to another map.
Adventurer's Guild Your main home location. Here you can [...]
NPC - One or More Interactive NPC, having at least the ability to talk.
Standing Stones - quick way to jump around the world. You need to use Wildland Whistle (Ability Song) to activate Standing Stones
Luck Stones - they will allow you to save game, if you die you will reappear at the last Luck Stone you visited. Ancient Luck Stones are a special type of Luck Stone, you may choose to save game here or, you can instead consume it gaining Experience points.
Shrine Standing Stones of Gratitude are ancient monuments to great heroes of Skara Brae. Interact with them to gain bonus experience.
Party Member - possible member of your party if you recruit him.
NPC Quest Giver - NPC that start the quest
Item Quest Starter - item or place, not NPC that starts the quest.
Quest Items - items required to complete quests.
Vendor - Shops, here you can buy and sell weapons and equipment. There are different types of sellers.
Special Items - Like Grappling Hook, Cogs, Mercenary Tokens
Special Place [...]
Book - scrolls, documents or books
Entrance / Exit that does not require additional activities.
Key Locked Door - These doors require a specific key to open them.
Cog Locked Door - These doors require you to solve cog puzzle. Some doors required missing Cogs.
Rope Entrance - You need Grappling Hook with Rope to open this Entrance.
Stairs Entrance
Weak Wall - Knock down weak stone walls with Gaufain's Hammer (Ability Song)
Burnable Barrier - Use Dragonsbile Bomb to clear way.
Movable walls and barriers
Button or switch
Closed Chest - You have to unlock it first. Requires training in Lockpick.
Open Container - this container is open, you can take its contents. The contents of crates and containers are random.
Throw's Secret Sign - Rune on the wall, here you have to use Hidey Bide (Ability Song) to reveal hidden stashes nearby.
Hidden Throw Stashes - You have to use Hidey-Bide (Ability Song) to reveal hidden stashes.
Code Wheel Offering
Offering
Place Elven Weapon
Herbs - Collect herbs for Crafting. There are [...]
Trap
Stone Remembers - you have to use The Stone Remembers Song here to rebuild structure. It also reset block puzzles.
Monsters Solo monster or group of monsters.
Boss Monster Here you will find a monster that is stronger than the other enemies surrounding you on this level.