The Old Adventurers' Guild Map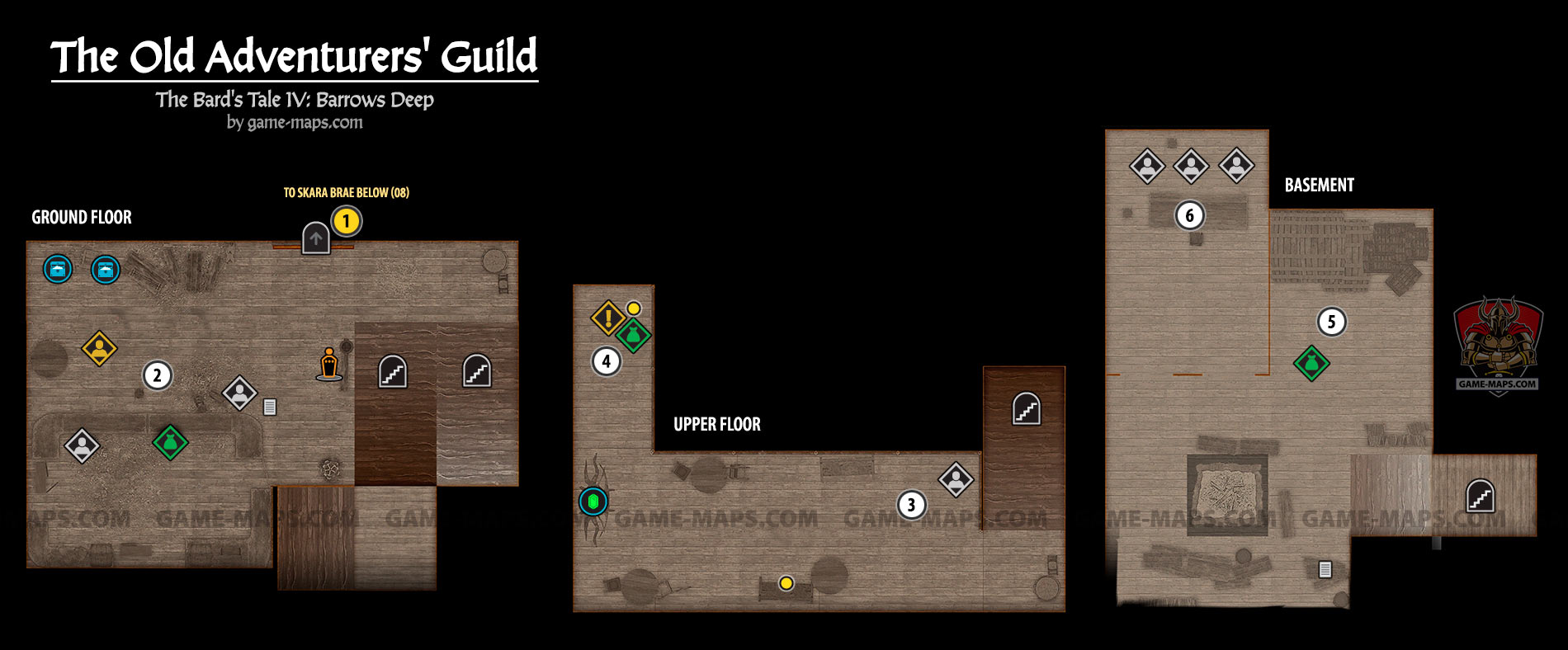 You caome here from Skara Brae Underground
1 Exit to Skara Brae Underground (8)
After first visit
2
Sir Steven of Dengler
Rabbie
Talk to Rabbie and finish A Home In The Dark Quest
Bad Reputation Rabbie says Wringneck may be in trouble, and wants you to find him. He suggested you start looking in Wellbottom, the trow encampment in Skara Brae Below.
Bricktop Bridget Vendor
Tropical Drink Recipe Book
Sandwitch Recipe Book
3
Lar
Adventurer's Celestial Almanac Quest Item
4
Roscoe
Spells Is What We Sells Roscoe has asked you to go to his emporium and place a magic lantern to protect it from ruffians.
Roscoe's Magical Latern Quest Item
5
Paul
Faryn
Ekbar Andros
6
Review Board
After finish Green Lady's House
2
Rabbie
Speak to Rabbie to complete The Hidden Hand Quest.
You have to remove one character from you party.
The Best Of Us The map you found seems to detail an attack on Kylearan's Tower, where wise old Mage Alguin has made his home. Alguin is one of Skara Brae's greatest protectors. For the sake of the city he must be protected.
Alguin's Gate Key
Mercenary Tokens you will get is as a quest reward. You can use is in Old Adventurers' Guild to create new party member.
6
Go to talk with The Review Board
Return To The Review Board One of your companions has benefited from their experiences. Return to the review board so they may receive its blessing and learn new skills.
Create fourth member of your team
7
Mercenary Tokens you should got two of them in your inventory at this point of time.
Mercy the Mercenary Capitain here you can manage your party, add or subtract heroes.
Mercy the Mercenary Capitain will hire you a mercenary (additional character to your party), if you got Mercenary Token. You will be able to create any acceptable character.
Create the character you like.
After killing Mangar in The Cellars of Kylearan's Tower
Talk to Rabbie to finish [The Best Of Us Quest]. Check all available conversation options.
Low Friends In Low Places Rabbie has asked you to speak to Fiona the Harper, who lives near Fettercairn, but to do that you'll have to get out of Skara Brae. And to do that, you'll have to talk to Duke Kingston, an "importer and exporter."
Search The Bard's Tale IV Walkthrough & Maps
The Bard's Tale IV: Barrows Deep Map Legend
Location a description of the location. The order of numbers is the order in which you shoud explore the map.
Exit or Entrence from location to another map.
Adventurer's Guild Your main home location. Here you can [...]
NPC - One or More Interactive NPC, having at least the ability to talk.
Standing Stones - quick way to jump around the world. You need to use Wildland Whistle (Ability Song) to activate Standing Stones
Luck Stones - they will allow you to save game, if you die you will reappear at the last Luck Stone you visited. Ancient Luck Stones are a special type of Luck Stone, you may choose to save game here or, you can instead consume it gaining Experience points.
Shrine Standing Stones of Gratitude are ancient monuments to great heroes of Skara Brae. Interact with them to gain bonus experience.
Party Member - possible member of your party if you recruit him.
NPC Quest Giver - NPC that start the quest
Item Quest Starter - item or place, not NPC that starts the quest.
Quest Items - items required to complete quests.
Vendor - Shops, here you can buy and sell weapons and equipment. There are different types of sellers.
Special Items - Like Grappling Hook, Cogs, Mercenary Tokens
Special Place [...]
Book - scrolls, documents or books
Entrance / Exit that does not require additional activities.
Key Locked Door - These doors require a specific key to open them.
Cog Locked Door - These doors require you to solve cog puzzle. Some doors required missing Cogs.
Rope Entrance - You need Grappling Hook with Rope to open this Entrance.
Stairs Entrance
Weak Wall - Knock down weak stone walls with Gaufain's Hammer (Ability Song)
Burnable Barrier - Use Dragonsbile Bomb to clear way.
Movable walls and barriers
Button or switch
Closed Chest - You have to unlock it first. Requires training in Lockpick.
Open Container - this container is open, you can take its contents. The contents of crates and containers are random.
Throw's Secret Sign - Rune on the wall, here you have to use Hidey Bide (Ability Song) to reveal hidden stashes nearby.
Hidden Throw Stashes - You have to use Hidey-Bide (Ability Song) to reveal hidden stashes.
Code Wheel Offering
Offering
Place Elven Weapon
Herbs - Collect herbs for Crafting. There are [...]
Trap
Stone Remembers - you have to use The Stone Remembers Song here to rebuild structure. It also reset block puzzles.
Monsters Solo monster or group of monsters.
Boss Monster Here you will find a monster that is stronger than the other enemies surrounding you on this level.