SWTOR Datacron 58 | Quesh | Galactic History 58: Ulic's Trials
Galactic History 58: Ulic's Trials - Datacron 58 on planet Quesh, All faction in Star Wars: The Old Republic. Map of Datacron location and video walkthrough.
Datacron 58 Location
datacron: Cunning +4
planet: Quesh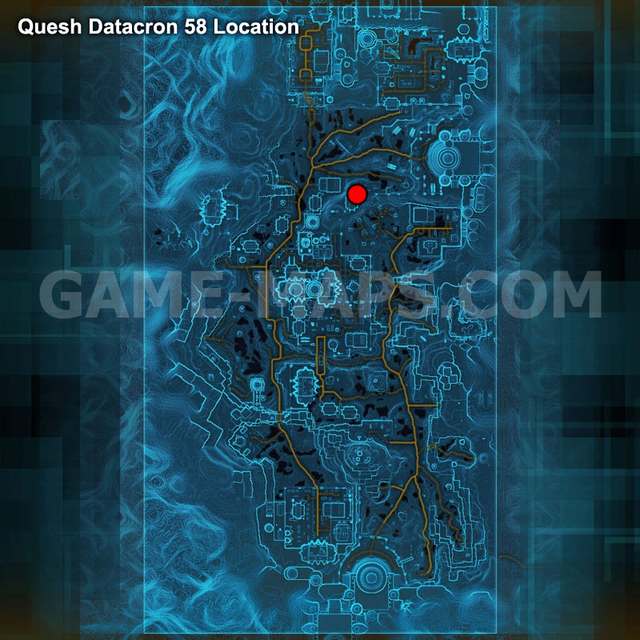 Galactic History 58: Ulic's Trials
The Brotherhood of the Sith was ready to strike. The fallen Jedi Ulic Qel-Droma, the Sith sorceress Aleema and Mandalore gathered their armies to attack Coruscant. But they underestimated Coruscant's Jedi defenders. The Brotherhood's forces were repelled, and Ulic was captured.
Ulic was taken to the Senate tower to stand trial. But the Jedi Master Vodo Siosk-Baas sensed that Ulic hadn't acted alone, that Siosk-Baas's old student, Exar Kun, was involved. During the trial, Exar Kun himself marched into the Senate tower with his Massassi warriors. He subdued the assembly with his Force abilities and humiliated the Supreme Chancellor.
Vodo Siosk-Baas then entered, challenging his former pupil. Exar Kun's unusual double-bladed lightsaber and dark powers prevailed, however, and Siosk-Baas was killed. Exar Kun and Ulic then left Coruscant and returned to Yavin Four to prepare for the next battle.
Youtube Datacron Walkthrough