Stros M'Kai Map - The Elder Scrolls Online
The Elder Scrolls Online (ESO) Maps, Walkthrough & Game Guide
Stros M'Kai zone map. Island that lies off the southern coast of Daggerfall Covenant Alliance territory. One of the first landfalls settled by the Redguards when they sailed east from their lost homeland of Yokuda, the island of Stros M'Kai is now a haven for freebooters, sea-rovers, and other nautical entrepreneurs who roam the Abecean Sea. The Pirates of the Abecean Sea are the most notorious buccaneers in all of Tamriel. A loose confederation of crews with elected captains, most consider Stros M'Kai their home port, though they're liable to be found anywhere from Senchal to the Iliac Bay. Elder Scrolls Online: Tamriel Unlimited. Locales, Wayshrines, Skyshards, Solo, Public and Group Dungeons, Cities, World Bosses, Taverns, Dark Anchors, Quest Hubs, Lore Books, Merchants, Crafters. The Elder Scrolls Online - ESO Maps, Guides & Walkthroughs. Stros M'Kai is 2-5 level zone.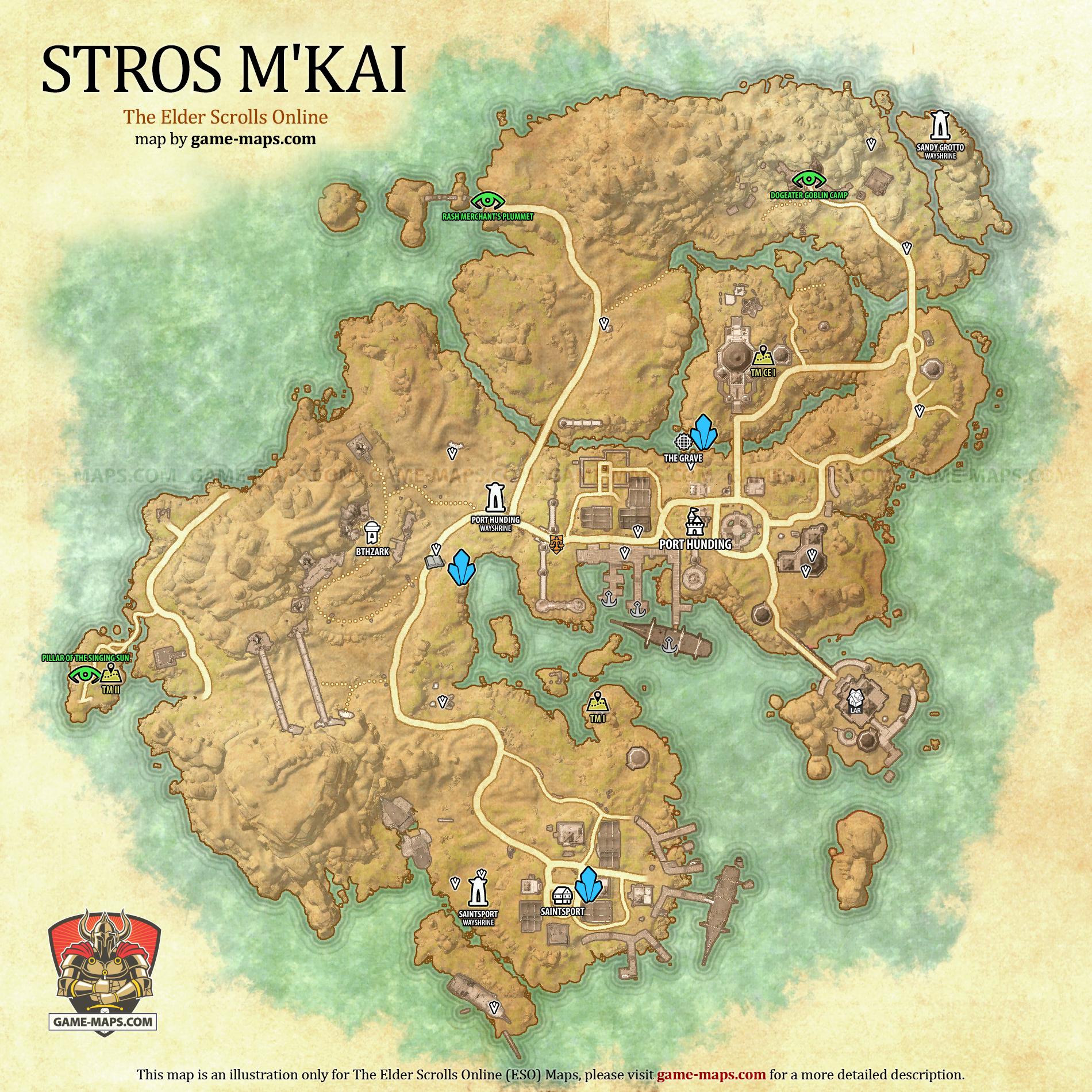 The Elder Scrolls Online Map Legend
Wayshrines - if visited allow you to teleport to this location. Fast Travel between wayshrines is free, although fast traveling to a wayshrine from anywhere will cost gold.
Locales - Area of Interest, visit every locale on map for achievement.
Group Locales - Group Area of Interest, areas designed to explore in a group with other players.
Skyshards (ground level) - Skyshard on the ground level or above. Every three skyshards a player collects will yield one skill point.
Skyshards (inside dungeon) - Skyshard in dungeon. Every three skyshards a player collects will yield one skill point.
World Bosses - powerful elite encounter(s), to defeat him you will need the help of other players.
Dungeon - caves, delve, instance or dungeon intended for solo or cooperative play.
Group Dungeon - group dungeons, raid dungeons, group instances intended for groups of players.
Dark Anchors - spawn points of Molag Bal forces, every few minutes you'll find a group activity here.
Mundus Stones - visiting will grant you a permanent blessing, but only one blessing at a time.
Guild Trader - Shops contain Guild Traders offering wares from various players guilds.
Crafting Site - Special crafting stations where you can create specific item sets.
Lore Books - collect Lore for skills upgrade and for Mage Guild experience.
Quest Hubs
Stros MKai Skyshards Map
Stros M'Kai Locales Achievement
5 Points - Discover all of the striking locales on Stros M'Kai
Rash Merchant's Plummet
Dogeater Goblin Camp
Pillar of the Singing Sun
Stros M'Kai Quests
Known Quests for Stros M'Kai:
Buried Secrets (2 lvl)
Dead Man's Wrist (2 lvl)
Goblin Marq (2 lvl)
Innocent Scoundrel (2 lvl)
Izad's Treasure (2 lvl)
Last Night (2 lvl)
Like Moths to a Candle (2 lvl)
Moment of Truth (2 lvl)
Sphere Assembly (2 lvl)
Tarnish the Crown (2 lvl)
The Broken Spearhead (2 lvl)
The Spearhead's Captain (2 lvl)
The Spearhead's Crew (2 lvl)
Washed Ashore (2 lvl)
Tip of the Spearhead (3 lvl)
Stros M'Kai Skyshards Achievement
5 Points - Find all 3 Skyshards in Stros M'Kai. Each skyshard can be obtained single time for each player. Every 3 skyshards collected will give you 1 skill point.
Across the water from the western wall.
The mouth of The Grave stands open.
Crashed through a Saintsport roof.
Stros M'Kai Angler Fishing Achievement
5 Points - Catch a rare Eltheric Grouper in Stros M'Kai. To fish first find a fishing hole in the world and target it. You must have bait before you can fish.
Stros M'Kai Treasure Maps
There are 2 normal Stros M'Kai Treasure Maps, and 1 Imperial Edition Stros M'Kai Treasure Map. You have to read map before you will be able to dig treasure. Maps are blur drop from mobs.
Stros M'Kai Quest Hubs
The Grave, Bthzark, Port Hunding, Saintsport. Each Quest Hub has its own line of quests related to a common story.
Stros M'Kai Wayshrines
Port Hunding, Saintsport, Sandy Grotto. If you die, you will be revived at the nearest Wayshrine.You can quickly travel from one Wayshrine to another by interacting with one.
Stros M'Kai World Bosses
There are no world bosses in Stros M'Kai. World Bosses powerful elite encounters ranges from solo bosses to multiple enemies.
Stros M'Kai Public Dungeons
There are no Public Dungeons in Stros M'Kai. Dungeons that are open to the public, you may encounter other players and groups of players while adventuring there.
Stros M'Kai Group Dungeons
There are no Group Dungeons in Stros M'Kai. Group Dungeons will give you a private version of dungeon, just for you and your group.
Stros M'Kai Dark Anchors
There are no Dark Anchors in Stros M'Kai. Dark Anchors are rifts that Molag Bal has created to join Tamriel with his Daedric Plane, spawn points of his forces.