Betnikh Map - The Elder Scrolls Online
Betnikh zone map. Island off the south coast of Glenumbra in Daggerfall Covenant Alliance. Held Orcs for centuries its isle of high cliffs and rich farmlands. Nine generations ago, the island of Betony was conquered by the Stonetooth Orcs, who renamed it Betnikh. A proud, self-reliant people, the Orcs fiercely protect their new home from incursion by outsiders. Elder Scrolls Online: Tamriel Unlimited. Locales, Wayshrines, Skyshards, Solo, Public and Group Dungeons, Cities, World Bosses, Taverns, Dark Anchors, Quest Hubs, Lore Books, Merchants, Crafters.
The Elder Scrolls Online - ESO Maps, Guides & Walkthroughs.
Betnikh is 5-7 level zone.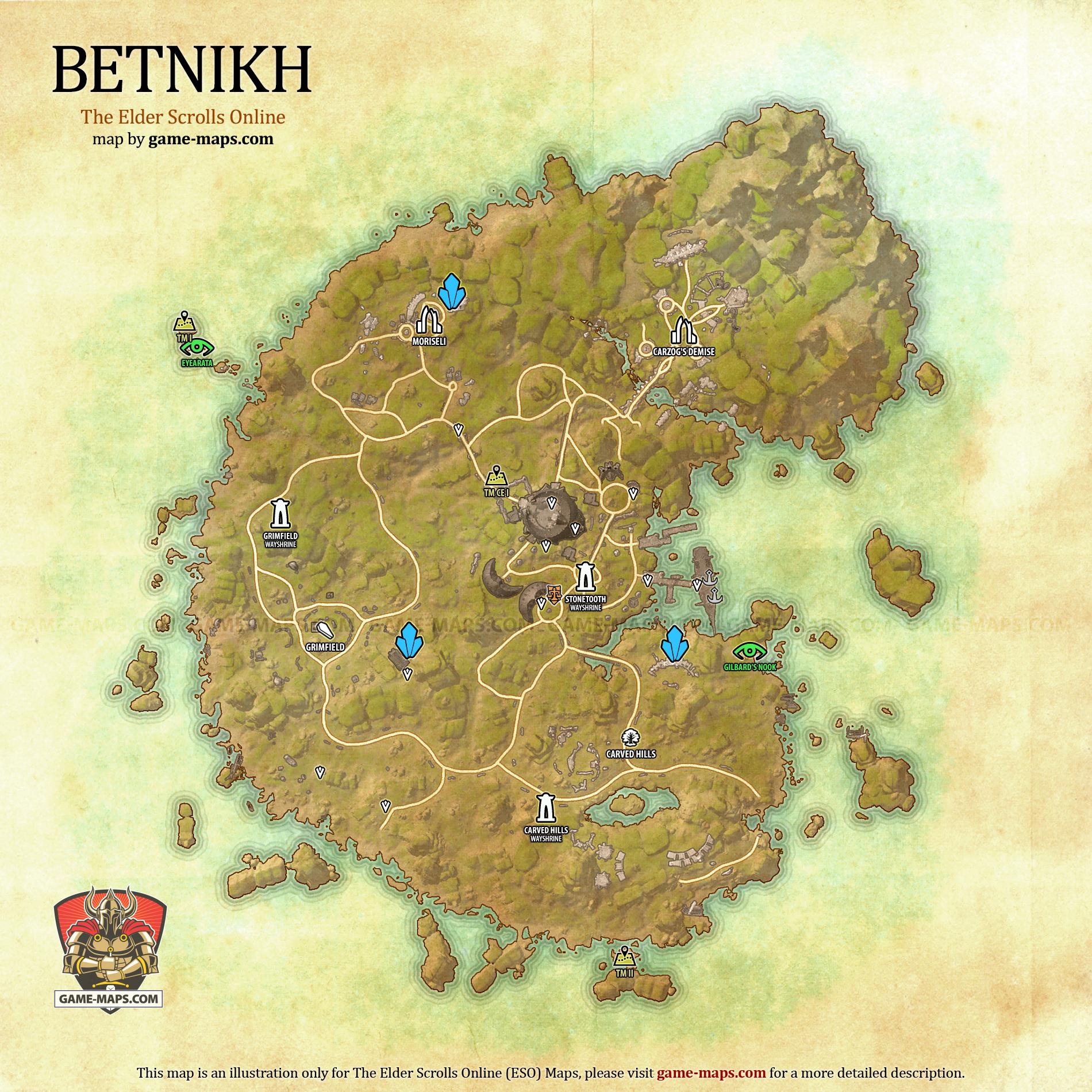 Legend for Betnikh Map
Quest Givers - here you will get new quests
Locales - visit every locale on map for achievement.
Wayshrines - visited allow to teleport to this location.
Skyshards - Skyshard on the ground level or above.
Skyshards - Skyshard in dungeon.
World Bosses - powerful elite encounter(s).
Public Dungeons - solo or group, caves or dungeon.
Group Dungeons - private group dungeons.
Dark Anchors - spawn points of Molag Bal forces.
Lore Books - collect to skills upgrade and for mage guild
Betnikh Skyshards Map
Betnikh Locales Achievement
5 Points - Discover all of the striking locales on Betnikh
Betnikh Quests
Known Quests for Betnikh
Carzog's Demise (3 lvl)
Into the Hills (3 lvl)
Unearthing the Past (3 lvl)
Daughter of Seamount (4 lvl)
Farsight (4 lvl)
Prove Your Worth (4 lvl)
The Bloodthorn Plot (4 lvl)
Tormented Souls (4 lvl)
On to Glenumbra (5 lvl)
Betnikh Skyshards Achievement
5 Points - Find all 3 Skyshards in Betnikh. Each skyshard can be obtained single time for each player. Every three skyshards collected will give you 1 skill point.
In the dig site.
Where wolves prowl eastern ruins.
Outside a house for the dead.
Betnikh Angler Fishing Achievement
No Angler Achievement in Betnikh. To fish first find a fishing hole in the world and target it. You must have bait before you can fish.
Betnikh Treasure Maps
There are 2 normal Betnikh Treasure Maps, and 1 Imperial Edition Betnikh Treasure Map. You have to read map before you will be able to dig treasure. Maps are blur drop from mobs.
Betnikh Quest Hubs
Carved Hills, Carzog's Demise, Grimfield, Moriseli. Each Quest Hub has its own line of quests related to a common story.
Betnikh Wayshrines
Carved Hills, Grimfield, Stonetooth. If you die, you will be revived at the nearest Wayshrine.You can quickly travel from one Wayshrine to another by interacting with one.
Betnikh World Bosses
There are no world bosses in Betnikh. World Bosses powerful elite encounters ranges from solo bosses to multiple enemies.
Betnikh Public Dungeons
There are no Public Dungeons in Betnikh. Dungeons that are open to the public, you may encounter other players and groups of players while adventuring there.
Betnikh Group Dungeons
There are no Group Dungeons in Betnikh. Group Dungeons will give you a private version of dungeon, just for you and your group.
Betnikh Dark Anchors
There are no Dark Anchors in Betnikh. Dark Anchors are rifts that Molag Bal has created to join Tamriel with his Daedric Plane, spawn points of his forces.