Bald Mountain Map - The Witcher 3
Bald Mountain Map - The Witcher 3 . The Witcher 3: Wild Hunt Game Walkthrough, Game Atlas with Maps, Game Guide. Locations, NPCs, Main Quests, Secondary Quests, Witcher Contracts, Quest Givers, Secrets, Dungeons and Caves, fast travel locations, treasure chests, signposts, Notice boards, Innkeeps, Shopkeepers.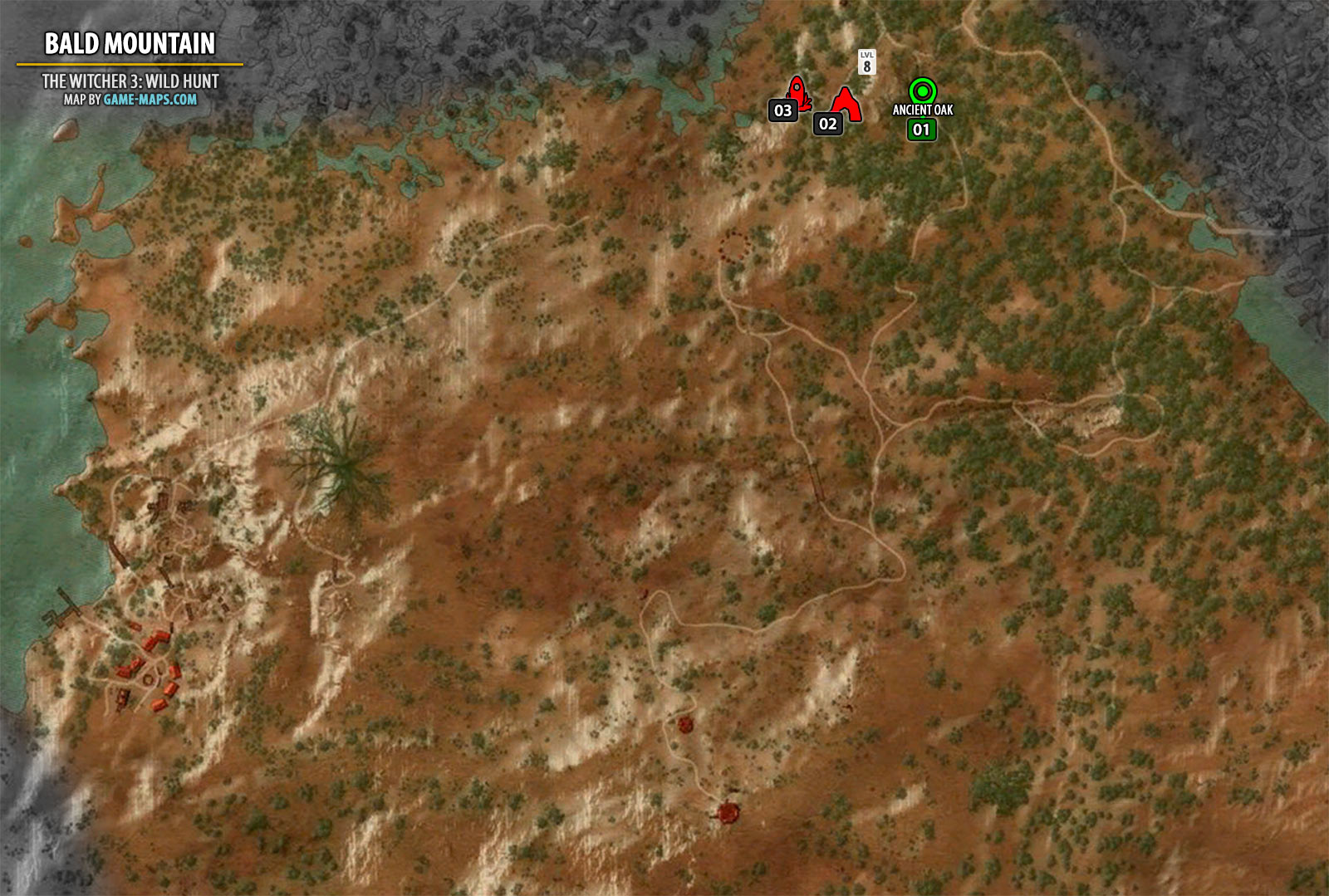 01 Ancient Oak
Centuries ago, bloody rituals in honor of the old gods were conducted here. Locals believe dark forces still haunt this place.
SECONDARY QUEST: The Whispering Hillock lvl:5
Something about life in dreary backwoods settlements leads their inhabitants to hide the truth with misleading names. This takes the form of both hyperbole - a clump of bare trees called "Dragon Spike Forest" or a hole in the ground two paces deep named The Chasm of Eternity" - and understatement - a horrid massacre calmly referred to as the incident." Welen fit the mold in this regard, as Geralt learned while he wandered through it in search of Ciri. There he encountered a trio of highly suspicious magical sisters called the Ladies of the Wood, who directed him to a clump of bogside huts known as Downwarren, Geralt was to solve their "problem: a rash of mysterious murders. He spoke to the ealdorman and learned that the evil power behind the killings dwelled in the Whispering Hillock. Wherever else?
The truth hidden under the Whispering Hillock? A woman's spirit, imprisoned in a cave within it. Geralt concluded this foul being was responsible for murdering the inhabitants of Downwarren, and so destroyed its heart, loosening its last grasp on Our World.
Finish The Whispering Hillock For The Ladies of the Wood Quest
02 Cave
NPC: The Ghost in the Tree
If you free The Ghost in the Tree:
Children held by Crones will be free.
Grany (Anna Strenger) will be cursed, and the dead.
Bloody Baron will commits suicide.
If you kill The Ghost in the Tree:
Anna Strenger will be insane but alive.
Bloody Baron will be alive.
Anna and Baron will travel together.
Search cave for chests, also underwater.
Return to Crookback Bog (05)
03 Place of Power
Legend for Witcher 3 Maps
Location
Quest Starter
Chest, Container
Notice Board Here you can find monsters contracts and announcements about matters of local concern.
Signpost
Enemies
Abandoned Site
Bandit Camp A group of dangerous bandits has made camp here.
Dungeon
Guarded Treasure A particularly powerful monster guards a valuable cache here
Hidden Treasure A hidden cache of valuable goods.
Monster Den
Monster Nest Destroy monsters nests with Grapeshot or Dancing Star bombs.
Person in Distress
Place of Power The first time you draw from any PoP, you will receive 1 Ability Point
Smugglers Cache Smuggled goods have beed hidden here
Spoils of War Search here for loot left behind after a battle or skirmish.
Secrets
Worth of Interest
Armorers Table It grants you gear increased Armor for a limited duration.
Blacksmith
Armorer
Grindstone A blade sharpened here will deal more damage.
Herbalist Here you can buy alchemy ingredients.
Innkeep
Shopkeeper