Ravensthorpe Settlement Map- Assassin's Creed Valhalla Walkthrough
Ravensthorpe Settlement Map for Assassin's Creed Valhalla Maps & Walkthrough, Ravensthorpe is the heart of your adventure and the true home for your clan.
Ravensthorpe Settlement Map - for Assassin's Creed Valhalla Maps.
Ravensthorpe Map for Assassin's Creed Valhalla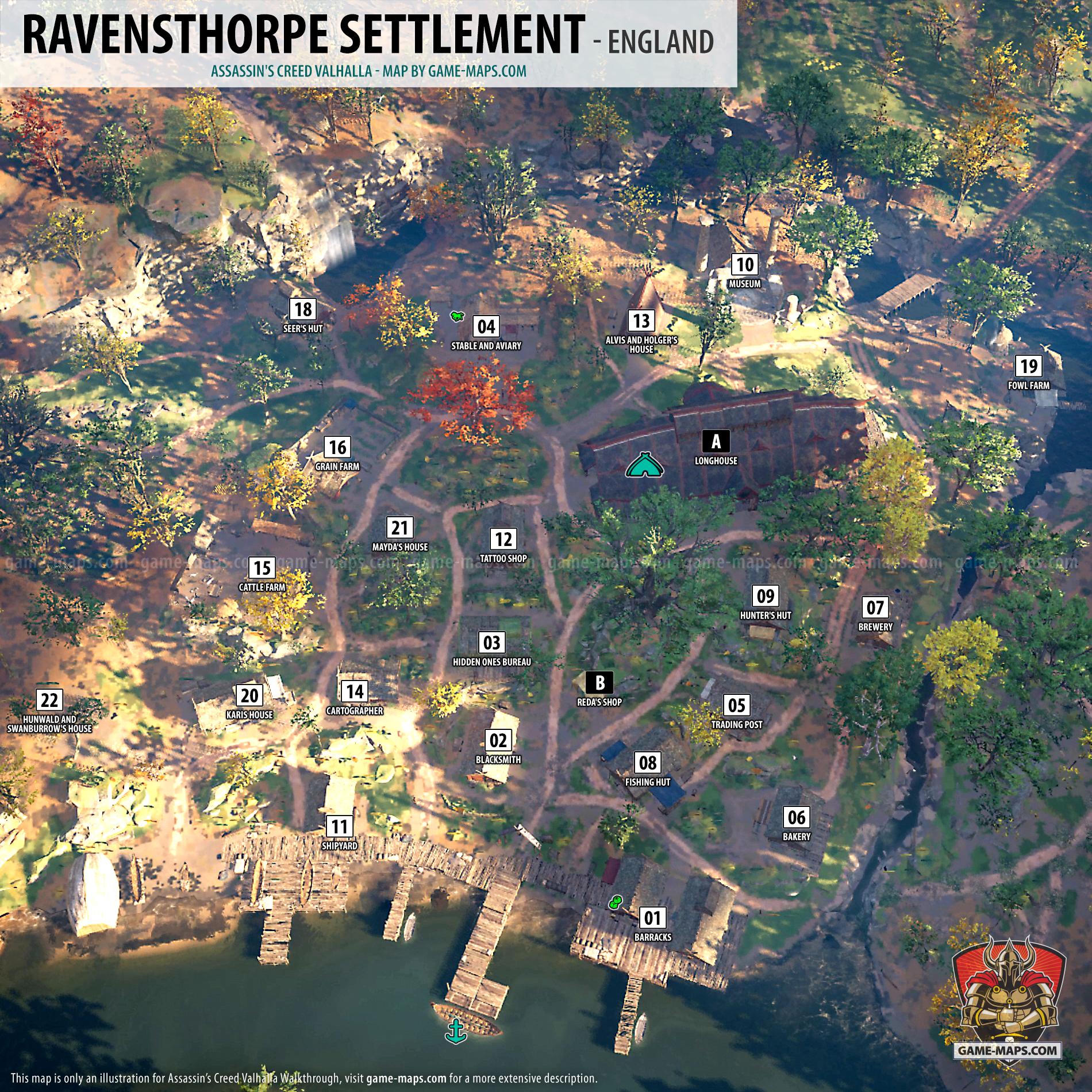 Ravensthorpe Settlement Info
Ravensthorpe Settlement is located in near Ledecestrescire Zone (Mercia) and it is one of the first places you will discover after arriving in England.
The Settlement is the heart of your adventure and the true home for your clan. Take care of it to unlock new buildings and reveal new services, thereby expanding your horizons.
Adding new buildings in your Settlement will also increase your renown, thus raising your Settlement level. Reach new levels to unlock new building possibilities. Different types of buildings will also bring new people to your Settlement who will become your loyal allies and provide you with useful services during your journey.
To construct new buildings, you need to bring sufficient supplies and raw materials to your Settlement and interact with appropriate sign posts.
Raiding Monasteries is a great way to swiftly gather the necessary resources.
As the settlement expands, so do its feasts. Start a feast by ringing the longhouse bell to gain a timed buff.
You can also decorate your Settlement with a variety of unique sculptures and decorative elements to make it a magnificent for taking a break and celebrating your victories.
Levels and Upgrades
in Ravensthorpe Settlement
There are 6 levels of Ravensthorpe Settlement, each new level unlocks new activities and buildings for you.
Even Raiding all Monasteries will not give you enough resources to raise your Ravensthorpe level to 6, but you will also get resources for completing individual Story Arcs.
Cattle Farm, Grain Farm and Fowl Farm got three possible upgrades.
Longhouse
Randvi - Alliance Map
To settle and thrive in England, Eivor's clan must forge alliances. Pledge to a territory to send word of your interest in an alliance or aid. As a pledges are completed and allies are made, other territories will be made available.
Consult with Randvi on the Alliance Map in your Longhouse to gain access to new opportunities and adventures.
Inside is your room.
As your settlement grows, Longhouse Bell will start a feast that will give you a timed buff.
Randvi Alliance Map
Ledecestrescire Arc: The Kingmaker's Saga
Grantebridgescire Arc: The Song of Soma
East Anglia Arc: The Tale of Thegn Oswald
The Thousand Eyes - Reda's Shop
It will appear after completing story missions in Ledecestrescire.
Reda is the leader of a secret guild known as the Thousand Eyes.
The Thousand Eyes' network is composed exclusively of orphans working for Reda and offering quests on a daily basis to protect defenseless people.
Completing these quests will allow you to receive Opals that you can spend on exotic gear and cosmetics at Reda's Shop.
Reda is located in the Settlement and his informers can be found in every town.
Level 1
Barracks
Here, Eydis will help you create your Jomsviking, recruit other players Jomsvikings, and manage your crew.
The Jomsvikings are honorable mercenaries who follow a strict code of conduct, dedicating their lives to the fight and the worship of deities.
Building the Barracks in the Settlement will allow you to create your own Jomsviking and customize their gear, weapons, and appearance!
Your Jomsviking will be automatically shared online and reap the spoils when they fight alongside your friends in their own sagas. You can recruit Jomsvikings created by other players to add their strength to your forces. These mercenaries will be loyal to your clan and fight on your side as long as you can pay for their services.
Blacksmith
Gunnar's Forge is where you enchance and customize your weapons and gear.
Hidden Ones Bureau
Hytham works here to track the movements of the Order of the Ancients. You will find those missions here.
Stable and Aviary
With Rowan, you can acquire and manage horses and raven.
Swimming Lessons - All mounts gain the ability to swim
Swimming Training - Increase the swim speed of your mounts
Strength Training - Increase the health of your mounts
Endurance Training - All mounts' stamina efficiency is improved
Endurance Training II - All mounts' stamina efficiency is at its peak
Trading Post
This trading post is where you can purchase resources and unique items.
Pending Deliveries On the back of the Trading Post, outside, you will find items that you can bring back to their owners.
Level 2
Bakery
Improves the
The bakery is where bread-master Tarben rules.
Brewery
Improves the
The brewery is where Tekla creates the finest ale in the land.
Fishing Hut
Merton and his grandson Arth run this fishery. They will reward you for deliveries of fish.
Building this shop unlocks the Fishing Line.
Fishing
Fishing is a relaxing way to spend time and can be a great source of silver! Start by building a Fisherman's hut in your Settlement to get a fishing rope. Then bring him the fish you catch to unlock unique rewards.
Hunter's Hut
Wallace the tanner and Petra the hunter are looking for Legendary Animals trophies in exchange for rewards.
Museum
Octavian lords over a collection of ancient treasures. Bring him Roman artifacts, and he will reward you.
Shipyard
Gudrun and Gudmund are on hand to help customize your longship.
You can find more ship cosmetics as you explore the world.
Tattoo Shop
Use this shop to change your haircuts or adorn yourself with tattoos.
New tattoo schemes can be found throughout the world.
Level 3
Alvis and Holger's House
Improves the
Alvis and Holger's home. A place of art and arguments.
Cartographer
The cartographer offers maps that will pinpoint valuable items and resources you may have missed.
Cattle Farm
Improves the
A family-owned cattle farm.
Grain Farm
Improves the
A farm that grows and harvests the settlement's grain.
Seer's Hut
Valka the seer can help you awaken your senses and delve into strange visions...
Fowl Farm
Improves the
This fowl farm is far from foul: the Raven Clan's chickens roost here.
Level 4
Kari's House
Improves the
Kari's woodshop helps fortify the settlement.
Mayda's House
Improves the
Grain Farm - Level 2 Upgrade
Cattle Farm - Level 2 Upgrade
Fowl Farm - Level 2 Upgrade
After Lincolnscire
Hunwald and Swanburrow's House
Improves the
A house for Hunwald and Swanburrow.
Level 5
Grain Farm - Level 3 Upgrade
Cattle Farm - Level 3 Upgrade
Fowl Farm - Level 3 Upgrade
Level 6
Full upgrade.
Ravensthorpe Quests
After first talk with Randvi Settling Down Sigurd has chosen a place to settle. But there is much to be done before this small camp can be called home.
Hytham To Serve the Light
Hytham Breaking the Order Eivor has agreed to help the Hidden Ones eliminate the Order of the Ancients in England to ensure the strength and safety of the Raven Clans' alliances in England.
Hytham A Brief History of the Hidden Ones Hytham believes that forgotten knowledge is stored in the Hidden Ones' bureaus. Seek it out.
Merchant The Thousand Eyes A curious new merchant has arrived at the settlement ... with many goods and tall tales to share.
Reda Viking for Hire Reda is looking for help to grow the Thousand Eyes network and expand his influence across England. He is a generous merchant and knows how to greatly reward his associates.
Valka A Wise Friend With the settlement growing by the day, an old friend seeks a new home.
Valka In Dreams... Valka needs a place to work, that she might aid Eivor in accessing the dream worlds.
Octavian A Rivalry for the Ages Octavian asked Eivor to retrieve the statue of a Roman legionnaire that has been stolen by a concurrent of his. The man is named Maximus and appears to live in Lunden.
Defending Settlement
Ininvited Guests Defend settlement.
The Way of the Berserker
The Mysterious Berserker A mysterious Berserker has appeared in East Anglia. Eivor decides to seek him out and find out if the legends about Berserkers are true.
The Legend of Beowulf
A Fiend out of Hell Rumors speak of a monster mutilating livestock in East Anglia. This could be a chance to gain glory for the Raven banner.
The Baker's Plaint Tarben, the Ravensthorpe's baker, asks for a hand with some simple errands.
The Huntress Petra has seen some wolves too close to the settlement. They will need to be dealt with.