Cranberry Bog Map for Fallout 76
Map of Cranberry Bog Region of Appalachia, West Virginia for Fallout 76 Video Game. The map contains all the locations you can visit in F76, Public Workshops, Player Stash Boxes, Vendors, Merchants and Traders locations, Treasure Maps Dig locations and Fissure Sites. The land takes its name from the colors of cranberry. From deep red to pale pink cranberry bogs, they fill the area around Wathoga, automated future city. The Cranberry Bog zone is for players in the level range 35+, monster are level range 35 - 100.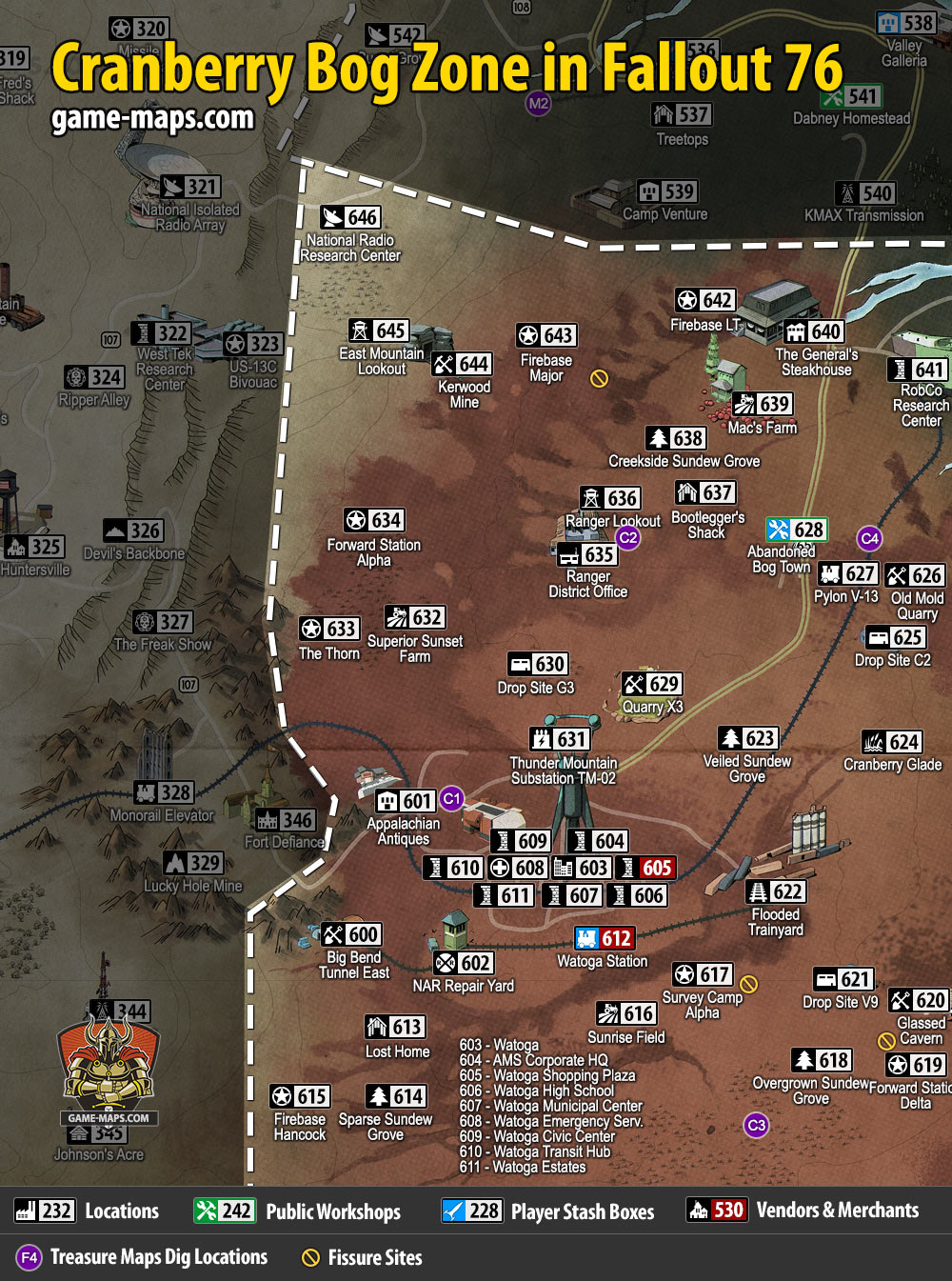 Treasure Maps for Cranberry Bog
Look for full info at: Cranberry Bog Treasure Maps
Walkthrough for Cranberry Bog
600
Big Bend Tunnel East
601
Appalachian Antiques
602
NAR Repair Yard
603
Watoga
604
AMS Corporate Headquarters
605
Watoga Shopping Plaza
Vendor Bot (Trader)
606
Watoga High School
607
Watoga Municipal Center
608
Watoga Emergency Services
609
Watoga Civic Center
610
Watoga Transit Hub
611
Watoga Estates
612
Watoga Station
Player Stash Box, Vendor Bot (Trader).
613
Lost Home
614
Sparse Sundew Grove
615
Firebase Hancock
616
Sunrise Field
617
Survey Camp Alpha
618
Overgrown Sundew Grove
619
Forward Station Delta
620
Glassed Cavern
621
Drop Site V9
622
Flooded Trainyard
623
Veiled Sundew Grove
624
Cranberry Glade
625
Drop Site C2
626
Old Mold Quarry
627
Pylon V-13
628
Abandoned Bog Town
Player Stash Box
629
Quarry X3
630
Drop Site G3
631
Thunder Mountain Substation TM-02
632
Superior Sunset Farm
633
The Thorn
634
Forward Station Alpha
635
Ranger District Office
636
Ranger Lookout
637
Bootlegger's Shack
638
Creekside Sundew Grove
639
Mac's Farm
640
The General's Steakhouse
641
RobCo Research Center
642
Firebase LT
643
Firebase Major
644
Kerwood Mine
645
East Mountain Lookout
646
National Radio Research Center
Search Fallout 76 Walkthrough & Maps